The Customer Constellation Model – Recap. In my first article, I set out the key components of the Customer Constellation model. The purpose of the model is to help businesses develop optimal customer engagement strategies by creating Constellations of brightly lit Stars across the customer universe. The premise being that, like the night sky, these are the most noticed and valued part of the universe.
Stars – individual products and services
Black Holes – products and services viewed by the customer as lacking value
The Milky Way – a collection of products and services that the customer interacts with on a regular basis
A Galaxy Far Far Away… – a collection of products and services that the customer interacts with on an infrequent basis
Constellations – a collection of linked products and services
In the second article, I showed that before developing Constellations with other Stars, it is important that you make sure your existing Stars shine as brightly as possible. This is critical. There is no point in creating Constellations with bright Stars if your own are very dim.
In this article, we look at how you can create effective Constellations by connecting to other brightly lit Stars in the customer universe.
Developing Your Constellation Strategy
Three key components must be in place before you build your Constellations:
Motivation – what is the desired business outcome of adding another Star to your Constellation – additional product sales, attracting new customers or retaining existing customers?
Prospective Stars – what are the products/services that you want to add to your Constellation? How do they align with your existing product set? Will they contribute towards attaining your desired business outcome?
Nature of the Link – what is the means by which you want to integrate the new Star into your Constellation (partnership, acquisition, new product development etc.)?
1. Motivation
In the second article, we saw that there are a number of engagement metrics that drive the three core business outcomes (additional product sales, attracting new customers and retaining existing customers). To avoid ineffective intergalactic expansion, you need to be very clear on what the purpose of adding a Star to the Constellation is.
This will allow you to, in the next step, target the Stars that have positive engagement metrics that will drive you towards your desired business outcome.
2. Prospective Stars
Once you are clear on your motivation, you then search the existing customer universe for Stars that will contribute to the desired business outcome.
For example, if your existing Star is a Life & Pensions product (generally, a dimly lit Star in a Galaxy Far Far Away…) and your motivation is to attract new customers, then according to Grant Thornton's CLIX data below, you need to find Stars with strong customer perception of value for money.
CLIX Business Outcome Driver Analysis*
*Please note, the thicker the line, the greater the influence of the engagement metrics on the business outcomes.
Further, given the existing Life & Pensions (L&P) Stars sit in a Galaxy Far Far Away… (i.e. they have low frequency touch-points) the L&P provider should only countenance adding Stars within the Milky Way (i.e. products/services with high frequency touch-points) to the Constellation.
Retail and Retail Banking products/services often sit within the Milky Way and would help make the L&P provider more relevant to their customers. Grant Thornton are able to understand which retail providers your customer base have particular affinity to and can help assess whether these providers are perceived as offering good value for money.
3. Nature of the Link
Finally, you must consider how your business wants to build the Constellation. Do you want to build the product/service in-house, partner with a specialist provider or acquire the product/service provider?
Each option should take account of the actual and opportunity cost associated.
In particular, if acquiring or partnering with a specific brand, you must ensure that the brand values and performance of the two businesses are understood and aligned. If not, you could end up building a Constellation with a product/service whose provider is going to detract from the overall brightness of the Constellation.
For example, in the picture below, Brand A clearly should not acquire or partner with Brand B as they exhibit poor levels of customer loyalty & experience. The firms which Brand A should consider acquiring or partnering with sit within the yellow shaded area below.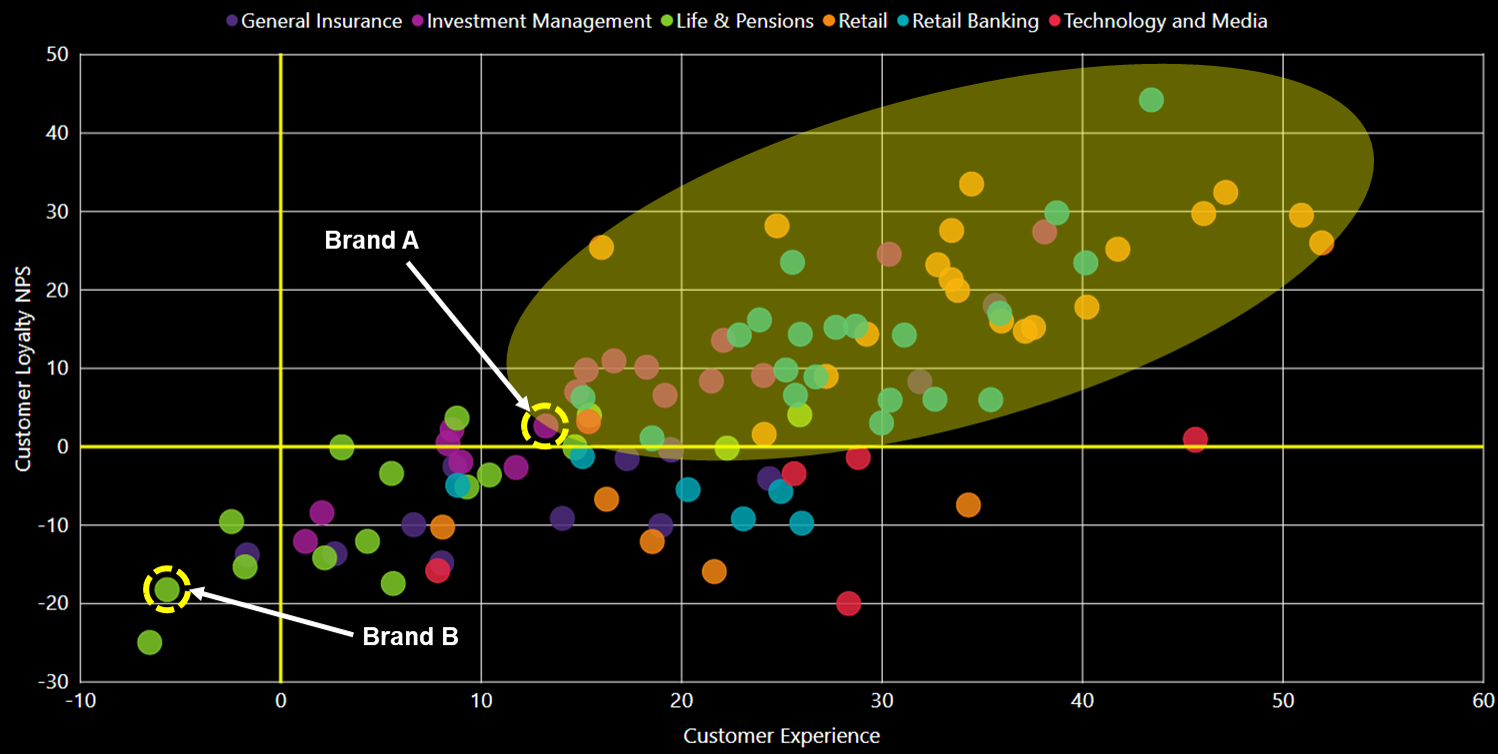 Making the Jump
In order to develop a coherent Customer Constellation Strategy, I would recommend holding a workshop with relevant proposition, strategy, operations and distribution leads to gather ideas on all three components of the above strategic development process.
If you would like us to host this workshop, making use of Grant Thornton's strategy expertise and our CLIX data-set, please do get in-touch with me at: samuel.c.church@uk.gt.com.
Search
Everything you need to know about Digital Transformation
Subscribe
The best articles, news and events direct to your inbox