Join The Digital Transformation People Community
Join The Digital Transformation People Community To Connect With People And Learning Resources To Help You Succeed
Join the Digital Transformation People and we'll keep you abreast of all the latest thought leadership, best practice and curated content for your areas of interest.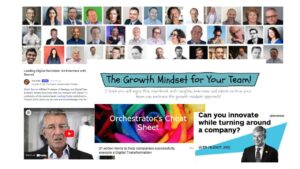 Access the best quality content and conversations on demand when you need it – curated by us and easy to find 
Designed for business leaders, functional leads and head of department you may have found yourself thrust into the throes of digital transformation. Whatever your discipline, everyone is affected and has a role to play but where do you start and what's the right way to achieving a successful digital transformation? 
As much as 80% of digital transformations fail; they are notoriously difficult to get right and very often it comes down to 2 things: people and knowledge. 
Get Alerted To Posts, Events and Conversations You Don't Want To Miss On LinkedIn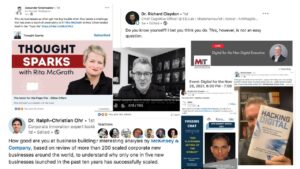 The Digital Transformation People community is designed to connect you to the knowledge you need to get started and continually learn from experts and your peers across disciplines. From leading digital transformation, through to strategy and innovation and how to organise for success we'll keep you up to speed.
Receive A Fortnightly Digest Of The Best Articles, Conversations, Podcasts and Resources To Help You Learn 
Meet Expert Practitioners, Thoughts Leaders And Peers From Across The World 
What people are saying:
Kelli 
"there's some really useful information available – great platform!"
Thomas 
"This really looks like the content hub from my dreams. Not just the digital aspect, but change management, CX, culture and mindset as well."
Matt 
"I came across your website this week and just wanted to say how grateful I am for the content. I've finally found a community of people where I belong and share the same interests."
Marissa
"Really good set up with some interesting material – well done"
Claudia 
"It's like an incredible "buffet" of knowledge."
Didier 
"seems it packs a punch !!"
Andreea 
"I found it very useful, great content"
Gregory 
"I really like what your community is built around– very timely! And the organizational principles are a really nice match for my business."
Experts and practitioners are invited onto the platform by us to curate the best articles for you to learn from and are available to coach and guide you through the challenges of transformation should you desire it. 
Please use the form to submit your application to join and we look forward to welcoming you to the community. 
Experts, educators and practitioners please contact us by email if you would like to participate as an expert or mentor in the community. hello@theDigitalTransformationPeople.com