Barclays, the multinational investment bank and financial services company, recently posted a position for a Partner Manager, Platform Ecosystem.  The job role stated: "As a Senior Product Manager, you will drive and communicate the overall Global Platform strategy and vision with business partners, with internal and external stakeholders and within the wider team. You'll be passionate about the user experience, delivering a useful and usable product that provides a delightful customer experience in alignment with CX principles." This was one of over a dozen positions that Barclays posted over the past 12 months to fill key talent roles associated with its digital transformation and shift to a platform strategy.[1]
Barclays is just one of over 2,700 companies world-wide seeking dedicated platform talent. Once an executive team embarks on a platform strategy, they quickly confront a new challenge—filling key roles with individuals who have the right knowledge and experience.
Not surprisingly, the number of successful platforms have grown so have the number of postings for platform-related talent.  An analysis of job posting reveals a significant number of jobs being posted that specifically call for platform competencies.   Over the course of the past year, a detailed analysis of job postings found more than 12,930 jobs that specifically sought platform talent.[2]
Building a strong bench of platform talent is demanding the increasing attention of senior executive teams.  Finding talent that the right digital acumen and experience is one thing.  Finding these capabilities plus a sophisticated understanding of platform dynamics and implications of network effects, platform pricing, data management, and external ecosystem management is an even taller order.  Platform talent is now what sets companies apart.
Who is looking?
The search for platform talent can be found across three different kinds of companies.  One group is made up of replenishers.  These are existing platforms that are seeking talent to fuel continued growth or fill roles that have gone vacant for one reason or another.  As might be expected the world's largest platforms, such as Google, Amazon and Alibaba are active in recruiting platform talent with hundreds of platform positions posted annually.  These companies have grown significantly over the past ten years and now have a large base of employees that they must continue to renew to counter natural attrition.
Builders make up another category.  This group is made up of startups who are building out their platform talent.  These are typically startup companies that have lean operations are seeking to bring on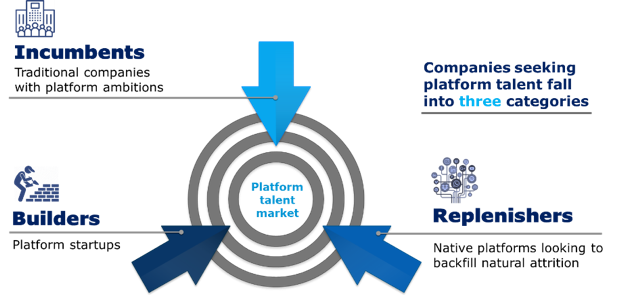 additional individuals with platform skills or they may have reached the stage where positive network effects are driving growth and they require additional platform talent to scale operations.
A third group is made up of incumbents who are a growing presence in platform talent markets.  Since these are often are large complex organizations with entrenched organizational structures and business processes the platform function is often part of digital transformation and therefore run from or linked to the organization's transformation office.  For example, in 2018, JPMorgan Chase created the Digital & Platform Services group to deliver new technology solutions and transition to a digital banking platform.  It also began offering API via J.P. Morgan Developer to third-party vendors and fintechs.  Since then, JPMorgan has been actively recruiting platform talent to support these initiatives.[3]  They require specialized platform talent to identify, develop and deliver products and services not only to enhance value by enhancing functions within the company but also but by building greater external value through the creation of initiatives like outside the organization and transform the way it does business.
Platform capabilities
A review of job postings reveals a range of platform talent roles.  Five roles stand out.  One is the role of platform strategist.  This role seeks individuals who can develop business recommendations that will have a material impact on top and bottom line and help chart the company's long-term platform strategy.  They must be able to prioritize business benefits, develop product and broader ecosystem roadmaps.  They are typically expected to lead cross-functional teams that consist of a business unit and functional team members and engage product managers and product owners to ensure the platform strategy is prioritized for both delivery and consumption.  For example, a recent platform strategy role by JPMorgan sought  "Partner with firm-wide Digital strategy and delivery channels to build the integration roadmap  Identify the key current and future (3-5 years) strategic capability (people, process, technology & data) and platform priorities and opportunities within our business and how they underpin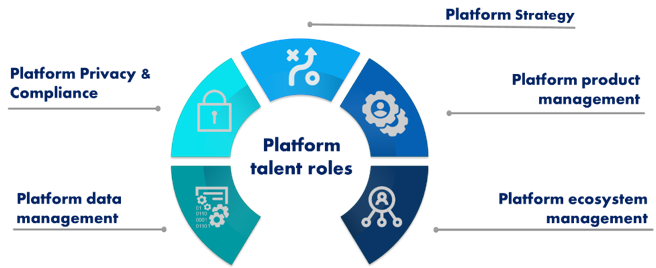 the broader strategic ambition and goals.  Finally, platform strategists are expected to consider how value will be maximized with contributors outside the boundaries of the firm and optimal pricing not from the vantage of specific product or service lines but the entire platform ecosystem.
A second role is a platform product manager.  Leaders filling this position are expected to have responsibility for core platform, ensuring that users and engineers have a performant, scalable, and strategic foundation for year;
Drive the discovery, planning, and implementation efforts for platform initiatives, working closely with engineers and stakeholders to identify and deliver requirements;
Manage multiple roadmaps at once ensuring that engineers are tasked, stakeholders are informed, and risks are mitigated.
Identify, build, and champion new platform functionalities for users and harness all customer data and harness network effects.
Depending on the make of the company's structure the strategy role may also seek to optimize across-selling between existing platforms that enhance the overall platform.  One example is the linkage between Uber's ride-sharing business line and Uber eats.  In a role that it calls Platform Experimentation, Tech Product Lead, "the priority will be enabling rapid platform experimentation through customer value prop testing and cross-platform feature development to accelerate new business growth… including developing insights on optimal cross-sell and up-sell strategies, building a proof-of-concept product to deliver personalized offers to key customer segments, and testing new experiences that promote cross-platform engagement."[4]
A third growing role is for individuals who can manage a platform's third-party ecosystem. This role comes with a variety of different titles: Director, Global Community and Developer Relations Lead; Partnerships Growth Manager; Director, Community Engagement; Developer Relations and Alliance Director, Global Platform Partnerships.  While they come with different labels, they seek to fill the growing demand for leaders who can build and manage third-party software developer ecosystems.  The IT consulting company IDC predicts that by 2023 60% of the global 2000 will have a developer ecosystem with thousands of developers.[5]   Many of these roles are considered a central element in platform strategy.  As one company's in the benefits industry stated in a job posting: "The Sr. Director, Developer Relations position is a strategic leadership position which will be a fundamental part of our future success and growth strategy… As the global leader for technology partners, you will define and execute the company's strategy for seeking development partners and creators of software and data products and services that complement the Benefitfocus platform to build compelling solutions so that everyone wins."[6]
A fourth position is that of platform data manager.  Information and data are at the heart of all platform strategies.  Platform success increasingly hinges on leveraging advanced technologies, such as data platform, data mining, machine learning, robotic process automation and artificial intelligence as well as deep experience in cloud computing and various data storage systems.  These roles require the ability to drive requirements and strategy for data collection, processing, retrieval and redistribution. They are a key contributor to help drive the strategy for centralized software platforms needed for processing, managing, and serving data to the entire company and integrations with ecosystem partners.  Some companies like Visa have set up specialized "Data Platform" units and need platform talent to staff them.  For the role of Principal Technical Product Manager – Data Platform Team, Visa is seeking deep technical talent "responsible for defining the next generation of Visa Data Platform including the Data Platform as a Service (PaaS) layer and Data as a Service (DaaS) layer. To do this, the Principle TPM needs to understand the company needs on data/data platform and make sure that our PaaS and DaaS can serve these needs properly."[7]
Finally, platform privacy & compliance roles are gaining significance.  As public attention and the regulatory landscape around platforms and data privacy has grown, platforms increasingly need staff who can evaluate various compliance solution options and select the most appropriate solution for the company's data management and governance.  They need specialized talent that can provide guidance/thought leadership in the project execution delivery space working with the IT organization, vendors and various internal and external stakeholders. Facebook recently posted a role titled Technical Program Manager for Enterprise Engineering teams.  This role is focused on initiatives supporting data privacy, information security and governance, risk and compliance activities and required experience in privacy, security, or compliance principles or relevant technologies.  Candidates were also expected to have experience with privacy principles and relative technologies, particularly related to sensitive data handling, retention, user data protection, and anonymization.[8]
Moving beyond "T" shaped people
In the early days of deploying computer networks in business, it became apparent that applying these systems to business problems required a mix of capabilities.  Firms not only needed to acquire the technology but to recruit individuals that had a combination of capabilities.  They needed deep technical knowledge but also breadth.  This led to the notion of so-called T-shaped talent, where the vertical pillar of the letter T represents the depth of related skills and expertise in a single field and the horizontal capstone captures represents boundary-crossing competencies, such as teamwork, project management and a global understanding.[9] Plus the ability to collaborate across disciplines with experts in other areas and to apply knowledge in areas of expertise other than their own.
In addition to breadth and depth staffing, platforms require more than the traditional conception of T shaped professionals.  They demand a deep understanding of the unique logic that underpins platform creation and growth.[10]  Platforms beat products due to faster innovation, because of the fact they tend to appreciate rather than depreciate in value and they are able to harness resources that they do not directly own.  Platform talent needs to be familiar with how demand economies of scale can be created and how they are unbundling and re-bundling markets and often shift the boundaries of entire industries and the fact that network effects invert the firm, shifting value creation from inside to outside across all major business functions.  Finally, they need to understand how information and community are key resources and how they need to be added and managed to create margins, innovate, and add stickiness and create disincentives for participants to switch.
Platform talent requires individuals who bring technically savvy, plus understand platform dynamics and how value is created via external ecosystems.  As one company posted seeking a platform ecosystem manager stated: "The Director, Community Engagement will be a passionate leader who is relentlessly customer-focused and able to influence internal and external factors to ensure [the] Community is optimized to best serve our customers as part of a broader customer-focused ecosystem. Critical to this role is the ability to build relationships internally and externally at all levels and to bring positive change. The right leader is collaborative, strategic, influential and capable of making tough decisions. They can lead and manage effectively in a large, global, virtually distributed environment."[11]
Identifying individuals with the array of capabilities needed to drive platform strategies is difficult to impossible.  Organizations typically need platform talent teams.   The roles noted above, platform strategist, platform manager, platform ecosystem manager, platform data manager, and platform privacy and compliance manager must operate in concert to drive platform success.  For large organizations, this can mean large recruiting drives to fill these and supporting roles.  For example, the Refinitiv, a spin-off of Thomson Reuters and recently acquired by the London Stock Exchange posted more than 60 platform job roles in 2019.[12]   Other companies a significant number of job posts include financial service companies such as Wells Fargo, Barclays, and JPMorgan Chase, eCommerce companies like Amazon, Zalando, Zilingo) and telecom/media companies like Verizon, Walt Disney and Vodafone.
Conclusion
Talent is the next frontier of the platform economy.  Replenishers, builders and incumbents are all actively competing for scarce platform talent posting thousands of open positions each year.  Identifying and growing platform talent has become a core strategic competency and over time a critical source of competitive advantage as the technology stacks that drive platforms become increasingly commoditized.  The question is should companies groom from within or recruit from outside?   The ability to recruiting or train is like other forms of intellectual capital an intangible asset that can be challenging to quantify and manage but in many ways, has become essential for execution.  Most companies need to become more intentional about their approach to platform talent.  The companies that build a strong platform talent bench are likely to gain an edge over companies that underinvest in platform talent.
[1] Tracy Mayor, "Looking to stay relevant, big enterprises embrace the platform," MIT Sloan School of Management, August 9, 2019; https://mitsloan.mit.edu/ideas-made-to-matter/looking-to-stay-relevant-big-enterprises-embrace-platform
[2] Platform Strategy Institute, Platform Talent Database, 2020.
[3] Beecher Tuttle, "JPMorgan is building out its most interesting new tech team," efiancialcareers, March 1, 2019.
[4] Product Manager, Platform Experimentation, Uber, San Francisco, posted December 12, 2019.  LinkedIn: https://www.linkedin.com/jobs/view/1640707128/
[5] Gil Press, "Top 10 Tech Predictions for 2020 from IDC," Forbes.com, October 29, 2019.
[6] Sr. Director, Developer Relations, Benefitfocus, Boston, MA, posted to LinkedIn, November 25, 2019, LinkedIn: https://www.linkedin.com/jobs/view/1600507342
[7] Principle Technical Product Manager – Data Platform Team, Visa, Palo Alto, posted December 27, 2019. LinkedIn: https://www.linkedin.com/jobs/view/1660575743/
[8] Technical Program Manager, Privacy, Facebook, New York, posted December 23, 2019, LinkedIn https://www.linkedin.com/jobs/view/1656127281/
[9] Haluk Demirkan & Jim Spohrer (2015) T-Shaped Innovators: Identifying the Right Talent to Support Service Innovation, Research-Technology Management, 58:5, 12-15.
[10] Marshall Van Alstyne and Michael Schrage, "The Best Platforms are more than Matchmakers," Harvard Business Review, August 2, 2016.
[11] Director, Community Engagement, ServiceNow, Santa Clara, California, LinkedIn https://www.linkedin.com/jobs/view/1440722758/
[12] Platform Strategy Institute, platform talent database, 2019.
Search
Everything you need to know about Digital Transformation
Subscribe
The best articles, news and events direct to your inbox