Platform Strategy Institute
Supplier Directory
Platform Strategy Institute
Boston, Massachusetts, USA
Contributor
Size: Boutique
Year founded: 2017
About Platform Strategy Institute
The Platform Strategy Institute is dedicated to helping clients develop strategies and action plans to address the most important economic development of our time — the rise of the platform as a business and organizational model.
We combine unique platform specific data assets, a deep understanding of platform dynamics as well as years of experience working with companies to achieve growth, innovation and world-class thought leadership.
The Platform Strategy Institute is dedicated to advancing the theory and practice of platform strategy. We help clients realize emerging opportunities, identify value, and create new opportunities by harnessing the full power of platform business models.
Management Consulting
We support clients across diverse industries with their digital business and platform strategy, transformation, innovation, and growth – irrespective of where they sit on the platform evolution curve. We offer client advisory services focusing on the platform strategy, transformation, deal advisory and talent development.
Speaking
We offer deep understanding of platform based business strategies across the globe. We give speeches and keynote addresses in various settings such as conferences, executive meetings and board advisory workshops.
Group Learning
Being at the forefront of influential scholarship around "two-sided" the best-selling book Platform Revolution, we support providing clients with commissioned research and analysis with rich empirical work on platforms.
Support Professional Certification
We are dedicated to help companies compete in the new platform economy. We design executive training programs to help clients build knowledge and organizational capability to fully execute platform strategies.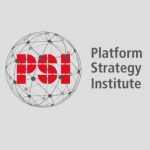 Specialisms
Platform Business Models, Management strategy, Executive training, Commissioned research, Keynote addresses.
Recent articles by authors from Platform Strategy Institute
Service Areas

Platforms & ecosystems
Strategy & Innovation
Service Types

TDTP Partner
Training