In this series of posts, I am exploring the Give It Up model in which we move away from the command and control of manager to the delegation and trust of true leaders.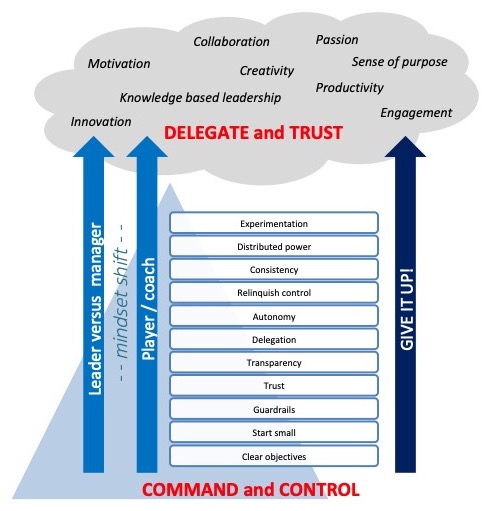 Innovation
So now that we have climbed the ladder from command and control to delegate and trust, we can start to reap the benefits. Innovation is crucial to a business being able to bring new and improved products and services to the market and be profitable.
Markets are not just local, regional or national, they are now global and organisations are operating on a bigger stage with more competition than ever before.
Organizations that do not innovate could (if not will):
Lose market share and profitability
Experience decreased productivity and efficiency
Suffer attrition of key staff
Cease to exist.
The benefits of innovation include:
Increased profitability
Increased productivity
Product and/or service diversification and differentiation
Increase customer satisfaction and retention
Market position and share
Competitive advantage
Attraction and retention of skilled staff.
Leaders need to convey the importance of innovation and its benefits to employees. They need to make employees aware that while innovation may appear risky, the fact is that not innovating and not trying something new is actually the biggest risk.
Leaders have to lead by example and provide employees with time for innovation, creativity, and experimentation. They need collaboration space and recognition of their innovation efforts. There should be rewards for innovation even if the idea isn't implemented.
Amazon Prime is core to the Amazon business. In 2005, Amazon introduced the service that transformed online shopping. As of April 2018, the company boasts over 100 million subscribers. The Prime service was the result of employee innovation. It started when an Amazon engineer named Charlie Ward put the idea in a digital employee-suggestion box.
At the time, Amazon offered customers free shipping on purchases of a certain dollar amount or more, if they were willing to wait a few extra days for their order to arrive. Charlie Ward thought some customers would be willing to spend more, and might even shop more often if they could be part of a buying club that offered rapid shipping. CEO, Jeff Bezos jumped on the idea and the rest is history.
Game score
Winning teams don't do great things because they were told to. They have the power to make great things happen. They are free to experiment, create and innovate.
In subsequent posts in this series, I will be exploring the additional elements of the Give It Up model.
Search
Everything you need to know about Digital Transformation
Subscribe
The best articles, news and events direct to your inbox