For almost 70 years, Christian Aid has been providing relief to those hit by disaster, helping people out of poverty and speaking out against injustice. Christian Aid provide urgent, practical and effective assistance where need is great, tackling the effects of poverty as well as its root causes.
Their challenge
Multiple digital projects but no unified digital vision.
Struggling to build momentum internally.
A lot of passion, activity and execution, but in need of greater strategic direction.
A predominantly inward digital focus and lack of understanding of impact of digital on end-to-end organisation.
To switch focus from process driven to outcome driven.
Harness digital for benefit of all stakeholders across Christian Aid.
Our approach
Insight gathered on current digital projects and governance so far, in the UK and internationally, and internal attitudes to digital.
Looked at the wider environment and how digital technology and usage was going to evolve.
Articulated the impact of digital on fundraising, lobbying, and advocacy work of Christian Aid.
Ran a series of workshops to replay insight, clarify digital vison and strategic direction.
Outcome driven benefits of digital, defining success criteria, how to measure them and the ROI.
Moved into plan and development phase; targets, objectives, road-maps and timelines to deliver.
Results
The executives, trustees and wider organisation have a clear understanding of how digital will change and benefit Christian Aid.
A clear vision for digital change has been set.
A digital strategy has been developed, along with measurable objectives and outcomes.
A prioritised roadmap for manageable change generated.
Momentum has been created and stakeholder engagement is now broadened.
Switched from micro to macro transformation approach.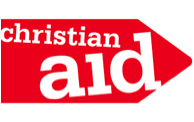 "We had a determination to make progress on the digital front, and many strands of work in the organisation already underway, but had been struggling to move forward." ~CEO of Christian Aid Loretta Minghella
Their story
Like many other charities, Christian Aid understand the critical need to develop their digital capabilities in order to grab hold of the opportunities and combat the challenges of an increasingly digital world.
While there had been progress – there were multiple digital projects in motion – they had not crystallised what digital was going to mean to them, how the world around was changing and how they needed to respond. They were struggling to build the internal momentum needed to move forward.
Micro transformation 
From early discussions we identified a predominantly inward digital focus at Christian Aid, with an emphasis on internal processes.
There was a lot of activity and execution. The digital projects that were running were often emotionally driven and lacked a consensus on what the outcomes needed to be.
This is what we term 'micro transformation'. Time, effort and investment in digital, but without the 'glue' of a vision and strategy to provide a joined-up view of digital transformation, contextualised to the outside world. This is a common problem for businesses trying to adapt to digital. In order to transform there should be a balance between strategy and execution.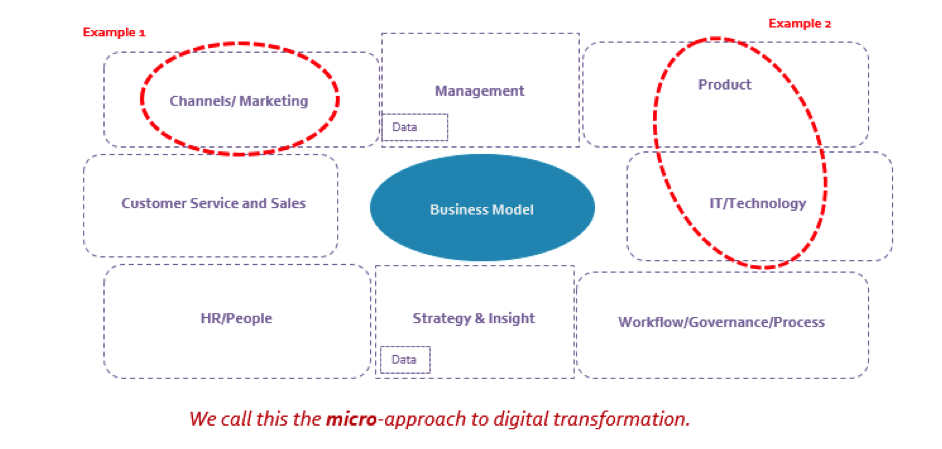 Harnessing a passion for digital 
At Christian Aid there was a real passion and emotional connection to using digital to benefit the organisation and their beneficiaries.
They absolutely believed in what they were doing, however to drive change they needed to harness this positive energy and communicate a core vision and strategy to align to across the whole organisation. This needed to articulate the benefits, how to measure them and the ROI – driven from the management layer throughout the organisation.
Creating a clear picture 
In the first four weeks we did an internal review. Gathering insight on current digital projects and governance so far, developing a clearer picture of what they viewed their objectives and outcomes, and how they planned to measure them.
We then referenced that to a wider external review taken from existing Christian Aid data, both in the UK and offices internationally. By interviewing people it became apparent that not all views were aligned, and as with any large organisation, a certain amount of fragmentation existed.
A broader view of digital needed
We started to get the organisation to look at the wider environment and asking how digital technology and usage was going to evolve – not just now – but what it would look like in one, two or even five years' time.
The key theme we found from the insight was the outside world had largely been ignored. There was a particular focus on digital being the 'web', and one set of stakeholders in the UK, but their digital transformation needed to be much broader.
"DWG re-energised us and gave us the structure and confidence we were missing. We are now building on the momentum they have created and forging ahead with digital change across the organisation." ~CEO of Christian Aid Loretta Minghella
Replaying the insight
We sat down with the management team and replayed the insight via a series of workshops. We looked at how the environment was changing, in the fundraising, lobbying, and advocacy work that they do.
The fastest rate of change in digital adoption across all of Christian Aid's stakeholders was with their beneficiaries – driven by the adoption of smartphones and mobile technology. How they delivered their services to the beneficiaries needed to be embedded in the core strategy for digital.
Their fundraising strategy was also going to need to change. For instance the massive adoption of contactless payments has left an increased shortage of cash in the pockets of people walking in streets – denting fundraising opportunities. We looked at how they could embrace that type of environment.
Technology is also threatening some of the stability they had gained in charities that they support. For example Christian Aid are advocates of supporting family and promoting connectedness, but if they were to adopt a heavy social media presence there is a risk that groups without those capabilities would get left behind. So it was a real balance.
Appetite to risk
A big change for Christian Aid was looking at how their appetite to risk would need to shift.
Like most mature organisations historically change tended to happen in phases; they measured out what they were going to change, the risk associated and then went in and did the change.
The reality is because digital is rapidly evolving you need to have many change cycles running at the same time. This means adjusting your approach and appetite to risk – and accepting there may be things that are wasted. Developing multiple solutions in parallel allows you to create the right strategic solution, and discard those which are no longer relevant or viable.
Clear vision and detailed digital outcomes
Once the vision became clear, we articulated it in such a way to be outcome driven, developing a detailed strategy and the outcomes that they wanted to see.
This was about understanding where they were now, looking forward a few years to where they needed to be, and then drawing a line back towards today and asking what are the capabilities that need to be built in order to achieve this leap?
Together we defined the important success criteria; we will be doing this and our KPI's will look like this. They were mainly positive future statements, but there were some negative ones – we will no longer do that. Identifying how they could be enabled or disabled by the adoption of technologies.
We started to build targets, objectives, and road-maps with timelines to deliver them, so we could start to communicate what those outcomes look like to the rest of the organisation. A change of direction needed to be articulated very clearly to everyone.
Embracing digital
Both the executives and trustees are confident they have a clear plan of how digital is going to change Christian Aid, and there is momentum behind it.
They have started to mobilise the projects that they were failing to deliver. They have a focus on where digital sits within the wider business and organisational strategy and priority. They are only starting activities they know are aligned to the outcomes that they want.
The stakeholder engagement had now broadened, and there is greater clarity around digital initiatives. The organisation is pushing in the same direction so change can happen.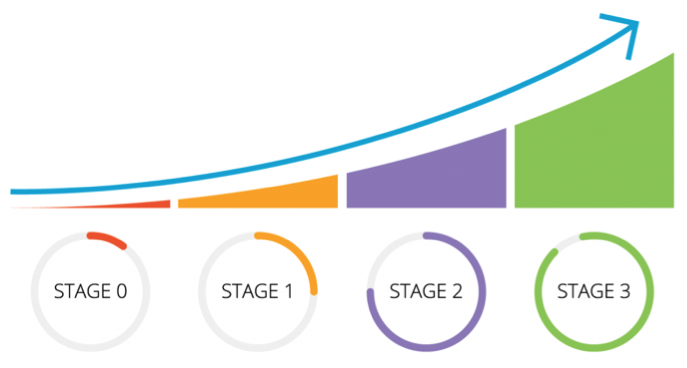 Search
Everything you need to know about Digital Transformation
Subscribe
The best articles, news and events direct to your inbox