There are a few things in this life that I never thought I'd do. When I was a little kid, I never thought I'd become a marketer, or the founder of a company. Today, I've got two little kids of my own, and I'm falling in love with them like there's no tomorrow. Like most parents, I love reading to my kids. A big undertaking I never dreamed of is writing my own book..
The first time I came from India to America was to get my master's degree at the University of Alabama.
I knew very little American English, so to learn how to speak the native tongue I rented television shows from Alabama's library.  Everybody Loves Raymond, Friends, and Seinfeld helped educate me on American sayings, and hey, maybe they even helped improve my sense of humor…but that still needs work!
If you know me, you know that I don't claim to be an expert in a lot of things. I believe in banking 2,000% on your strengths then building a team around you who bring their own unique talents to help your mission.   My mission as a co-founder of Terminus is to challenge the status quo of the B2B marketing and sales industry. In the past decade, I've helped marketing teams execute traditional lead generation campaigns which, at the time, worked to grow revenue for their respective companies.  But those days are over.
Every marketer out there knows how to send an email. Every B2B marketing company has a website and understands the importance of having a marketing automation system to capture all the engagement of your various campaigns and activities. But what's changed is your audience – your prospects and customers – are tired of having a clogged inbox. They don't want to read your email unless it's something they care about. This is why account-based marketing (ABM) has become the next big thing in B2B.
The B2B marketing industry has new buzzwords every day. ABM is more than just a buzzword because it's a proven strategy to make more money for your business.
How do I know ABM is more than just a theory? Well, because I've seen it happen at my own company, Terminus.
In 2015, we went from $0 to $1M in annual recurring revenue (ARR) in nine months after we launched our ABM platform.  As a company, the Terminus team agreed we needed to do a better job of "drinking our own champagne" by focusing on the right accounts to go after. Four months into 2016, we see our own ABM tactics and activities are working. Our company has grown over 100% in the first four months of 2016. We recently raised our Series A of $7.5M and I can't wait to see where we are at this time next year.
One big initiative which has helped our startup grow this fast is making the decision to write Account-Based Marketing For Dummies. I was looking for resources on ABM and found this article from Docurated with the Top 50 ABM blog posts and articles. This was helpful, but I wanted more.
That's when I realized that if I wanted to become an expert on ABM, I would have to do my own research, and even write my own book on the topic.
My long-time friend and colleague Kyle Lacy at OpenView Venture Partners has authored Branding Yourself, Twitter Marketing For Dummies, and Social CRM For Dummies. Kyle connected me with the team at Wiley, the publishers of the For Dummies®  reference series. We saw this would be the first-ever book with account-based marketing in the title. I was not only embarking on a quest to further my own education but also creating a whole new subcategory for marketing books!
The past eight months since we started the journey of writing Account-Based Marketing For Dummies have been a blur. Much has happened. Besides committing to writing a book, I had to grow a startup, lead a marketing team, and still try to be a decent husband and dad to my two kids. I lost my own father, tragically, last fall right after we started working on the book. I believe everything happens for a reason, even if we don't understand why at the time. You can read my dedication to my dad in the book.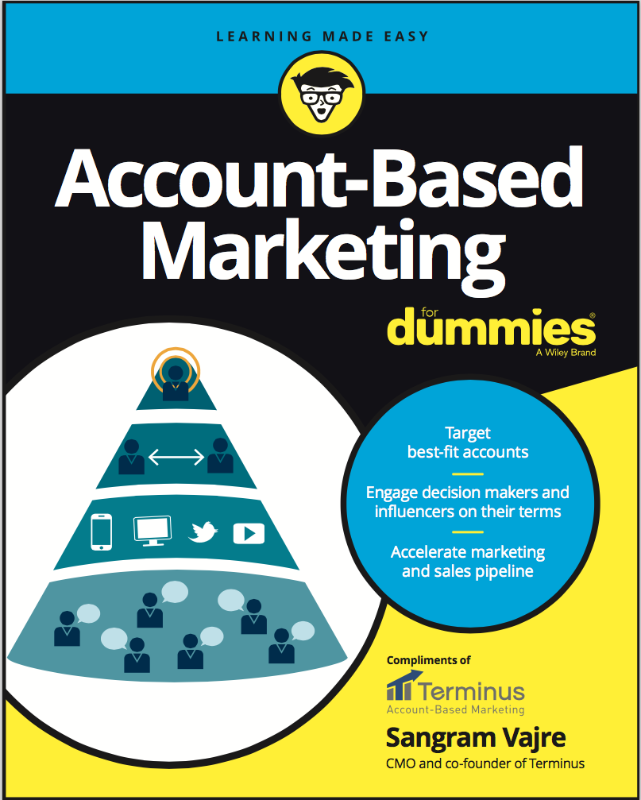 That's right – the book is done! Account-Based Marketing For Dummies debuted on April 18. This book exists to help you understand this new trend called account-based marketing. Whether you are new to the world of B2B marketing, work as a salesperson for a B2B organization, or you're an experienced CMO, having a strong understanding of account-based marketing is a must.
I've laid out this book to give you a foundation of B2B marketing, how account-based marketing takes your efforts to the next level utilizing readily available MarTech solutions and increase new and existing revenue for your company. My team helped me conduct interviews with B2B sales and marketing rockstars which ended up giving us nearly 1,000 hours of brainpower and hundreds of pages of material. Account-Based Marketing For Dummies is 360 pages and is available on Amazon. Here is what a few people have had to say:
"Ever-advancing marketing technology is enabling a new generation of sales and marketing strategies to thrive, changing the playing field for companies of all sizes. This modern wave of account-based marketing has tremendous potential to improve your business, and Sangram Vajre is an insightful and enthusiastic guide to show you how." – Scott Brinker, Author of Hacking Marketing
"Like a Hollywood agent, marketing's job is to get sales the 'audition,' not the part. Account-Based marketing is the key to maximizing the number of the 'right' auditions for your sales team, and Account-Based Marketing For Dummies explains how." – Joe Chernov, VP of Marketing at InsightSquared
"As marketers, we know the proliferation of data, analytics, and advancements in technology help drive success. But these same tools also complicate our jobs more and more every day. Account Based Marketing For Dummies provides a blueprint for marketers to harness these tools to focus on the right set of activities, investments, and processes to maximize growth. " – Rishi Dave, CMO, Dun & Bradstreet
"Unless you know precisely how to customize and execute ABM for your unique business, all the hype isn't going to do you much good. Sangram has written a definitive and practical guide for B2B marketers that will show you exactly how to accelerate target account marketing to support and exceed your sales goals."   –  Matt Heinz, Heinz Marketing
"If you're reading this book and just getting started with ABM, welcome to the future of what b-to-b marketing can be: Insight-led, technology-enabled and, above all, customer focused. Our clients are delighted with the business impact they deliver using account-based marketing, and you will be, too." – Megan Heuer, Vice President and Group Director, SiriusDecisions (who also wrote the Foreword for the book)
I also want to give special thanks to Lauren Patrick, who helped me type the manuscript for Account-Based Marketing For Dummies.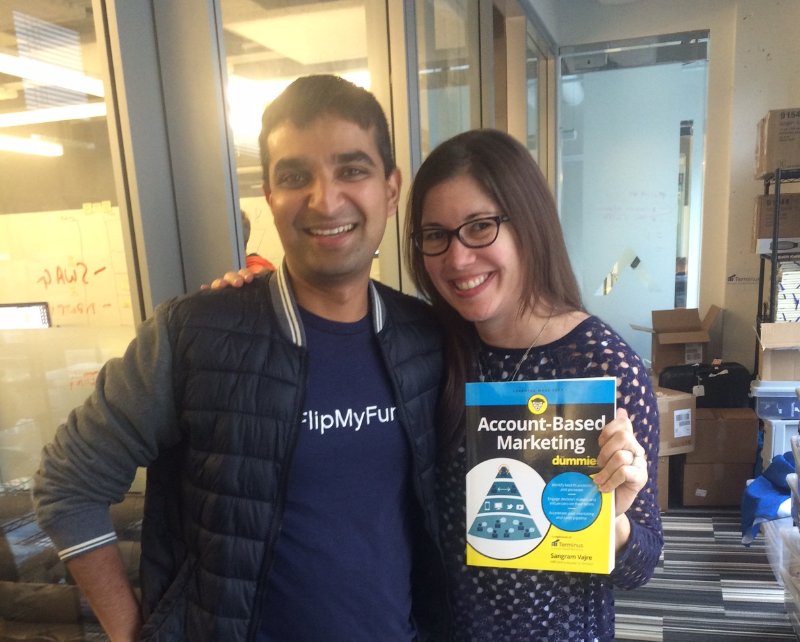 Writing a book takes considerable time and I am happy to share all the "hacks" I used to get this book out with my best foot forward while running a startup that went from three co-founders to 45 full-time "Terminators".
I feel like I'm still a "Dummy" in many ways even after finishing my first book, and the first-ever book about account-based marketing.
The B2B marketing industry is changing so rapidly and there will always be some new technology I've never heard of or a new skill which I need to learn. However, I do know one thing: there are three people in this world who don't think I'm a Dummy.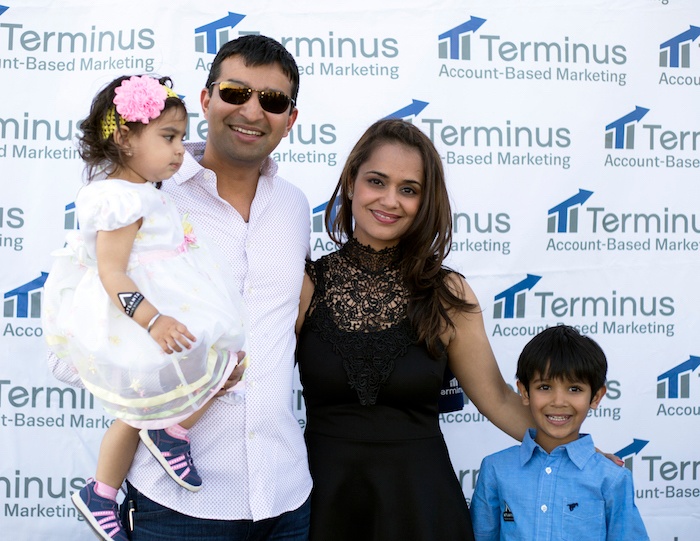 Thank you to my wife, Manmeet, and my kids Krish and Kiara for believing in me. The day we received the first copy of the book, I brought it home to show my family and Krish, who is 5, shouted, "Papa, you're an author!" It was one of the best moments of my life. Later that week, we received the first 1,000 copies of the book. To celebrate, Terminus hosted a launch party on the roof of the Atlanta Tech Village where our office is headquartered. Check out this montage from the Account-Based Marketing For Dummies launch party!
Thanks to BJ Williams of 7th & Wes for capturing the event
If you are so inclined, here is my shameless plug to check out the book. You can purchase the paperback or Kindle version on Amazon.
I can't help but feel excited about the future.
There is still much work to be done, and a startup to grow with Terminus. Writing the book was one of many projects which will help our company continue to pave the way for account-based marketing to become the status quo of the B2B marketing industry. I'm thankful to have you along for the ride, reader. Please let me know your thoughts in the comments section below.
Search
Everything you need to know about Digital Transformation
Subscribe
The best articles, news and events direct to your inbox