Whilst companies are going through their digital transformation journey, are they regressing back to when IT was 'separate to' rather than integrated within the business? Is digital technology driving the business rather than acting as a key enabler?
The recent Capgemini Digital Transformation Institute Report* would indicate the gaps are (re-)appearing in firms embarking on Digital Transformation Programmes. The survey reports that there is a disconnect between the CIO and the rest of the leadership team with only 37% having a shared understanding of the role of IT and 36% having a shared view of IT investment priorities. The really scary statistic for me is that only 36% of organisations believe the senior executives and managers share a common vision for transformation – so 64% don't! Dismiss these stats are your peril; this is no small sample, it is 1300 leaders across 750 organisations.
Huge investment is being made in digital (estimated $2 trillion by 2021) yet many companies are ill-equipped to optimise this spend and even more worrying is that this survey indicates that many organisations recognise this is the case. Are you wasting investment in your Digital Transformation Programmes?
If you are undertaking or planning a Digital Transformation Programme, rather than click off this article without a second thought, hold up the mirror. Objectively look at your organisation by running a session with the leadership team and senior managers to RAG (red/amber/green) against the table below, asking everyone to contribute individually, without knowing the views of others, to avoid bias. Add your own statements if you have a niggle about something.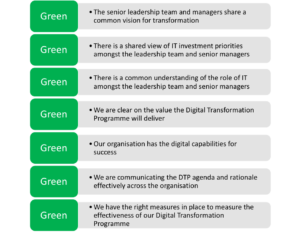 The important bit is not the colour per se, but what you do next. Use the feedback to explore why people have scored as they did, listening carefully. Take great interest in differences of opinion and seek to understand. Be careful that the most senior people in the room do not override the wider views. Then really key is the 'so what?' i.e. define clear actions to address priority gaps.
The role of IT is absolutely fundamental in digital transformation. Just make sure your organisation is aligned to achieve the success you seek.
* "Understanding Digital Mastery Today: Why companies are struggling with their digital transformations".