Digital Transformation is a new phenomenon; it's critical to the survival of your business and it requires far more than just digitising your existing processes. It's a fundamental change in the way you will need to focus, structure and organise your business in order to thrive in the digital era. 
Here we'll connect you with specialist training courses that will help you and your executives to understand digital transformation and the roles and responsibilities required to successfully lead it.
Get Executive Leadership Training for Digital Transformation 
This course is written and presented by Niall McKeown Visiting Professor, Speaker, Author on digital transformation and CEO of Ionology.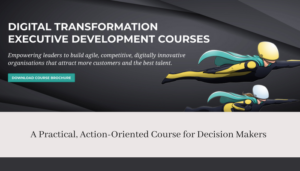 "Excellent – expert driven content, strong case studies, interactive, energetic, informative and well presented."
~ Anthony McCauley – Fujitsu
"Very practical…was very intensive and invited discussion. Case studies helped paint a picture of the methodology put into practice."
~ Richard Bowden – ARUP
Get Certification in Digital Transformation with an online course specially prepared by Rob Llewellyn, globally renowned thought leader on digital transformation and CEO of CXO Transform.

Working at your own pace you'll learn the true nature of digital transformation and how to do it. Join a growing band of certified professionals who are making valuable contributions to digital transformations all over the world.
"I really enjoyed the Digital Business Transformation Management course developed by Rob Llewellyn and his CXO Team. I found especially interesting the THRIVE Framework, which provided a comprehensive view about the issues to reflect and to consider to successfully (and really) transform the business.
I highly recommend the course to professionals interested in learning more about Digital Transformation and the ones exploring proactive approaches for digital disruption via new business models. In addition to the classes, a wealth of updated/latest thinking literature was provided. Great class!"
~ Antonio Urquiza [Certified] – AVP Finance Transformation
Are you a consultancy business looking for a competitive edge in digital transformation? 
Learn how to pitch, win and deliver successful digital transformation initiatives. Join a growing network of digital transformation consultants using a data driven approach to engage and guide new customers on their digital transformation journey.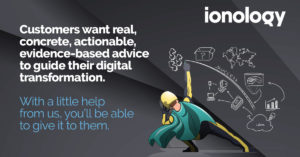 Are you in the business of training for Digital Transformation?  If your business is helping customers learn the skills they'll need for success, contact us and we'll help you connect with them.