This is Milk are proud & excited to launch our 12-month career development programme, officially kicking off with the first cohort on the 18th of June 2018. This programme has been designed with industry to tackle the digital skills gap that currently exists and is crippling digital projects in Scotland.
Digital projects have outgrown the talent pool and traditional project roles don't perform the job we need today or for the future.
​We believe that Scotland, which has a digital industry which is invested into with £13.8 Billion a year has been previously unequipped to solve the acknowledged digital skills gap that is affecting us all.
The This is Milk Digital Transformation Programme has been designed as a solution to this issue by teaching the skills required to successfully facilitate digital projects and excel in careers including:
​Business Analysis
Service Design
User Research
Product Management
Digital Planning, & Strategy
We are empowering ownership and development of personal career paths to create a mass of skilled and enthusiastic changemakers that will to drive digital transformation in Scottish businesses and beyond.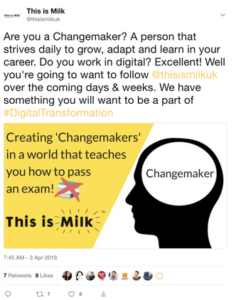 The Digital Transformation Programme has now officially opened its doors to businesses looking to upskill their existing staff working in digital projects with the 1st cohort being inducted on the 18th June 2018.
We are looking for 12 students to take part in our first programme, with more planned to follow.
​If you are interested in taking part, or have a member of your team you wish to take part, then we urge you to get in touch as spaces are filling up fast.
This is Milk are committed to tackling the digital skills gap in Scotland and look forward to driving digital transformation forward with the help of some fantastic organisations, trainers, mentors and of course digital project professionals.