A triumvirate of strategic challenges are coming into play within the next decade that are set to shake up the automotive sector, from semi-autonomous and driverless vehicles, to battery evolution and electric motors, and finally, a new generation of users that have dramatically different priorities, interests and behaviours when it comes to mobility.
Separately, each of these challenges would be a catalyst for significant upheaval but as all three are aligned within the same time frame, the auto industry's transition from analog to digital promises to be even more disruptive than those that continue to impact the music, media and retail industries, etc.
Within this post, I will touch on all three challenges so as to provide an holistic overview of the combined effect on the auto industry, but the primary focus of this article will be the likely significant contraction in car production volumes and corresponding market valuations of automotive OEM's as consumer priorities, interests and behavioural change create extensive disruption.
Semi-autonomous and driverless vehicles
Most, if not all, mainstream OEM's have autonomous vehicles in development at present. Some, such as Tesla, have already released semi-autonomous capabilities that steer on motorways, adjust speeds, change lanes and parallel park. Tesla CEO Elon Musk has even optimistically predicted that within two years you will be able to 'Summon' your Tesla to drive itself from one side of the US to the other, charging itself en route.
From a driverless perspective, Google is prototyping its bubble car which has no steering wheel or control pedals, as well as modified Lexus SUV's on the streets in California. Interestingly, BMW recently announced its Vision Next 100 prototype that can be driven in both manual (Boost mode) and driverless format (Ease mode) where the steering wheel retracts into the center console. Perhaps a transitional play, but by providing dual mobility formats it continues to leverage its brand values and core proposition that sometimes the journey is more important than the destination.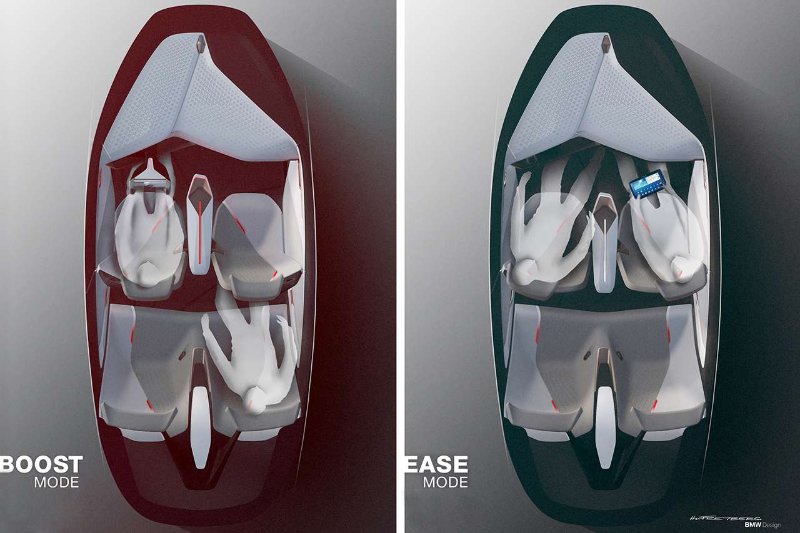 Credit: BMW
Ultimately, the primary aim is that all autonomous vehicles will form an intelligent network by talking to each other, and with sensors embedded in traffic and road signage in their surrounding environment, to efficiently and safely deliver their passengers, cargo, etc. to their final destination.
Battery evolution and electric motors
There have been significant improvements in battery technology addressing one of the main consumer concerns with electric vehicles (EV) often classified as, 'range anxiety'. Early electric cars had a maximum range of 50 miles however, the GM Chevy Bolt which is scheduled for release later this year will offer 200 miles (320km) of range for just over $30,000. Tesla already has a number of models available that exceed 250 miles (400km), and if rumours are to be believed, it has a 100kWh battery option in the pipeline, which should be good for over 300 miles (480km).
Batteries account for approximately a third of the cost of building an electric car and with battery prices reducing by 35 percent last year, further cost reductions are envisioned as OEM's place significant investment in battery manufacturing to leverage economies of scale to further reduce unit costs, leading to cost competitiveness with conventional vehicles.
Further removing consumer friction with electric vehicle adoption will be automated charging capabilities demonstrated by early prototypes such as Tesla's charging arm (complementing 'Summon' and full autonomy capabilities) and separately, a pilot system of cables below motorway lanes in the UK which can wirelessly charge cars as they drive via a device on the undercarriage.
The digital generation – it is not technology but rather the empowered digital user that is disrupting the marketplace.
Where other industry sectors have been, and continue to be disrupted, is the misunderstanding that being a digital business is simply how you incorporate technology into organisations.
Strategy, not technology, drives the digital opportunity for industry. It is not just a new channel to market, nor an opportunity to disintermediate entities and existing relationships along the value journey, but how you use technology to reinvent these organisations, via new business and/or operating models, and migration from product to service-based business models.
The digital generation will look upon the autonomous automobile as the ultimate, and most interconnected, consumer electronic device. But not as something to purchase – but rather as a utility that enables their lifestyle priorities, interests and behaviours when it comes to mobility.
Vehicle ownership does not conform within the parameters of this on-demand and asset sharing generation. After all, why would it? They are digitally empowered, open-minded and practical, and as private transport represents the second largest expense (behind only housing) for something that sits idle for over 90% of the day, the current purchasing model falls flat on numerous measurement criteria.
Automotive OEM's must become service-based businesses to survive and thrive. This means looking at their end-to-end strategic offering from ideation to end consumer, and delivering a digital platform that facilitates deeper contextual experiences in both product and service relationships never seen before in the user space, transforming the mobility sector and driving brand relevancy, engagement and equity via continuous customer value creation.
It means broadening their existing vehicle portfolio (not unit volume) to mirror audience demographics* and the likely multiple use case scenarios for the digital generation.
It means touch of a button on-demand vehicles that address users immediate need state – complete digital connectivity and services, and customisable interior configuration is a given – for going to work, or transporting a group of kids to the football game, or taking the family off road to the national park for a camping trip, etc.
It means bringing direct relationships to a new deep level by analyzing data in real time, deriving valuable user insights, contextual preferences, behaviours and meeting likely intent to deliver personalised value exchange back to the end user.
It means that a customer centric strategy will not be delivered via existing OEM brand equity, but by delivering continuous value creation at an individual user level to create a point of differentiation within a commoditised mobility market.
It means leveraging data analytics to maximize vehicle utilisation, and creating and harnessing contextual digital services to foster deeper consumer interactions to strengthen brand equity, and create cumulative consumer advocacy to maximize consumer network adoption and ongoing engagement.
It means evolving into an agile organisation that drives change that is aligned with consumer needs and not just reacts to them.
It means acting now, because if comparisons are made to similar historical transitions, the speed of change is underestimated and the alternative proposition for automotive OEM's will sadly be reduced to manufacturing and supplying the likes of Uber, Hailo, Didi Chuxing, Olacabs, etc.
* There is no one size fits all. There will always be demographic segments that will own private vehicles but these are likely to be comparatively low volume units for: a) Rural and sparsely populated area's which will have slower adoption rates due to geography and the absence of required autonomous road infrastructure, b) driving purists and status symbol/ wealth purchases with high-end personalisation, customisation and configuration capabilities delivered via 3D printing.
Search
Everything you need to know about Digital Transformation
Subscribe
The best articles, news and events direct to your inbox