The impact of the digital revolution is of a sheer magnitude and is seen everywhere in every possible area. With the rise of blockchain technology and digital currency, the traditional understanding of monetary and payment systems has been inevitably turned on its head.
Blockchain transformed the well-known notion "crowdfunding" into ICO or Initial Coin Offering. Solutions like Ethereum make possible the disruption of transactional business processes with so-called smart contracts.
Nowadays, this new trend in crowdfunding is widely regarded as a source of liquidity to boost new startups in the realization of their projects and goals.
Three hypotheses to explain the significant drop in the number of ICOs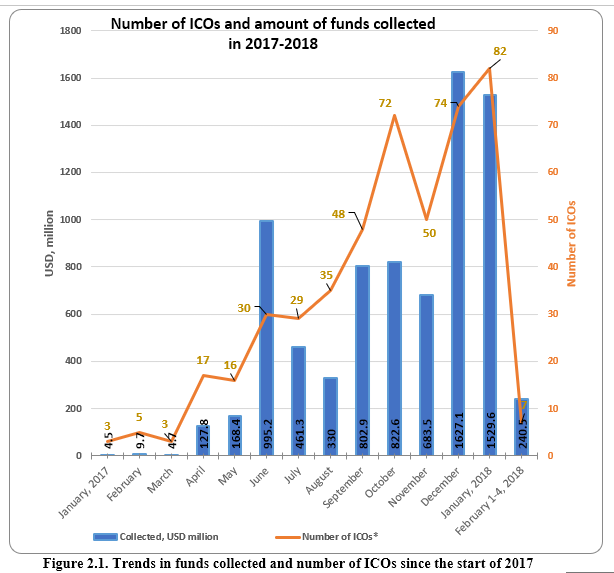 Statistically speaking, 2017 has been a huge success for ICO reaching its peak in January 2018 where a total number of 82 projects collected more than 1.6bn dollars. All projects from the top 10 for January 2018 were mainly projects from the Mining, Infrastructure and Network categories.
Less or more surprisingly, given the fact that the value of cryptocurrencies was wiped off significantly as bitcoin dropped and experienced its biggest monthly decline since January 2015 at the beginning of this year, the number of ICOs and amount of funds collected dropped dramatically in February 2018. Blockchain and digital currencies made possible the rise of ICOs.
However, the question here is to what extent the value of digital currencies has an effect on ICOs. A first hypothesis is that many ICO investors massively fell on their faces due to the number of frauds encouraged by the lack of regulations. Another hypothesis is that ICO investors are mainly interested in the possibility of trading tokens on exchanges. Up-and-down movements of the value of digital currencies could have discouraged investors.
Finally, yet importantly, the third hypothesis is, without doubt, the missing opportunity of turning tokens into digital shares. In fact, most ICOs present the characteristic of a project "in progress" leaving investors in a state of uncertainty about the outcome of the project.
From three hypotheses to one strong hypothesis
The number of scams has made ICO investors more cautious before investing in any project. In addition, today's ICO community is distinguished by auto-regulatory characteristics exposing immediately scammers and warning investors. The hypothesis that the up-and-down movements of the value of bitcoin or other digital currencies might influence investors cannot be entirely precluded.
After all, the trust in digital currencies depends on the performance of the latter. However, tokens and cryptocurrencies have little in common. Without a doubt, individual currencies have the purpose of being used as a means of payment while tokens are tickets to use a service or a ticket that is supposed to entitle you to win prizes. Attention is thus focused on the last hypothesis.
Security tokens as the future of ICOs
The ICO hype in the light of the market in 2017 has made possible billions of dollars in terms of collected funds. However, most of them are so-called utility tokens. The latter is rather tickets that one buys cheaply and hopes for higher value. Later investors are expected willingly to pay more for these tickets. The motivation to invest in such an ICO is entirely driven by the motivation to sell the utility tokens once their price increases. Security tokens present more regulatory challenges because they resemble shares traded on stock markets.
As a result, they attract the attention of the tax authorities more quickly and investor protection policies and financial regulations quickly become important. In other words, security tokens are digital shares on blockchain technology. The difference with traditional shares is that the latter are traded on stock exchanges while tokens are located on the blockchain and the profits are distributed via other channels.
Of course, there are many things to be fine-tuned before being able to make these mechanisms work stably. Nonetheless, security tokens present crucial benefits in terms of liquidity and efficiency. While the tokens can be traded on the blockchain making possible exchange anywhere and anytime, transactions can be executed very quickly since there are no opening times of the stock exchanges.
An ICO as a means of realizing a specific goal — The case of n'cloud.swiss
Initiated by one of Europe's cloud pioneers, Netkom IT Services GmbH, a Swiss based IT and cloud provider with a proven track record of 17 years of successful operations in various countries, n'cloud.swiss AG has launched an ICO. The ambition behind this ICO is to expand into 60 countries worldwide and to establish n'cloud.swiss as "Swiss made" and a European alternative within a quickly growing market that is mainly dominated by four American public cloud providers (Amazon AWS, Microsoft Azure, Google Cloud Platform and IBM Softlayer) and with Alibabcloud the Chinese giant.
What sounds like an extremely ambitious goal will continue to receive fresh impetus with the recently approved Cloud Act, which stands for Clarifying Lawful Overseas Use of Data Act. Critics accuse Washington's efforts to gain access to data stored abroad of opening a backdoor for the FBI, CIA, and NSA to intercept virtually anyone without any court order. Europeans, on the other hand, fear that the Cloud Act runs against their own privacy legislation. In times like these, the need for an alternative to the major cloud providers is greater than ever and plays into the hands of n'cloud.swiss AG.
"Swiss made"high-quality standards in terms of security and reliability in setup and operation of fail-safe cluster-systems are unarguably a valuable competitive advantage. The ICO is thereby not only a means of collecting funds to boost up their international expansion, but it is particularly interesting for investors who see here the potential of joining an established and proven business case growing global. As a result, investing in such an ICO enables investors to benefit from a real success story.
Buying a utility token now and benefitting from security tokens later
Most people consider equities as a tangible investment category while tokens and cryptocurrencies are less. The ICO of n'cloud.swiss is able to combine both concepts. The company decided to sell utility tokens during a first ICO and security tokens during a second ICO by the end of this year. The reason for this approach makes sense considering the fact that security tokens present more regulatory challenges.
The fact that they resemble tangible investments, they attract the attention of tax authorities more quickly and make investor protection policies and financial regulations even more important. Best possible solutions are likely to form in the future. Nevertheless, the decision makers of n'cloud.swiss equipped their ICO with a number of advantages and reasons to invest in the latter. As a fully functional business operation with real customers, revenues, profits and a successful track record for 17 years, investors have the unique opportunity of supporting an expanding company with a highly promising business.
Moreover, buyers of the utility tokens benefit from many advantages. While as a customer, the utility tokens enable one to use them for discounted purchase, other investors can exchange their utility tokens into security tokens one to one later this year and sell them on selected exchanges. Last but not least, these security tokens enable investors to benefit from long-term perspectives such as profit sharing and increasing token price.
The trend is towards ICOs of established companies
Investments in ICOs are considered extremely risky. For this reason, experts advise to be cautious and make a maximum amount of research before investing in any project. The number of scams, the lack of regulation and the ups and downs of bitcoin and other digital currencies have left significant scratches on the reputation of ICOs. Investors need certainty and calculability that only established companies with real customers and profit can make possible.
A project "in progress" is, therefore, more of a risky investment leaving investors in the blur concerning the realization or not of the project. As the example of n'cloud.swiss shows, the trends go towards ICOs of established companies with the opportunity of acquiring digital assets and benefitting from the company's success and hence profit sharing.
Other examples prove that n'cloud.swiss indicates a direction that even larger companies in the world are following. New Zealand based internet provider HD group has been profitably running for a decade and now selling 10% of its company shares in an ICO. Cloud-based instant messaging service Telegram as another example was established thanks to an ICO and is now launching an ICO again.
As a successfully running business, their new ICO is expected to be even more successful than the first one. The advantage that presents n'cloud.swiss is that is capable of unifying the advantages of a utility token and those of a security token in later stages of their ICO. As the first and only company in the world, the company is offering to investors the unique service of managing their tokens. The idea behind is to open up the doors to unexperienced ICO investors and allow them to benefit from the company's success as well.
Search
Everything you need to know about Digital Transformation
Subscribe
The best articles, news and events direct to your inbox