Get Certification in Digital Transformation with an online course specially prepared by Rob Llewellyn, globally renowned thought leader on digital transformation and CEO of  CXO Transform.
Working at your own pace, you'll learn the true nature of digital transformation and how to do it. Join a growing band of certified professionals who are making valuable contributions to digital transformations all over the world.
"I really enjoyed the Digital Business Transformation Management course developed by Rob Llewellyn and his CXO Team. I found especially interesting the THRIVE Framework, which provided a comprehensive view about the issues to reflect and to consider to successfully (and really) transform the business.
I highly recommend the course to professionals interested in learning more about Digital Transformation and the ones exploring proactive approaches for digital disruption via new business models. In addition to the classes, a wealth of updated/latest thinking literature was provided. Great class!"
Invest in yourself, REGISTER your interest today! 
Digital Transformation Management Jobs Pay Extremely Well
By taking our Digital Business Transformation Course you'll learn how to lead complex transformations at companies with workforces that range from 500 to several hundred thousand in size.
The fact that 1000's of transformations are now struggling, stalling or not even getting started, demonstrates the massive shortage of transformation management capability throughout the world. Many senior managers and leaders are suffering because while they understand how to manage and lead their "operational" business, they typically don't have the time, knowledge, or experience to successfully manage and lead the "transformation" of their business.
As a result, firms are willing to pay well for the new transformation management professionals they need to achieve strategic goals and satisfy stakeholders.
If it's time for you to acquire the knowledge and certification you need to enter or excel in one of the most exciting careers of the century, this training is for you. Not only will it help you secure the best transformation roles, it will also upgrade your capabilities so you can perform at your best in any current transformation role you might be undertaking.
By taking this course, you can acquire two components you need to be successful in your digital transformation management career: Knowledge and Certification – which in turn gives you credibility.
Structured around THRIVE – the six guiding principles of digital business transformation – the course consists of eight modules.

Module 1: Transformation
Learn the fundamental difference between change and transformation, and how transformation is about creating a new future, without the constraints of the past. You innovate, digitise and transform. While change simply creates a better version of the past.
Module 2: Holistic
Learn how transformation requires a fundamental shift in multiple components of an organisation. Governance, mindsets, business models, innovation, digital use cases, etc. THRIVE equips you to facilitate a holistic approach to transformation, and avoid the blinkered and siloed approaches that many take.
Module 3: Response
Learn how to help organisations respond strategically to the opportunities and threats they are presented with – both inside their organisation, and externally in the market. And how to encourage appropriate leadership mindsets, workforce culture and capabilities required to transform strategy into reality.
Module 4: Innovation
Learn that while Cloud, Mobile, the Internet of Things and Robotics, etc. can bring about the most rewarding business transformation when used strategically, only through the innovative convergence of digital technologies can companies truly transform through new business models and ways of working.
Module 5: Value
Understand that transformation happens to create value, and so value needs to be measured, which means transformation leaders need to ensure they are gathering the right data to measure both the tangible and intangible value of digital business transformation, and reporting it to executives.
Module 6: Enterprise
Learn how transformation must encourage, embrace and educate people from across the enterprise and build a collaborative culture of new capabilities and mindsets. Opportunities to upgrade workforce capabilities need to be identified and people made to feel safe and comfortable about innovation, success and failure.
Module 7: Roadmap
Learn how in a non-prescriptive manner, the THRIVE roadmap can help you draw upon the six THRIVE guiding principles and the body of knowledge in a way that works best for your organisation.
Module 8: Exam
Prepare yourself using the revision tests in the seven previous modules to pass the final multiple-choice online exam and become certified.
Who The Course is for
The course is suitable for business and technology managers and leaders, including CIO, CTO, CDO, CFO, COO, CEO, Project and Programme Managers from any industry.
The course is for those who take their transformation profession seriously and gain an independent certification that verifies their knowledge as a transformation professional.
Managers and leaders taking our courses come from these and hundreds of other organisations throughout the world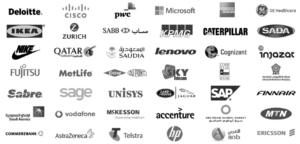 Invest in yourself and Register Today! 
Matt George | Australia Director, Deloitte

In today's changing business environment, I found this course in digital business transformation to be of great value. So many genuine concepts and framework that outlines real-world experience.

I'd encourage others who are interested in digital business transformation to enrol and complete this course.

Mihaela-Cristina Radoi | Germany Global Head of Finance Investment Banking IT, Commerzbank AG

The course provides all the content needed to establish and make real progress in the digital transformation process. I appreciated the comprehensible THRiVE framework and the clear transformation roadmap – very valuable tools that I feel confident to use in current or future digital initiatives.

The course is highly suitable to any leader embarking on a digital transformation journey within the company. With its holistic approach and covering a wide range of possible issues, it will bring focus, clarity and added value to their process

Antonio Urquiza | United States of America AVP Finance Transformation, Met Life

I really enjoyed the Digital Business Transformation Management course. I found especially interesting the THRIVE Framework, which provided a comprehensive view about the issues to reflect and to consider to successfully (and really) transform the business.

I highly recommend the course to professionals interested in learning more about Digital Transformation and the ones exploring proactive approaches for digital disruption via new business models. In addition to the classes, a wealth of updated/latest thinking literature was provided. Great class!

Uzair Waheed | Saudi Arabia HR Digital Transformation Leader, Saudi Aramco

The World's Largest Oil and Gas Company

Excellent content – very applicable to the role I am currently engaged on. Other transformation professionals should enrol in the course because it provides good insights and knowledge for digital programs.

Lakshmanan Subbiah | Australia Director – Global Delivery and AMS, Fujitsu

The course did not disappoint me, as it comprehensively covered all the aspects what, why and how of digital business transformation, through the THRIVE framework.

There are so many myths and stories that are floating around on this hot topic. A course like this is required for transformation professionals to ground their understanding on what is digital business transformation all about and how to go about maturing their knowledge and skills, to play their role in delivering a successful digital business transformation.

Mohamed Marwan | United Arab Emirates Digital Solutions Director, GE Healthcare

The structure of the course takes you through a holistic view Digital Transformation roadmap. The course connects many dots to the transformation leaders; weaving organisational change management, technology capabilities and portfolio management all together gave a clear and crisp perspective on how to plan for successful business transformation.

Derrulex Djoukwai | Netherlands Enterprise Architect, Accenture

The THRIVE framework is Digital Transformation not only demystified but explained with such an effortless clarity. For those who feel confused or lost in the Digital Transformation/DIsruption ocean, THRIVE will surely bring relief. The Framework's author managed to go through the breadth and depth of the matter, and come up with a sound, complete, well structured and condensed mix of the very substance of Digital Transformation. Not to mention that course is presented in a very digest format.

Subscribe to THRIVE course. Get your infusion of Digital Transformation essence. Get equipped with the key understanding and principles that will lay the foundation on top of which you will navigate with confidence in your future Digital Transformation career.

Joe Talik | United States of America Digital Transformation Leader, Hewlett Packard Enterprise

This course and certification exam really validated my years of experience in the Digital and IT Transformation arena. My last Business Digital Transformation initiative with CEMEX touched on all the areas of the THRIVE framework.

Other professionals should take the course and certification exam to have their digital transformation experience validated by an independent neutral party. They should look at this certification like the PMP for project managers.

Steve Conolly | Australia Director, SeaLevel Turnaround | Turnaround Practitioner

We help companies when they get into financial distress. In some cases, they are already experiencing the impact of some form of disruption. Being able to provide a qualified, high-level overview of Digital Transformation can change their perspective completely. It goes hand-in-hand with business turnaround.

The training provides a solid foundation to understand the imperatives of digital transformation. Using the principles detailed in the course, practitioners can initiate qualified (and potentially uncomfortable) discussions which inevitably must occur.

 

Ben Jenkins | Australia Principal Consultant, Sabre

I'd been studying Digital Business Transformation for a couple of years and this course helped consolidate and solidify my previous learning. Beyond this it provided the comprehensive THRIVE framework and road map for how to undertake successful transformation implementation.

Professionals will find this course a great starting point for both understanding what true Digital Business Transformation is and additionally how to undertake the difficult task of implementation.

Jorge Martins da Cunha | Portugal Chief Executive Officer, EuroSafe

Very different from the common online courses, Digital Business Transformation by Rob Llewellyn is a pure dive in the T.H.R.I.V.E. framework in a very detailed explanation divided in modules, with a considerable level of difficulty which should be only recommended for the best-prepared professionals.

This course strongly prepares the common decision-maker in an expert on the field with the correct mindset and knowledge. I feel very comfortable to recommend this course for professionals that like to be challenged!

Philip Carpenter | United Kingdom Head of Solution Delivery and Propositions, IFDS

The course provided an excellent framework to provide a platform for discussions on how to transform and take advantage of the Digital Economy.

Anyone who is interested in or involved with driving an organisation through the digital economy and transforming business models should enrol.

Daniel Nicotra | Australia Principal – Digital Business Transformation, Evolvon

The course presents complete coverage to the fundamental areas of focus in helping to guide thinking and action when undertaking true digital business transformation.

Highly applicable for leaders who are interested in adopting a holistic view of digital business transformation and value possessing the right knowledge to inspire and steer transformational change.

Rami Odeh | Saudi Arabia Chief Consulting Services Officer, MISBAR Consulting

The Digital Business Transformation Management training was very inspirational and energizing. It brought lots of ideas, with both substantial and in-depth knowledge together with case studies and experience-based learning.

A well-balanced composition of content, which contributed to interesting and focused lessons and material. I have referred numerous colleagues for training with CXO Transform as a result.

Jonathan Parnaby | United Kingdom Director, The Transformation Office

I found the course extremely useful in providing context and definition of what Digital Transformation really means. Having gone through all of the THRIVE principles I thought the Transformation Roadmap module was great at pulling it all together whilst being flexible enough to easily visual how to take organisations through the various steps to set-up their own "true" transformation programme.

Other professionals should take this course if they want to add another solid framework to their transformation toolkits. By adding THRIVE along with BTM2, MoP, MSP, PRINCE2, PROSCI and many more, independent professionals can become fully prepared to support their clients and their challenges.

Brian Roche | United Kingdom Director – Technology and Transformation Strategist

Achieving certification to prove my skill sets to my customer base is why I chose to do this course. I think the THRIVE framework will help me and my customers achieve success even more rapidly than before. Additionally, the course content is strong and delivered in an effective method.

I would recommend this course because it provides a strong framework for success in the digital economy. The course provided an excellent framework to provide a platform for discussions on how to transform and take advantage of the Digital Economy.

Professor Samir El-Masri | United Arab Emirates Digital Transformation Consultant

The structure and the delivery methodology of the course are done in a logical and uncomplicated way with many real-life examples and scenarios which make it easy to digest and comprehend the contents.

The course offers the transformation professionals with a holistic knowledge of the digital business transformation from strategy, to the essential factor of the digital transformation success to the road map of execution. The course is essential for those who would like to fully understand the digital transformation and enhance their knowledge and expertise in the digital economy era.
Search
Everything you need to know about Digital Transformation
Subscribe
The best articles, news and events direct to your inbox