With increasing numbers of organisations embarking upon digital transformation it's clear that all is not well; clouded objectives and differing interpretations of what is required fuels a misguided pursuit of unicorn talent that doesn't exist and really isn't required. There is a mismatch between perceived need and what's available when in fact the talent required is there in abundance if you know where to look. If you're struggling to find your unicorns get in touch and we'll help you find the people you really need.
~ Tim Ellis, CEO and Founder


Please don't forget to add us to your contacts and help avoid the spam filter.
Read the Archives
Follow us on LinkedIn
---
A GOOD READ
A How to Guide for Digital Transformation: Four Exceptional Books to Help you Succeed.
Several good reads and an executive summary for good measure. If you're still wondering how to get started or would like to bring on members of your team, here are some excellent reads to get them up to speed on digital transformation.

---
STRATEGY
Your Strategic Plans Probably Aren't Strategic, or Even Plans
"It happens all the time. A group of managers get together at a resort for two days to hammer out a "strategic plan". Done and dusted, they all head home. But have they produced a plan with a strategy?" ~ Graham Kenny

Six barriers to digital transformation; CIO strategies to conquer them
By Mary K. Pratt
The case for digital transformation has been made, nearly half of corporates have started theirs and the rest are under increasing pressure to get started. There will be barriers though and here's a list along with some ideas of how to conquer them.

---
HOW TO
Zoom out/zoom in – An alternative approach to strategy in a world that defies prediction
"How can companies direct attention toward initiatives that have the most impact—and ensure that they're properly funded? Using two parallel time horizons—one that's six to 12 months out and another that's 10 to 20 years—can help boost immediate strategic impact and prepare for the long term."
Really like this piece by John Hagel & John Seely Brown

Startling Gaps Appearing In Digital Transformation Programmes!
By Jacqui Rigby
Whilst huge investments are being made in digitisation Jacqui Rigby wonders about the lack of alignment squandering these investments that may not deliver transformation at all.

DevOps – all about culture change, not tech adoption
By Martin Banks
Lessons learned from the real world discussed at the DevOps Enterprise Summit in London this week and eloquently captured here by Digonomica's Martin Banks.

---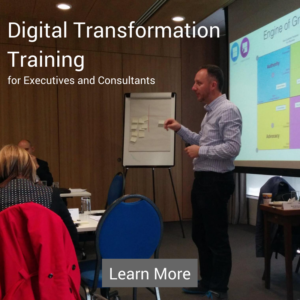 ---
PEOPLE & CHANGE
Developing the Digital Culture of a Business
Peter Jarrett shares what he's found when researching what it means to develop the "digital culture" of a business.

Ten Reasons People Resist Change
"Although leaders can't always make people feel comfortable with change, they can minimize discomfort. Diagnosing the sources of resistance is the first step toward good solutions." ~ Rosabeth Moss Kanter

---
CUSTOMER ENGAGEMENT
Dealing with muppets the Mark Ritson way.
"So here it is, your very own Get Out of Jail Free card for the digital muppets you encounter on your marketing journey." Brilliant!

---
TECHNOLOGY
Expanding IOT: the new era of connected everything
"It's through the combination of rich data and AI that organisations will create new information, new insights that will drive better decisions and actions. In this respect IoT is the enabler of transformation." ~ Martina Koederitz

IBM Unveils World's Smallest Computer
By Joe Sommerlad
Several hundred thousand transistors and it's no bigger than a grain of sand!

Life on the Edge
by Philip Newman
With reduced data transfer and centralised processing, edge computing reduces the pressure on the cloud computing network and eliminates lag caused by transmission and data processing. So is edge computing the next big thing in IOT development?

---
TALENT
Ops 4.0: The Human Factor—Building Ops 4.0 capabilities
Markus Hammer of McKinsey highlights that in todays fast changing environment companies will struggle to obtain staff with the right skills on the open market and they'll struggle to find the training providers capable of helping them to close the gap. Their advice ..build these capabilities in-house. As for the term "Ops 4.0" that's a new one on us!

---
LEADERSHIP
The 7 Habits Of Highly Effective Transformation Leaders
By Kristin Burnham
It's increasingly realised that digital transformation is all about the people and success comes from how you lead them. Here are some tips Kristin Burnham, reporter, and content strategist has managed to elicit by speaking to effective leaders in the field.

---
---
"If the rate of change on the outside exceeds the rate of change on the inside, the end is near."
~ Jack Welch
---
IN CASE YOU MISSED IT
7 Generic Strategies to Respond to Digital Disruption
By Michael Wade, Professor of Innovation and Strategy.
The Cisco Chair in Digital Business Transformation explains how established businesses can resist upheaval by new entrants.
---
View our News In Digital Archive here.
Subscribe to News In Digital from The Digital Transformation People here:
Search
Everything you need to know about Digital Transformation
Subscribe
The best articles, news and events direct to your inbox