Industry 4.0, commonly known as the fourth industrial revolution (4IR), is the technological revolution that has made it possible to collect and analyse data across machines thus enabling fast, flexible and efficient processes to produce high quality goods at lower costs.
What are the technologies comprising Industry 4.0 ?
Industry 4.0 technologies include: Artificial Intelligence (AI), Internet of things (IoT), Blockchain, Virtual/Augmented reality (VR/AR), 3D printing, Drones, Autonomous vehicles and Wearables among others.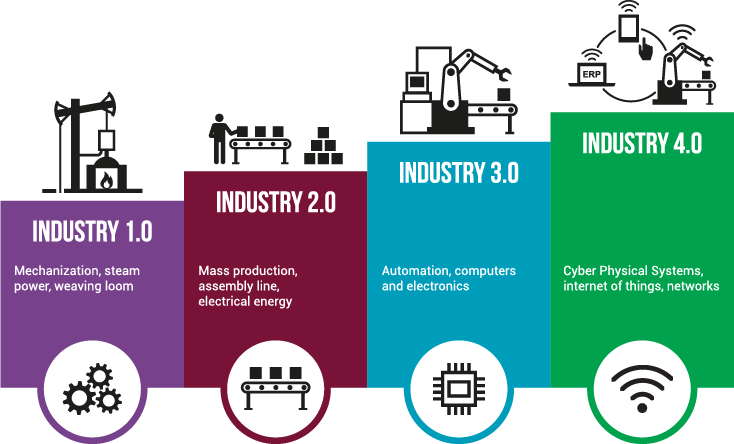 What is the impact of Industry 4.0 ?
New age technologies have affected industries across the spectrum. Artificial intelligence (AI) has affected organizations as well as workers through disruption and job cuts.
According to a survey of 2000 companies by PwC, 33% of companies say they have achieved advanced levels of digitization and 72% expect to achieve advanced levels of digitization by 2020.
Industrial companies are estimated to be able to generate 3.6% p.a. in cost reductions over the next five years as well as 2.9% p.a. in increased revenues by digitizing products and services. This translates to a revenue increase of $493 billion per annum and cost reduction of $ 421 billion per annum until 2020.
How can companies leverage Industry 4.0 ?
Companies must chart out an Industry 4.0 strategy with the help of an experienced partner to identify areas of improvement and create a digital roadmap. Starting with pilot projects and using data analytics to optimise results, companies must transform to a "digital business".
The entire process can be managed by an innovation partner to reduce the cost and risks involved. Whether managed internally or not, the end goal is to achieve measurable business benefits through the adoption of Industry 4.0 technologies for the company.
Search
Everything you need to know about Digital Transformation
Subscribe
The best articles, news and events direct to your inbox