When everyone leads – look up. You have a choice. You can accept the status quo or you can step up and become the leader you are looking for. Stop waiting and start leading. Leadership is not bestowed. It is not a title. It is earned through action and example.
"Leadership is not about titles, positions or flowcharts. It is about one life influencing another." ~ John C. Maxwell
This series of articles is not about what your leaders need to do to turn you into a leader. This series is about what you can do for yourself to become a leader in your own right. Wherever you sit within an organisation, you can lead.
Magic happens when everyone leads.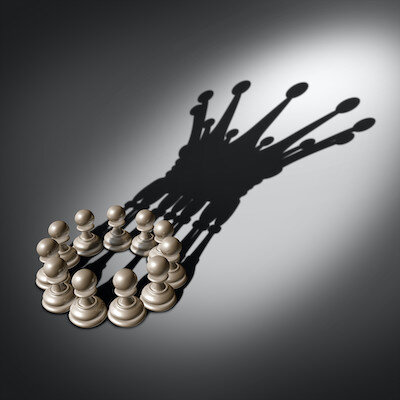 This is the third article in this series called "When Everyone Leads". If you have read the previous articles and you are now here, you are taking steps to become a leader. Becoming a leader requires intention. You have to commit to taking action and investing in your own growth and development.
If you ask any leader, they will tell you that it takes time, patience, hard work and dedication.
In my book "Unleash the Resiliator Within. Resilience: A Handbook for Individuals" I refer to the work of Canadian-American psychologist Albert Bandura.
In becoming a leader you have to have confidence in your abilities.
Self-efficacy is about having the strong, positive belief that you have the capacity and the skills to achieve your goals.
Bandura, defined self-efficacy as "one's belief in one's ability to succeed in specific situations or accomplish a task."
According to Bandura's social cognitive theory, people with high self- efficacy—that is, those who believe they can perform well – are more likely to view difficult tasks as something to be mastered rather than something to be avoided.
He named four sources of efficacy beliefs.
* Mastery Experiences
* Vicarious Experiences
* Verbal Persuasion
* Emotional and Psychological states
The one I want to explore is vicarious experiences.
Watching other people is an important source of self-efficacy. When others succeed through sustained effort, it leads to your belief that you can do the same.
Look-up
If we look up to the leaders we admire, we can learn from them. There are many great leaders, past and present, that you could look up to and learn how they presented themselves, how they communicated, their values and behaviours, their differentiators and their expertise.
The leaders you look up to with an intent to learn, will depend on the leader you want to become.
If I picked the 1/2 dozen leaders I look up to they are likely to be different from yours, but let's look at some people who are considered great leaders and what we could learn from them.
These three leaders have many leadership traits. I have just focused on the ones that resonate the most with me.
Passion and perseverance: Nelson Mandela
South African anti-apartheid revolutionary, political leader and philanthropist who served as President of South Africa from 1994 to 1999.
Nelson Mandela was a man who led with grit and determination. He had resilience and remarkable endurance. Mandela took action against apartheid in South Africa and was put into prison for 27 years as a result. When he emerged from prison, he became South Africa's first-ever black president.
His passion fuelled his perseverance. It took him 55 years of struggle to end apartheid. Despite his suffering and depersonalisation whilst in prison, he had compassion for those who had caused him pain.
His passion and perseverance changed the world.
Authenticity: Jacinda Ardern
A New Zealand politician who has served as the 40th prime minister of New Zealand and leader of the Labour Party since 2017.
Authenticity runs through her approach to leadership and this is what enabled the country's stringent lockdown in the face of COVID-19 to work effectively.
She frequently addresses her 'team of five million' on Facebook via live video. In her most popular Facebook video, Ardern appeared before the camera in a faded sweatshirt, just moments after putting her daughter to bed. Her authenticity is striking.
In a 2020 campaign message, again in a comfy sweatshirt and tousled hair, she speaks directly into her phone and lays out her plans for the week ahead.
"Kia ora, everyone. I'm standing against a blank wall in my house – because it's the only view in my house that is not messy," she says.
Back in 2011, when a white supremacist burst into two mosques in Christchurch killing at least 50 people and wounding dozens more, Ardern became the face of her nation's sorrow and grief, and its resolve. She was hailed for the calm and compassion she showed in the wake of the worst mass killing in her country's modern history.
Servant leadership: Herb Kelleher
Co-founder, later CEO, and chairman emeritus of Southwest Airlines until his death in 2019.
Southwest Airlines is known for its commitment to affordable travel for its customers, friendly customer service, and employee-centred servant leadership practices instilled by Kelleher.
"Your employees come first. And if you treat your employees right, guess what? Your customers come back, and that makes your shareholders happy. Start with employees and the rest follows from that."
he said.
Kelleher believed that a leader's most important role is to build a strong culture by hiring the right people. At Southwest he created a "culture of commitment" devoted to the happiness of employees. He said that happy associates would lead to happy customers, a differentiator in the airline industry.
At the time of Kelleher's passing in 2019, Southwest Airlines had never been in bankruptcy or had a layoff of employees – an amazing claim for the turbulent airline industry.
Summary
So who inspires you to be a leader? It could be someone you know personally or someone you have read about and watched on social media. It could be a colleague or a friend.
What will you learn from them?
Search
Everything you need to know about Digital Transformation
Subscribe
The best articles, news and events direct to your inbox