Around this same time last year, two things happened:
I eagerly jumped in to be a co-founder and CMO at Terminus.
Now, I've got a ton of respect for Cuban, and there has been a lot of doomsday talk about venture capital slowing down funding new startups. After all, 2016 is an election year. If you attended Jason Lemkin's SaaStr Annual Conference in San Francisco this year, I think there was no shortage of comments like: "buckle up" and "the storm is about to hit your company head on."
I knew next-to-nothing about raising venture capital when I jumped ship from being a Head of Marketing at Pardot (acquired by Salesforce) to a startup called Terminus. But here's what I did know: there was a need for account-based marketing (ABM) software. As a marketer, I saw an emerging product category for ABM and account-based sales development (ABSD) technology. There was a big problem I wanted to see solved: how do you focus your B2B marketing efforts on only the best-fit accounts instead of wasting time, money and resources on lead generation? Fortunately, I met my two amazing co-founders: Eric Spett and Eric Vass. They have an incredible passion for the problem we set out to solve.
I believe the #1 rule of any successful startup should be finding one or two co-founders who believe in the same goal but have entirely different skill sets.
My co-founder and CEO, Spett, was able to line up our business operations and get hyper-focused to obtain the right data and advertising technology (AdTech) partnerships to set an amazing foundation for us to build upon. And my other co-founder and CTO, Vass, is one of the smartest tech guys I have ever met. Vass is also the best proponent of our company's culture that one could find. He single-handedly built an MVP for our first go-to-market product. Together we started building our marketing, sales, and customer success teams, and then launched our ABM platform in Q1 of 2015.
We hit $1M in annual recurring revenue (ARR) in nine months and grew our business by 50% in just one quarter!
Here is a video showing how we celebrate sales as Terminators:
Terminus is growing so fast because innovative B2B marketing and sales professionals are embracing the idea of flipping the funnel on its head. We've got the right product and a market that's hungry for it, as evident by our growth.
But we knew we had more work to do to take our ABM platform to the next level. At the start of this article, I wrote how this time last year I knew nothing about venture capital. Well, that has changed a lot in the past year…
I am beyond ecstatic to announce we raised our Series A. We closed $7.5 million in funding, including $5 million in equity financing and $2.5 million in venture debt.
You can read the full press release here. I want to share personally with you why I think we got a chance to defy the odds in the marketplace and raise capital:
Find amazing co-founders who complement your strengths
Have passion for the problem you are solving in your industry
Think about the product category first and then product/market fit
Give the "keys to the Ferrari" to every team member
Challenge the status quo to build your own playbook
Let's dive deeper into these five ways we grew Terminus so quickly.
1. Find amazing co-founders who complement your strengths
In my wildest dreams, I couldn't even begin to think about launching a startup. I have always strived to do my best at whatever opportunity presented itself. But then I met Spett and Vass (both are named Eric so I call them by their last names), and I fell in love with the idea of building a company with folks who I admire and respect. We had a blast with our team when we recently celebrated at our Dos Commas party.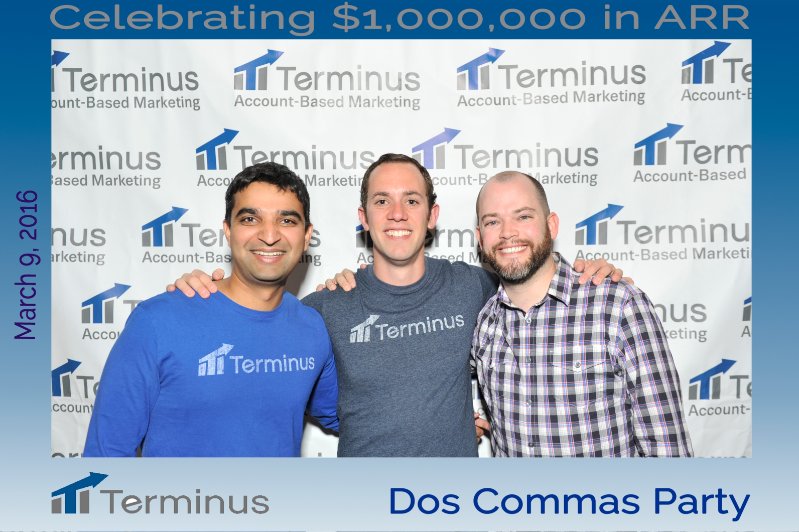 With our crew there is virtually no overlap; our strengths are so different, and we work so well as a team. We're making decisions together, embracing our strengths, and relying on each other's knowledge about any situation. We're striving to keep our vision simple and aligned by focusing on our people, processes, and technology. Investors want to see startup co-founders who are strong in their areas of expertise and committed to the vision in their own way.
2. Have passion for the problem you are solving in your industry
Here's the crux of the problem we're trying to solve: less than 1% of the leads turn into customers. This is according to Forrester Research. Based on this statistic, one can discern that the marketing and sales process is broken. We must fix it. Every new hire at Terminus learns this on Day 1. Every product enhancement we consider putting on the roadmap is looked at with an #ABM filter. Every new marketing initiative or campaign idea is evaluated to completely disrupt the status quo. It's our mission to make B2B marketers heroes in their organizations. Our laser focus helps us to say "no" faster, deflecting "shiny object" syndrome, and keeping us on task to solve big problems. In Sales, our job is to serve the customer. You must be passionate for solving your customer's problems.
We took this to heart. As Simon Sinek says, people buy from people. If you can't make someone's day, I believe you should quit selling. We don't try to sell on price. We sell using our passion for the problem we strive to solve for our customers by deeply understanding their challenges and not what the product offers. Each person we hire has passion, and this lifts the boat for all of our team to drive amazing customer success. Investors want to know if raw passion exists, as that is the fuel for any startup to be successful.
And I will tell you something: this team of Terminators is one of the most passionate groups of individuals I have ever met in my professional career. Check out the Terminators in this video from when we recently won Startup of the Year from the Atlanta AMA.
3. Think about the product category first and then product/marketing fit
As a startup, you have to understand the problem you want to solve, and have a passion for solving it; but ultimately, nothing beats timing. Granted this might be contrary to what you've heard. There's the quote from Field of Dreams "If you build it they will come." Sure, lots of people go after product/market fit as the golden rule of a viable business model. Personally, I think they are wrong. Now I've got nothing against Kevin Costner. I just simply believe that what's more important is to either build a category, or win an existing category with your product, and to me, that's a product-category fit.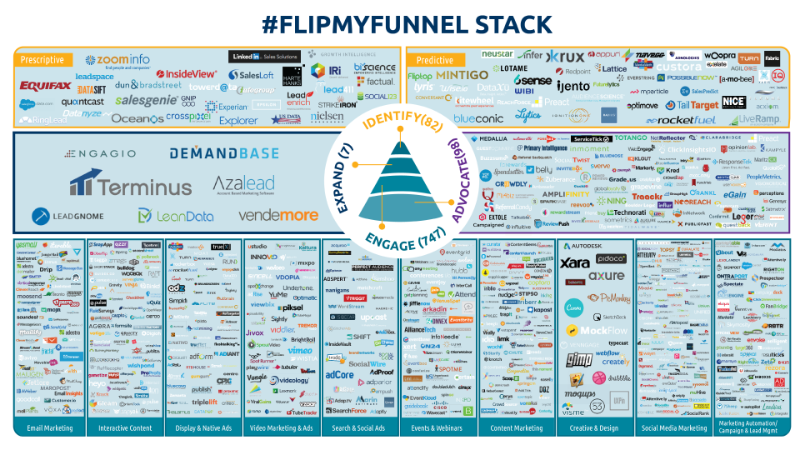 If that doesn't exist, no matter how awesome your product is, no one is going to buy it. As Gary Vaynerchuk says, "Ideas are shit and execution is everything." We ditched ideas and focused on the building the category ourselves. Check out the four #FlipMyFunnel conferences we hosted in last six months since the product launch. Investors want to know if the founding team can build a category that can be huge and have the vision to win it.
4. Give the "keys to the Ferrari" to every team member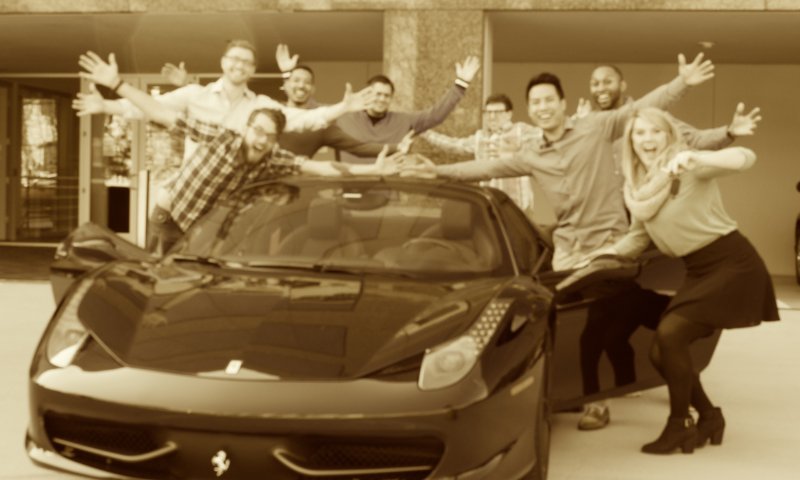 I recently wrote about giving keys to Ferrari to every new team. Some people thought, we actually gave a Ferrari to our team members and applied for a job 🙂 Well, that would be nice, but that's not what I meant in this post. I sincerely believe that every team member should bank 2,000% on their strengths and nothing else. We don't know if you can craft your own emails but if you sound great on calls and talking to people, then we'd love to see if you are a fit to join our sales or customer success team and help you out on other areas of professional development. We will never settle for mediocrity in our company as a standard. We want everyone to be excel using your strengths and if we can figure out those areas, we can celebrate your strengths and focus on them 2,000%. Investors want the founders and team to have a growth mindset that will drive the "Ferrari" at top speed.
5. Challenge the status quo to build your own playbook
This was key to our investors and customers. The biggest thing that's happening in MarTech now is that we have over 2,500 tools to choose from and B2B marketers are overwhelmed. We want to cut through the noise and get heard. So we challenged the conventional funnel and flipped on its head, calling it the #FlipMyFunnel revolution. That's just one example of many things we have challenged and start to grow leaps and bounds. We have to flip every funnel and create our own playbook because what worked years or even months ago, is irrelevant to what's gonna work today. The mediums of content consumption are changing in front of our eyes and the same old marketing technique just ain't going to work. Investors want to see constant innovation and a can-do mindset ensuring confidence that they will get their money's worth.
We believe a combination of these five philosophies, plus a strong team of co-founders and Terminators, have enabled our investors to believe in our vision. They felt compelled to put so much of their time, energy, and resources to give wings to Terminus to help us fly and solve a very clear problem. I believe if every startup can address these five scenarios I just outlined, there is no reason why the right investor won't give you a chance.
Of course, this blog isn't complete without thanking our customers. So this one is for all our ABM heroes who gave us a shot, who believed in us, and are brave enough to challenge the status quo of B2B marketing and sales. Thank you!
Search
Everything you need to know about Digital Transformation
Subscribe
The best articles, news and events direct to your inbox