If you look below, you've basically got four options via Kim Scott, who's worked at Google and Apple. Her overall principle is called 'radical candor,' and much of how it works is outlined here. There are any number of four-quadrant ideas in American business — here's an example of one geared towards productivity — and Scott's works this way: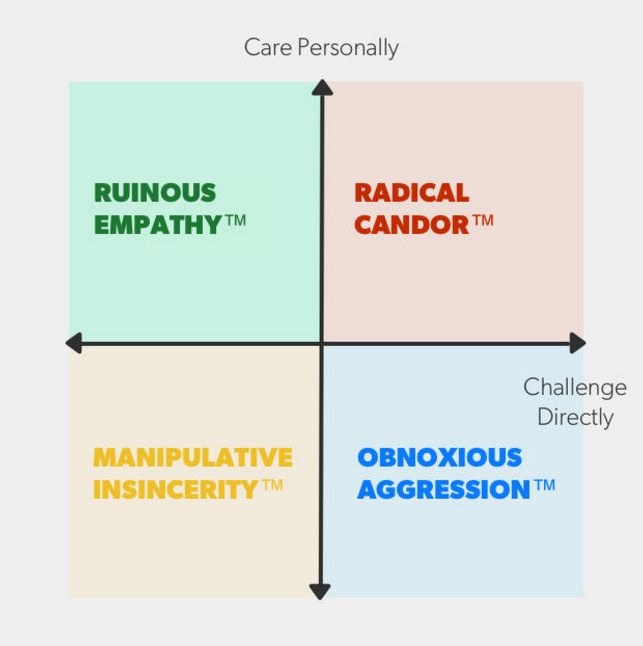 You have two axises: 'care personally' and 'challenge directly.' Here are your options:
When you 'care personally' and are able to 'challenge directly' (the type of boss many probably would want), that's radical candor.
If you 'care personally' but don't 'challenge directly,' that's ruinous empathy.
If you do neither, that's 'manipulative insecurity.'
If you challenge directly but don't care, that's 'obnoxious aggression.'
So now you come to, essentially, four types of bosses in terms of how they communicate with their employees:
Radical candor
Ruinous empathy
Manipulative insecurity
Obnoxious aggression
There are flaws to all these models, although radical candor is the best: that means a person legitimately cares about you as a human and an employee with the potential for growth, and sometimes that requires tough conversations to be had as a result.
Most bosses probably fall into the bottom two rungs — manipulative, insecure, obnoxious, or aggressive (or a mix of all four adjectives).
There are a couple of reasons for this, primarily:
Quick point off the above: basically when we're talking about managers communicating with employees in one of four ways, we're also talking about 'feedback,' which is a fraught issue at many workplaces. Kim Scott avoids the term 'feedback' because it's buzzword hell and it makes employees groan. I concur with that.
A better word might be guidance, as Scott points out here:
"This is one of the most important things you can do to foster a culture of guidance between the people who work for you," says Scott. But that means more than squelching obviously political or passive aggressive behavior; bosses also need to avoid acting as well-meaning, but ultimately harmful go-betweens. Scott learned this one the hard way, too, trying to act as diplomat for two reports who couldn't get along.
One of the core problems here is pretty simple: we promote individuals, but we ask people to work in teams. That's a major disconnect for the human brain, and so a lot of people focus on their sh*t, their area, their tasks, their things they understand — and they cling to those, because they want to get ahead. That's where the concept of 'guidance' in most workplaces falls apart, although that should be the goal of any team — curiosity, learning, and shared guidance.
Most employees and managers tend to have an off-focus relationship, for a lot of the reasons I bulleted above. But if you think about two tenets of management as 'caring' and 'challenging,' and then you think about the four options that can result from the intersection of those two ideas, you're further ahead than most people — or someone who isn't thinking about it at all.
What do you think? Are there other ways or models for bosses to communicate with employees?
My name's Ted Bauer; I blog here regularly and you can learn about hiring me for freelance and contract gigs as well. You can also subscribe to my newsletter.
Read more by Ted Bauer, here
Search
Everything you need to know about Digital Transformation
Subscribe
The best articles, news and events direct to your inbox