This is an excerpt from the latest Socialight Insights Report: 2016 B2B Social Marketing Budget Trends. Download the report today to access the Top 6 Insights and Top 6 Takeaways for 2016.
Out of the six industry groupings included in our research, Software & IT Services firms invest the most on digital marketing, and the most on social marketing, as compared to the other industries.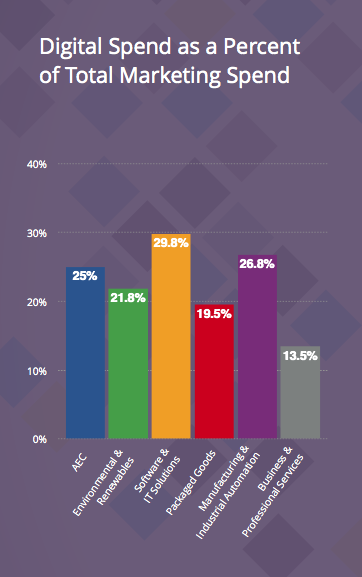 In terms of marketing budget as a percentage of company revenue, the Software & IT Services group is second, with 6.8%, and in terms of their digital budget as a percentage of their total marketing budget, they are first overall, with 29.8%.
Across all of the social marketing initiatives covered, Software & IT Services is either the first-place or second-place spender, including Community Marketing, SEO, and Advocate Marketing, where they occupy the top spots.
Two other industry groups hold top spots across the various marketing initiatives for 2016. Manufacturing & Industrial Automation is the leader for both Influencer Marketing and Online Reputation Management (ORM), while Packaged Goods is first in Content Marketing.
SPEND LEVELS VARY BY INDUSTRY
The digital marketing initiative with the widest gap between the leader and the average spend across industries was Content Marketing, at a 6.3% differential.
As the data shows, Content Marketing is the biggest investment overall, but it is inconsistent across industries.
This is likely due to the fact that firms within some industries, like Packaged Goods and Software & IT Services, may be more readily able to adopt more innovative digital marketing initiatives, versus more traditionally-minded B2B marketers in industries such as Architecture, Engineering, and Construction.
Interestingly enough, in follow up interviews with survey participants, many firms that had indicated a below-average spend level for Content Marketing also indicated that they felt their firms were behind the curve.
BUDGETS RISING
Anecdotally, participants had usually initiated many conversations within the team and with leadership on how to begin integrating Content Marketing into the digital mix, but hadn't yet been able to build a business case that could justify incremental budget.
Based on the survey data and these contextual discussions with marketing leaders, budgets for Content Marketing should continue to rise, and they should also become more consistent across industries, as industries mature in their adoption and integration of Content Marketing initiatives.
As Kevin O'Nell of PeopleLinx states in the report:
"Buyer are doing 60% of their research online, before ever connecting with a salesperson. This means that sales teams need to rethink how they engage with buyers.
B2B firms are starting to grasp what social can do for their business, and we're seeing big investments in marketing and sales technology to create a competitive edge, whether it's connecting Marketing to Sales, or Sales directly to prospects, as is the case with PeopleLinx."
Download the full report for the Top 6 Insights and Top 6 Takeaways for 2016:

This post originally appears on the Socialight Insights Blog.
Search
Everything you need to know about Digital Transformation
Subscribe
The best articles, news and events direct to your inbox