This is an excerpt from the latest Socialight Insights Report: 2016 B2B Social Marketing Budget Trends. Download the report today to access the Top 6 Insights, and Top 6 Takeaways for 2016.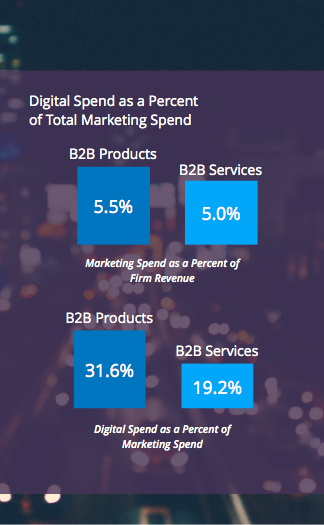 Key Research Insight:
Content Marketing & Search Engine Optimization Critical For B2B Service Providers
Digital marketing priorities for product-based firms are different, naturally, than those that are service-based.
Generally speaking, B2B firms that are product- based invest a slightly higher percentage of revenue on marketing than do service-based firms. While that difference is only marginal, product-based firms spend significantly more on digital and social channels than do service- based firms.
The fundamental differences between service- and product-based businesses carry through in the social marketing channels that draw their respective investments, especially as it relates to the value of branded social communities…
A GREATER HUMAN ELEMENT
Service-based firms have a greater human element throughout the marketing, sales, delivery, customer service, and customer experience cycles.
The end-to-end reliance on human interaction for B2B service providers leaves room for greater variance in overall customer experience, which can stretch the Marketing team thin attempting to create a consistent brand throughout the Buyer Journey.
B2B marketers at service-based firms invest time and resources in late-stage Sales support and enablement, providing compelling content for sales managers in the form of infographics, case studies, testimonials, spec sheets, webinars, and more.
Content, from blog articles to research reports, may even be created and digitally distributed for individual high- reward prospects through the practice of Account-Based Marketing.
But, with Marketing focuses solely on supporting Sales, this might leave the early stages of the Buyer Journey without consistent narrative, insight, and design quality, which then results in potential leads heading to competitors for the Comparison and Evaluation stages of the Journey.
SEARCH ENGINE OPTIMIZATION + CONTENT
Our findings show that B2B service marketers budget the most for SEO, at 8.2% of total digital spend, followed by the interrelated discipline of Content Marketing, at 8% of total digital spend. SEO and Content work together, so this tight correlation makes sense.
Community Marketing through social channels like LinkedIn, Twitter, and others, came third in spend, with around 7% of digital budgets. Influencer Marketing and ORM were next in line, with budgets of 5.7% and 4.4%, respectively. Finally, Advocate Marketing rounded out the group with just over 4% of total digital spend.
As Bill Sebald of Greenlane Search states in the report:
"B2B Services tend to be a longer, slower conversion " with several touch-points for information gathering. For the buyer, it's a little easier to fill out a form for more information than it is to pull the trigger on a Product purchase. In both cases, when buyers find compelling content through organic search, social media communities, and other digital channels, it reduces the friction and creates the demand."
Download the full report to see the Top 6 Insights, and Top 6 Takeaways for 2016:
——–
As the President of Socialight Media, Jed Singer has been keeping his clients at the forefront of social marketing for over a decade. Over the years, he has been lucky enough to work with the world's largest and most social brands, including P&G, MasterCard, ESPN, HBO, and Facebook. He and his team help firms map their online Buyer Journey and design strategies for content marketing, community building, and lead generation.
Search
Everything you need to know about Digital Transformation
Subscribe
The best articles, news and events direct to your inbox