Global whisky sales are predicted to grow to $7.4 billion in the next 5 years. Growth is coming from Millennial and especially female consumers. These consumers are health conscious; consume less than other generations; but are willing to pay a premium for quality products and experiences.
With millennials now the driving force behind much of the globe's economy how can brands effectively engage these consumers?
Trends in alcoholic beverage market
I want to take a step back and look at some of the major trends that have been occurring in the alcoholic beverage market over the past few years.
Through our research we've identified six key trends that are disrupting the drinks industry, three of these are:
Premium and Super Premium spirits are driving sales.
Less alcohol is being consumed compared to previous years, however, more money is being spent.
Increase in online shopping has had a detrimental impact on impulse purchases of alcohol.
Purchasing Behaviour
Alcohol typically makes it into the shopping basket in one of two ways:
As a specific item that the consumer actively sought to purchase – for example, purchasing drinks for a party or looking up a cocktail recipe and adding the ingredients to a shopping cart; secondly
An impulse purchase in store
To provide some context – in research conducted by Nielsen 24% of respondents stated their grocery shopping was done online; 58% purchased clothing or fashion items, whilst only 8% of the group surveyed purchased alcohol online.
In the UK, Japan and China the averages for alcohol purchases online trend significantly higher than the global average – 22%, 27% and 28% respectively. However, with online alcohol sales trending between 8% and 28% there is a lot of upside for brands who build an enticing direct to consumer channel.
For those who do purchase online, speed of delivery is key:
53% of Brits who purchase groceries and beverages online expect same or next day delivery.
65% for those aged between 25-34, and
71% for those aged 16-24!
Channels such as Amazon and other start-ups have been quick to identify and act upon this trend and are trialling alcohol deliveries within 1 hour!
So how can alcohol brands effectively engage millennial consumers?
To illustrate some tactics and concepts that could be employed to engage millennials, I'm going to focus on the Whisky market.
For many years the image of the classic Whisky drinker has been portrayed as an older gentleman, sitting in a comfy chair, fire roaring in the background, cigar in one hand and whisky in the other.
That image needs to be shattered if brands are to take their slice of a predicted of the $7.4bn in Whisky sales over the next 5 years.
Millennials and women are driving the growth
Much of the growth in Whisky is being driven by millennials who are looking for a sophisticated experience. Competition in the sector has intensified amongst existing players with new premium and craft products being added to the market.
Did you know that spirits now represent the second biggest drinks category for millennials, taking over from Beer!
The other massive driver of Whisky sales in recent years has been the growth in consumption amongst females. For example, in the 90s 15% of Whisky consumers were female that figure is now 37%!
Iconic figures such as Lady Gaga, Halle Berry and Rhianna consume Whisky, it is their tipple of choice. Rhianna refers to it in her songs, resulting in the whole world of Whisky being made more accessible.
There have been campaigns by drinks manufacturers to specifically target female drinkers. One of the most recent was a campaign by Johnnie Walker, whereby the bottle was rebranded as "Jane Walker" and released in time for International Women's Day (March 2018).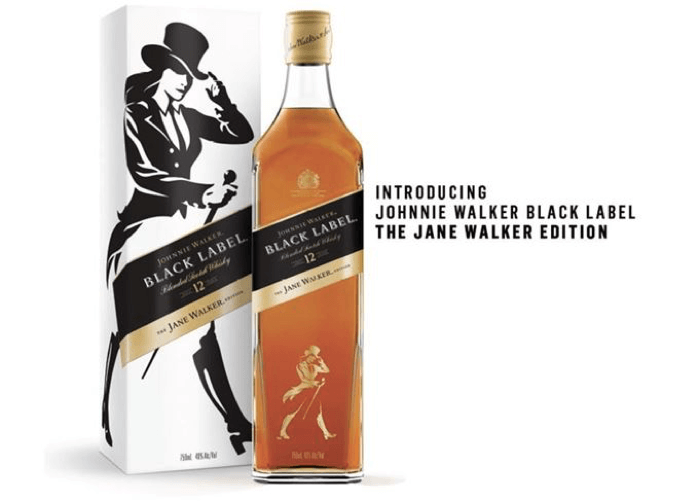 The Jane Walker Motif and Strapline 'Walking Together' was supposed to be a sign of unity with the gender equality movement.
The intention was sound – the campaign signalled solidarity with the gender equality movement and through the depiction of 'Jane Walker' Diageo wanted to personalise the experience of the drink for women.
The reaction to the campaign was not what Diageo had anticipated.
It was not sensitively positioned; did not engage the target demographic, and had no meaningful personalisation whereby individuals could associate themselves with the brand. In a nutshell, it felt and was received like a token gesture.
Marketing tactics you could use to engage millennial consumers
By targeting millennials in a sensitive and compelling way beverage brands can take a sizeable chunk of the market share available.
There are three principles that we suggest are applied when building your digital marketing campaign for millennials:
Employ the VARK model
Neil Flemings VARK (Visual, Audio, Read/Write, Kino) model explains that we do not all learn or become engaged in the same way, that we have dominant modes of based on our senses and we use these to varying degrees in order to process information. To engage a wide audience we recommend you employ a blend of Visual, Audio, and Kinaesthetic material.
Personalisation is essential
There are some universal elements that transcend age, gender and cultural demographics when it comes to engaging people and creating a personalised experience. One tactic that we employ at Butterfly is to create pseudo-personality tests. These personality tests are popular when effectively positioned as an engagement and personalisation tool due to two psychological triggers. The Barnum Effect and Narrative Psychology.
Focus your social media efforts
If you're looking to build a meaningful relationship with Millennials there are four social channels you should be active on. The two most prominent are:
Facebook
9 Billion users, primarily female – a great place to connect with Millennials and Gen X.
Instagram 
700 Million unique monthly users. Primarily female, it is arguably the best place at the moment to connect with Millennials. 90% of the users are under 35! Also great for brands to create a direct connection as 53% of Instagram users following a brand.
Conclusion
In conclusion, there is a sizeable prize for drinks manufacturers who sensitively engage Millennials. Brands should maintain their heritage and exclusivity but create channels for Millennial consumers to experience and purchase their products using a blend of digital marketing and experiential events.
Engagement needs to be personalised if existing brands are not to lose out to challenger brands who are entering the market.