We all know that content is the fuel that helps B2B marketers build trust and drive leads. In this blog series, we're exploring the five subconscious FREUD motivators that you can use to generate qualified traffic, big-time engagement, and new leads through B2B content conversions.
In this article, we'll explore what's usually considered a consumer marketing practice; using sales promotions to make the buyer feel Rich…
Riches are a timeless motivator. From the wealth of the Egyptian pharaohs to images of Scrooge McDuck swimming in money, to the fact that hundreds of millions play the lottery each year despite being far more likely to be struck by an asteroid, people desire riches.
The lottery, specifically, has a powerful draw. This is because people love the idea that they can win riches from the investment of very little. The first recorded lottery goes back to 200 BC, and the idea of randomly winning riches has continued virtually unchanged to this day.
Because of its timelessness, Riches has earned its place as one of our five subconscious buying motivators.
And, keep in mind, "riches" doesn't have to mean literally winning money. It could mean winning something else of value to me, cashing in on my fortuitous timing, or just seeing unexpected savings on something I was planning to purchase. Any of these scenarios will pull on my subconscious motivation to take action.
If that's the case, what if you could build the concept of riches into your B2B content marketing?
Of course, riches have been a part of consumer marketing since the early days of the craft. Sales, coupons, and rebates have motivated consumers to buy this dish soap over that one, pick one restaurant over another, and make car buying decisions.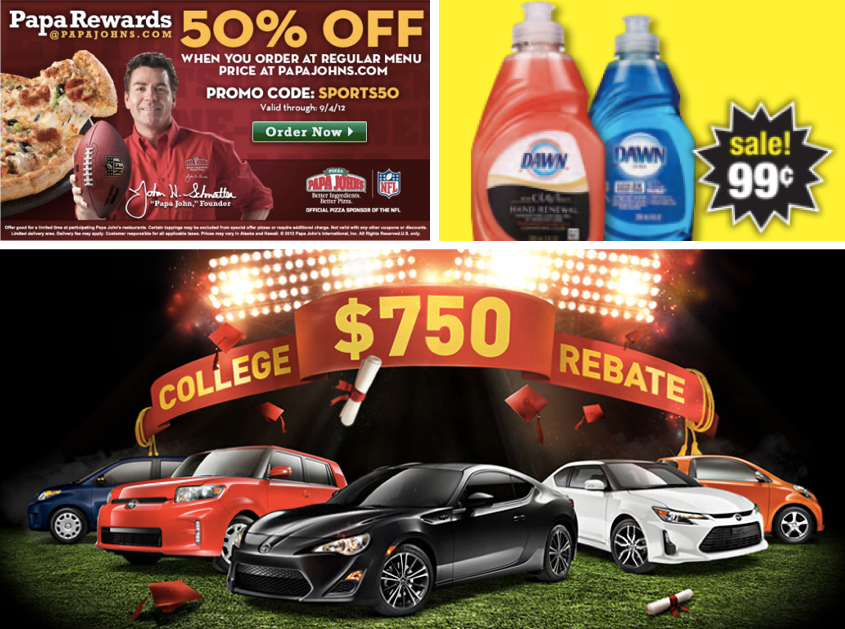 "But can riches have a place in your B2B marketing campaigns?"
Absolutely. In fact, the Riches motivator is one that usually drives outsized social spread (i.e. "virality") and helps to accelerate the early stages of the Buyer Journey. After all, when I can help my friends and social connections get rich, then I can take the karma points to the bank, along with whatever riches I've gotten myself.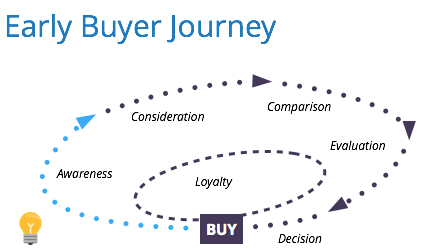 Now, let's take a look at the three ways that B2B marketers use Riches to motivate buyers.
1. Contests & Sweepstakes
The hypnotic allure of the lottery finds its closest marketing cousin in the contest and the sweepstakes. Incredibly powerful motivators, and easily leveraged in your content conversion strategy.
As a quick reference, a Contest is generally defined as a skill-based competition, while a Sweepstakes is purely random (however, like the NBA Draft, more advanced sweepstakes will allow the participants to improve their odds or gain additional chances to win in exchange for more customer engagement, data, or purchases).
With the rise of social media and user-generated content, contests have become one of the most popular tactics that play on the Riches motivator. This is because they allow you to leverage your buyers' stories and put your solutions at the center. This blend of owned and earned media usually equals big success for B2B marketers.
The small business owner is a coveted target audience, and Riches is their biggest motivator. B2B marketers know this, and they create contests for business owners to win funding.
FedEx holds an annual Small Business Grant Contest where business owners create video submissions for a chance to win both cash and FedEx Business services. The user-generated videos, of course, are then recycled as incredibly powerful content marketing assets for FedEx.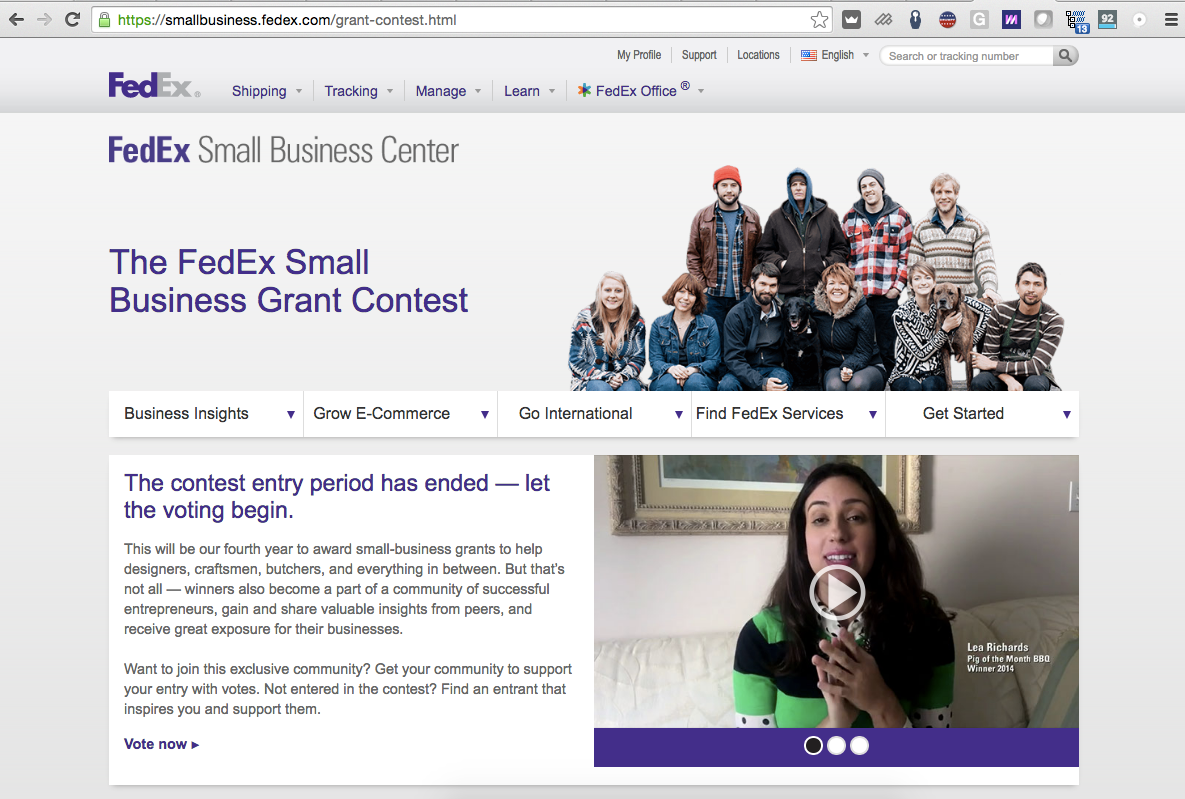 If Riches is the big motivator for your buyers, then you can even double down and combine tactics for maximum results.
The Lightfair Conference does this for its annual commercial lighting expo by combining sweepstakes content with promoting their early bird sale (our next tactic).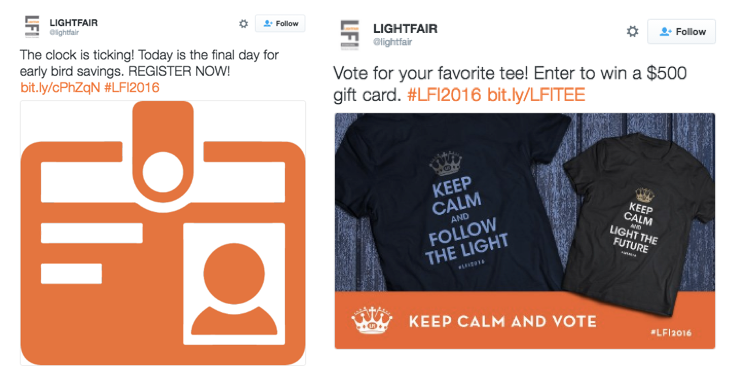 2. Sales, Coupons, & Rebates
There are an array of classic marketing tactics, like sales, coupons, and rebates, that feature prominently if you're a B2B retailer. But they also come into play for marketers in other industries, like software, financial services, and manufacturers.
If you're offering a SaaS license, then naturally you'd want to promote the fact that there are big savings if you sign up for a year, like Unbounce does for their landing page software.
Or if there's a seasonal sale, you had better be creating content that promotes and reminds me about it, as does WooRank, an SEO tool.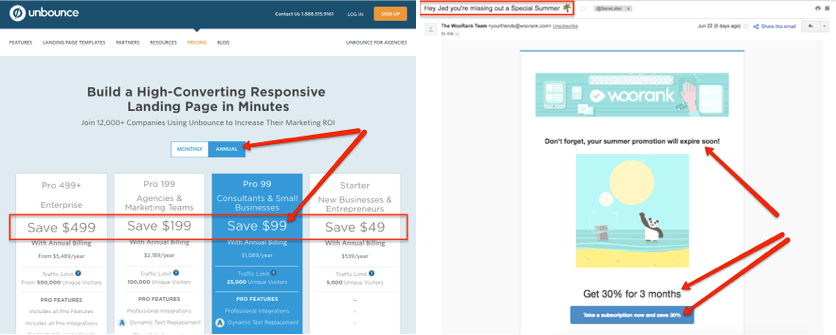 And, as any good salesperson knows, by making me feel like I'm getting an exclusive deal, or that there's a discount that I can take advantage of now (but that won't be there tomorrow), I can create the final push that a buyer may need to make a decision, instead of putting it off until next quarter, or pushing the decision off to a team member.
This fact makes the Riches motivator also very powerful at the end of the Buyer Journey, during the Evaluation and Decision stages.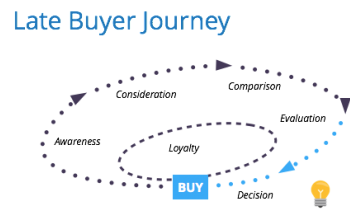 3. Trials, Samples, & Freebies
Getting something for free is another powerful use of the Riches motivator. Creating content around free trials, product samples, and free tools & resources is one of the strongest lead generation marketing tactics in your arsenal.
Penn Jersey Paper, a wholesale distributor, incorporates Riches as a motivator throughout their digital presence in the form of free product samples when you sign up as a customer.
And Simply Measured, a popular social media analytics platform, uses both free tools and free trials to activate the Riches motivator. They create marketing content compelling buyers to sign up for a free trial, and they also create valuable resources using their own free tools to show buyers the kind of value they're getting for the small investment of their email address.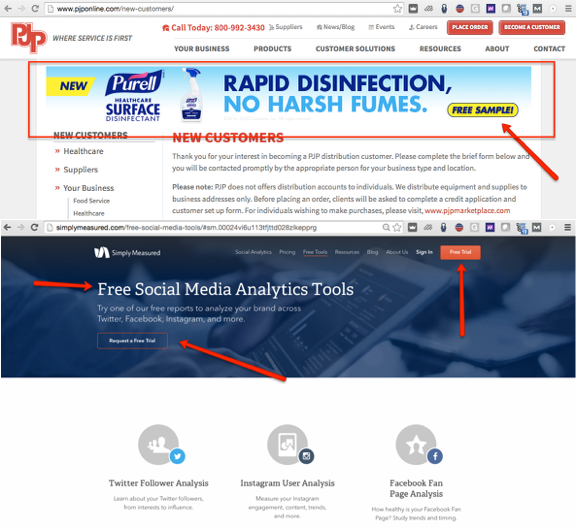 As history tell us, the Riches motivator is powerful for B2B marketers, especially very early in the Buyer Journey, and at the late stages, during Evaluation.
How might the Riches motivator help you achieve your content conversion goals? How would you incorporate tactics that play on this motivation into your content marketing strategy?
Search
Everything you need to know about Digital Transformation
Subscribe
The best articles, news and events direct to your inbox