The Digital Economy and the rapid convergence of exponential technologies is forcing many companies to rethink their business models and this is true for automotive companies as well.
Technologies like the Internet of Things, Artificial Intelligence, Blockchain, Robotics or Augmented reality are all converging, and this provides both threats and opportunities for companies like Renault.
We are in an age where autonomous driving is turning from a moonshot a few years back to a reality that will soon hit our streets in most cities. These technology shifts and the convergence of them is also what is shaping the next industrial revolution, i.e. the Industry 4.0.
But not only that, consumer behaviors are changing as well. Vehicle ownership is less on the mind of Millennials that are accustomed to transportation on demand from the likes of Uber or Lyft.
These millennials are also more worried about the impact transportation can have on the environment, they want to see sustainability higher on the agenda for large corporates.
Renault recognizing many of these threats and opportunities decided to embark on a digital transformation journey that is supposed to take the company to new levels.
The Vision: Mobility, Electric Power and Autonomous Driving
It started in 2015, when, with the help of Management Consulting Firm BCG they decided to shape the strategic plan of Renault. The outcome of that effort led to the 2017-2022 strategic plan.
Increase in revenue and productivity are among the usual suspects, when it comes to objectives, but there was also a clear objective to continue strengthening their position in electric vehicles, becoming a more connected and efficient company, leveraging autonomous driving and thinking about new forms of mobility services.
Transforming the company both Upstream and Downstream
In order to execute on this strategy, Renault needed first to understand the impact digital could have on their business. They looked at both upstream and downstream activities to find efficiencies and revenue opportunities.
They found out initially that the cost-saving and optimizations that could be achieved on the design and manufacturing side were close to 300M Euros/Year. Digital and in particular better usage of data, that was still scattered around 2000 legacy applications could provide them with better and faster decisions, increasing productivity.
Getting more of their production equipment connected and getting more of that data to unit managers in real-time was also essential to monetize data. Similarly, they found that becoming more data-driven could also help them to better manage the lifecycle of the customer relationship.
From better managing personalization needs to stronger engagement throughout the lifecycle of the customer relationship, they found out that here also they could make a 300M Euros / Year impact.
Having outlined the vision and developed a long list of use-cases that could impact the business both downstream and upstream, they came up with an overall impact of 600M Euros/Year. They decided then to quickly validate these initial assumptions by going into end-2-end pilots that could measure the real impact.
The problem they faced then was a real challenge, they hit a road block. As Frederic Vincent, the "CIO" of the company said in one interview "the company suffered from lack of internal digital skills, Inconsistent digital methodologies across the company, Heavy governance and processes not adapted to the speed of digital, As well as rigid legacy IT systems."
Basically for Management, the transformation was not moving fast enough, and the slow down was related to a lack of digital skills and rigid governance. It was essential to change all of this and do it quickly!
Renault Digital, A Digital Center of Excellence
On January 1, 2017, Renault Group decided to set up Renault Digital, an independent, but fully owned subsidiary with the sole objective of supporting the group to achieve its digital transformation objectives.
Renault Digital is the center of excellence that provides all the skills needed to execute digital, agile projects. It consists nowadays of more than 350 employees, with skills and knowledge in Agile methodologies, UX Design, DevOps and Data Science.
Renault Digital works a bit like a startup incubator and that is also the mentality it tries to instil to its staff, but also to the other persons working on their projects, a startup mindset.
For each project request that they get from the business units, they would set up an agile team, that is composed of subject matter experts from the business unit as well as specialists from the centre of excellence.
The projects are then incubated and go-through two distinct phases, an initial framing phase, which aims to narrow down the problem, gather insights and initial hypothesis. This is similar to what you would normally do in initial design thinking workshops, analyzing customer pain points and mapping customer journeys.
In the second phase, they move to an agile development model with the objective to develop the minimum viable product (MVP).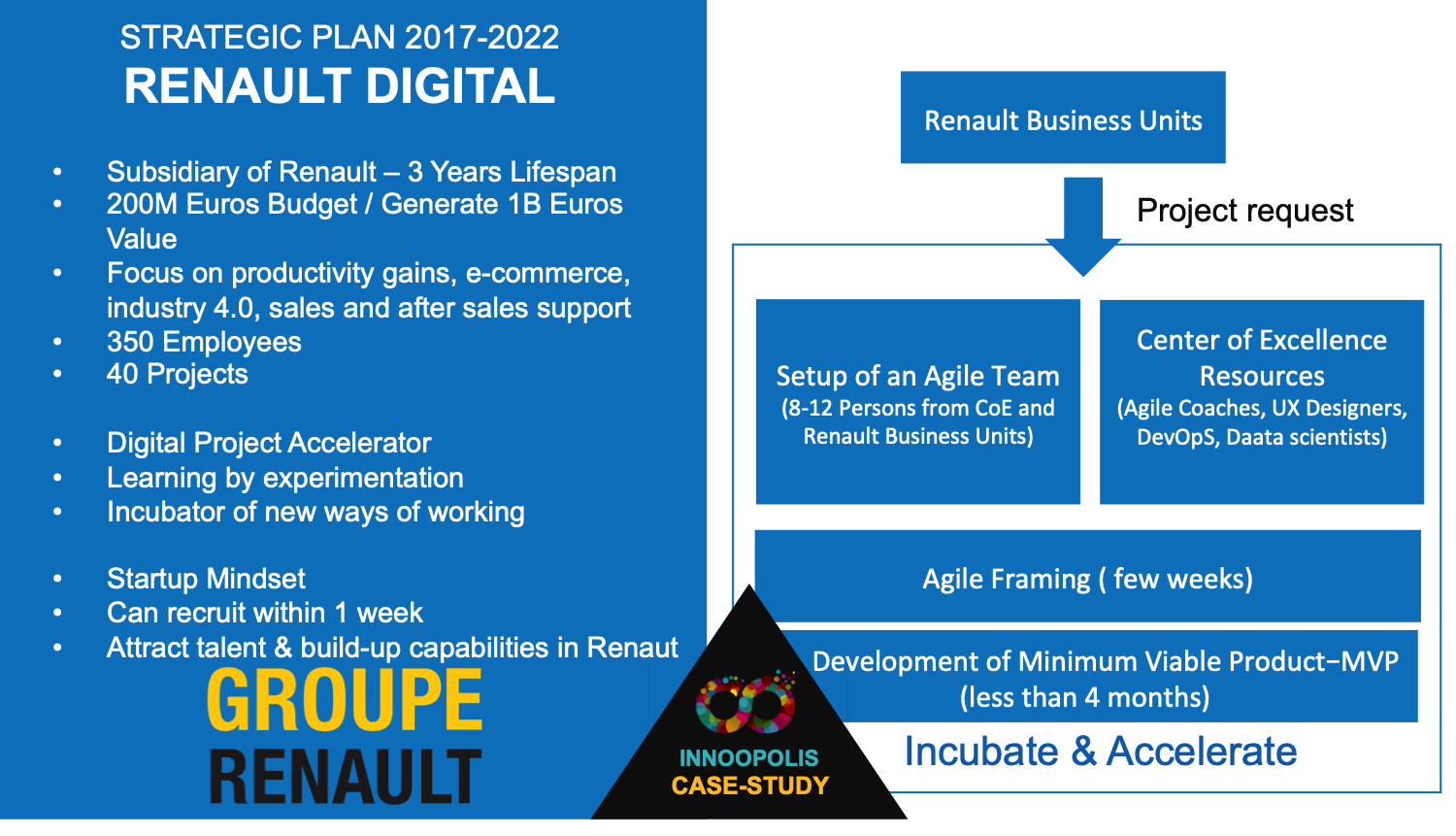 The good thing with this approach is that Renault Digital is really working as a startup and can easily and rapidly recruit new talent when needed.
Secondly, the persons from head office or other business units, that have been incubated for a period of 4-5 months, can now move back to their offices, with a new mindset, they effectively become change agents in the digital transformation.
Industry 4.0 Opportunities
Once Renault set up their Digital Unit, it was important to start building up success stories. Success stories are what helps you set the seeds for a change of culture and since Renault has a lot of staff working in their production plants it was only natural that they tried to find how digital could provide values to their employees.
Project CHUET was this first success story! Basically the challenge plant unit managers were facing back in the days is that they had to manage teams of 10-12 people, but needed to constantly run back and forth to their office computer to get the latest updates on how production had to be tuned, adjusted.
By putting Wi-Fi connectivity in their plants and by developing a bespoke mobile office solution for their unit managers they allowed them to save 45min/Day of ineffective time.
The productivity increase and job satisfaction were notable, now Unit Managers work around with their mobile office tablets and have access to real-time product data whenever they need it.
Connecting equipment helped the unit managers, but connecting machines and robots also allowed them to create value in other areas.
Predictive maintenance is one of these areas where expensive downtime due to machine failures can be avoided or at least its probability reduced. Renault has put more than 2000 Lora sensors in place to collect data from their equipment.
In manufacturing plants, robots and automation are of course essential, but with the increasing needs of personalization, with the increasing complexity of the product, some tasks become more complicated and human intervention is often needed to ensure quality.
The collaboration that is needed between robots and humans is such that we are now talking about co-bots (collaborative robots). While the bot takes on heavy lifting and repetitive tasks, the human employee is given more time to perform more complex tasks like quality control.
This new type of collaboration and shift in tasks for plant employees also requires a new type of training, a type of training that is best done with augmented reality and virtual reality tools. Renault is leveraging this type of experiential learning to make sure employees quickly and safely prepared for this new work environment.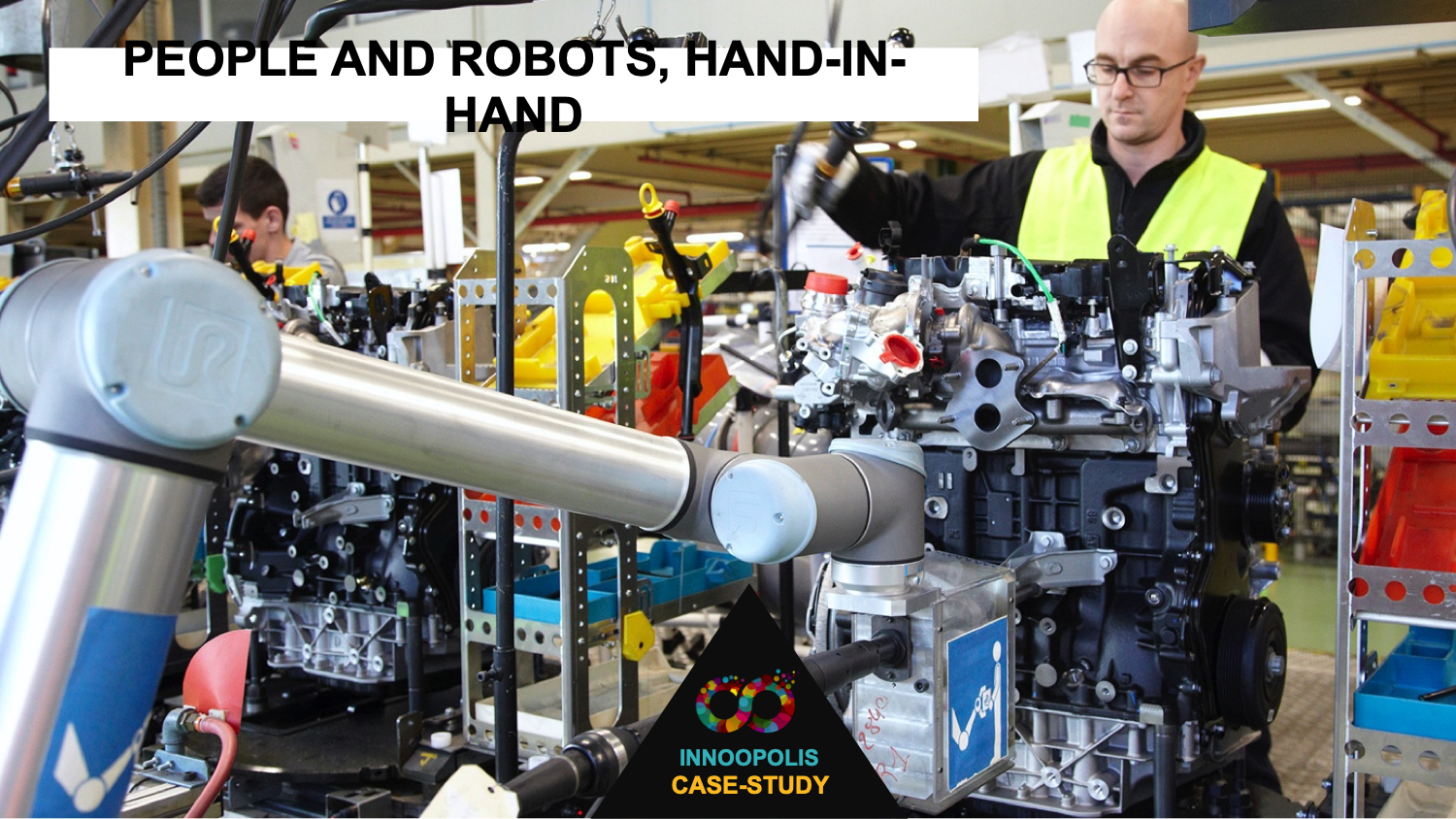 Downstream opportunities
Downstream opportunities are real as well. One of the challenges all auto-makers and dealership face is that they don't have that long-term permanent relationship with the customer.
Customers typically only come back when a problem arises, and after the warranty is expired they won't come back until they need a new car… if somebody else didn't catch their attention first. Connecting cars is the first step, but then it is about building applications that provide engaging experiences and allow to create new value for customers.
By staying connected with its customers Renault expects more sales lead generated through digital, providing better opportunities to achieve its growth ambitions.
Transformation with a culture change at Heart
Renault Digital has proved to be an immense asset for Renault. Already delivering clear value within 12 months of its inception (through the CHUET project), the ambitions of the group when it comes to the impact of digital have been revised upwards. It is now estimated that the impact will reach 1Billion Euros per year.
But at the end of the day, Renault is aiming to change the entire culture of the company. New leadership mindsets, but also a workforce that becomes increasingly agile.
That focus has also led HR to take a leading role in the transformation of the company. Besides setting various programs to develop digital skills, they also realized that the management style needs to change and that collaboration is becoming more essential to drive agility.
Collaboration and the development of a more aspirational environment are also what is supposed to attract new talent. Ultimately these changes will also lead HR to transform itself. Focus on end-2-end employee journeys, giving more power to employees to manage their careers are all elements that aim to make Renault an attractive employer in a world where digital talent is still scarce.
If you have more insights on the Renault Digital Transformation story, then I would love to hear form you to make this story better and more developed.
Do you have similar stories to share? What is the most interesting part of the Renault story?
Disclaimer: This article is based on open public reports, interviews posted in magazines, some of them translated from french. It is an external analysis of the Renault Digital Transformation story to the best of my knowledge. If anything here is inaccurate, please contact me directly and I will update the article.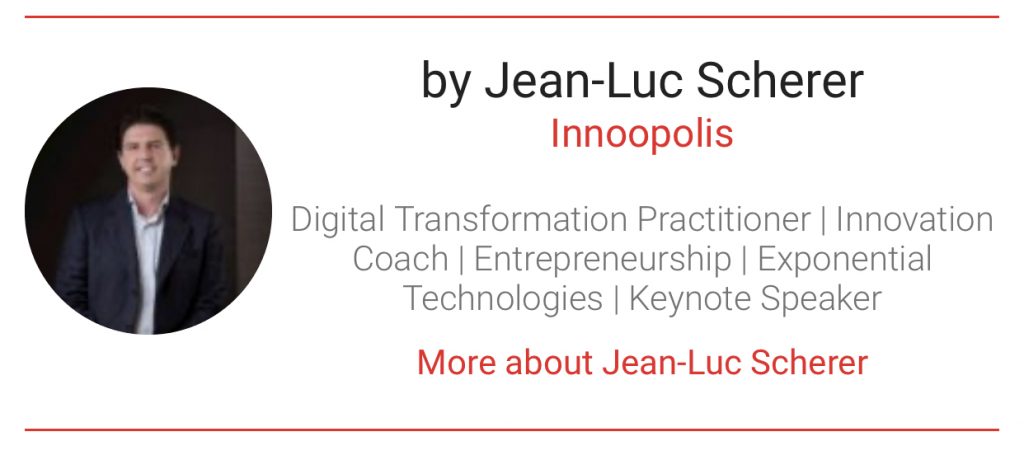 Search
Everything you need to know about Digital Transformation
Subscribe
The best articles, news and events direct to your inbox