A business based on brand is, very simply, a business primed for success ~ David F. D'Alessandro
Forbes recently published the latest list of the Top 100 World's Most Valuable Brands. By the numbers, following are key insights from the 2016 edition:
Top countries: USA (52 brands), Germany (11), Japan (8), France (6), Switzerland (4).
Top Industries: Technology (17), Financial Services (13), Automobile (12), Consumer Package Goods (10), Luxury (8), Retail (8).
Biggest Gainers: Facebook (44%), Netflix (31%), Google (26%), Amazon (25%), Citi (19%).
Biggest Losers: IBM (-17%), Coach (-13%), Caterpillar (-11%), Siemens (-8%)
New Brands in top 100: CVS (#47), BASF (#73), Netflix (#79), Uniqlo (#91), T-Mobile (#93), Corona (#95), Costco (#100).
Average one-year gain for top 100: 6%
Cumulative value for Top 100: $1.8 Trillion
The Top Five: Four out of the top five most valuable brands are in technology.
The First Retailer on the List: This Company has only one physical store and is planning a second.
Number One Apparel Brand: It's a surprise sports retailer.
The Top 10 World's Most Valuable Technology Brands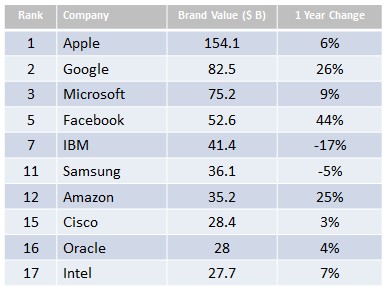 Founded in 2004, Facebook is the youngest company of the top 10 most valuable technology brands. In 2016, Facebook also had the highest increase in brand value across all the 100 companies studied.
As of April 2016, there are 1.65 billion monthly active users on Facebook. Visitors spend an average of 20 minutes on the site and upload 300 million pictures per day.
The oldest company from the top 10 highest value technology brands list is IBM. Founded in 1911, this year IBM had the biggest value drop across all the 100 brands measured.
The brand value increase for Facebook and the drop by IBM exemplifies the level of disruption underway in the technology industry segment. In fact, multiple of the companies listed above will shed thousands of jobs in 2016 as they adapt to new technology shifts, micro-service solutions, less integration requirements, and changing consumer behaviors.
The World's Most Valuable Retail Brands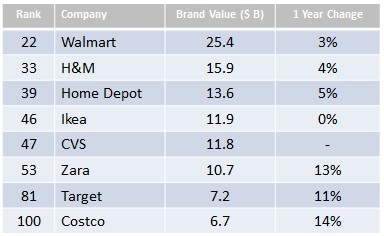 In the 2016 report, Forbes categorized Amazon as a technology company, not as a retailer. Ranked as the 12th most valuable global brand, Amazon's brand value increased 25% (4th biggest gain across all 100 companies).
Amazon ships 35 items every second, has 304 million active user accounts, and receives 4,310 unique new visitors per minute. The company recently opened its first physical store and is planning a second.
As Fortune indicated, Walmart "is at a crossroads: how to transition from the big-box era that propelled it to the world's largest company (No.1 Fortune 500 Company), to one in which customers are fussier about what they eat and can easily comparison shop thanks to the internet."
Nearly 260 million people visit Walmart's 11,500 worldwide stores each week. In the United States, 52.8% of all consumers visited the discounter in April 2016, an astonishing majority.
The World's Most Valuable Apparel Brands

Nike was a surprise in the listing of highest brand value for apparel. Multiple other apparel retailers such as H&M and Zara, Forbes classified in the general retail list.
Nike's first shoe was made inside a waffle iron. The company now sells approximately 900 million items of footwear, apparel, and equipment each year. The company is also the millennials favorite brand, holding 62% of the athletic shoe market.
Branding is the Primer to Success
The 2016 brand value changes epitomize the disruption and the increased pace of change in both the technology and retail industry sectors. Both segments are in transition to new business models.
In an increasingly socially connected world, branding both at personal and business levels, are critical to future success. If you want to avoid the commodity trap, increase the focus on brand value differentiation.
For technology companies, branding is a key to business loyalty. For retailers, future shopping will require intensified emotional engagement with the brand. A business based on brand is, very simply, a business primed for success.
For additional retail, technology, and leadership information visit www.tonydonofrio.com
Search
Everything you need to know about Digital Transformation
Subscribe
The best articles, news and events direct to your inbox