One of my heroes is Gary Vaneychuck. His book Jab, Jab, Jab, Right Hook blew my mind and I just finished reading Crush It. This guy is a legend and I am glad he is coming to my hometown of Atlanta for the Rainmaker conference hosted by Salesloft in March. I'm stoked to finally meet him and see some raw passion.
For those who are not familiar with Gary, watch this video and here are his top 5 quotes that will get your blood pumping and out of your seats. Say these quotes out loud and you will know what I mean. These are truly powerful words which he says with so much passion that you gotta feel it.
Get off your ass and get noticed.
Look yourself in the mirror and ask yourself, what do I want to do every day for the rest of my life? Do that.
You didn't grow up driving. You figured it out.
You can market your ass off, but if your product sucks, you're dead.
It's easy to dream about it, but much harder to execute it. Work!
I love the enthusiasm that Gary projects and the #HustleMuscle he has to do big things. As I finished reading Crush It, something big happened. My company, Terminus, an account-based marketing firm based in Atlanta, hit $1 million in ARR, and we did it in just nine months! We are now in the works to make a 3x run (as they say in the startup world) to triple our revenue in 2016. Here's how we did it and the story of our #HustleMuscle.
In any startup, it's a given that you will work crazy hours pouring your life and soul into your company. You'll wear more hats than you even knew you could wear. You love it and hate it at the same time. But no matter what, you have the greatest influence on the success or failure of your company, and that's what keeps you going. Because you want to succeed, you're thinking about your startup while you are drinking, eating, and even sleeping. This lifestyle now seems perfectly normal, but after the past year it begged a question…
Are you crushing it or crushing yourself building a startup?
As I reflect on 2015, it was a year some great teamwork and lots of hustle. Heck, we helped build an ABM category with G2Crowd, did three massive #FlipMyFunnel conferences with over 1,000 attendees, and probably the most important accomplishment is hiring 24 new rockstars on the Terminus team which really feels like a real family.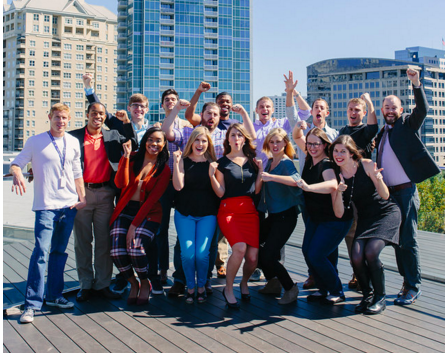 So, I tried my best to look at each and every team member of Terminus and came up with 10 reasons why I feel that we are simply #CrushingIt and thankfully not crushing ourselves in the process.
10 Ways to Know You 're #CrushingIt Building a Startup
I'm curious to know what other startup founders think about building a business from the ground up. In my next post, I'd love to share more about how to not crush yourself and focus having a great time working and living your dream at a startup. How's your startup experience? What does #Crushingit mean to you?
Search
Everything you need to know about Digital Transformation
Subscribe
The best articles, news and events direct to your inbox