Companies seeking to cope with the pace of accelerating change are looking for ways to go faster, and managers in non-technical disciplines have become increasingly infatuated with the Agile Software Development methodology and many are finding ways to adapt parts of it to create agile change or agile marketing or other such things. Sure agility sounds like a good thing and sure agile marketing sounds like it must be better than regular marketing, but is it?
What is agility really?
According to Dictionary.com, agility is:
"The power of moving quickly and easily; nimbleness" OR "The ability to think and draw conclusions quickly; intellectual acuity"
When it comes to a business context, I however prefer to define agility a bit more simply, a bit more concisely. Agility, or organizational agility in our case, is:
"How quickly an organization can change directions"
Many people, especially in an organizational or commercial context, get confused between agility and flexibility. They are NOT the same thing.
Organizational agility is about how quickly an organization can change directions, while flexibility in an organization gives it the ability to do different things with the same resources, often by purchasing more flexible equipment (at a higher price) or by training people to do more than one thing (resulting in higher training costs) or by hiring people that are skilled at more than one thing (higher salary/benefit costs). Flexibility definitely has its benefits (being able to shift resources among purposes) but it also has costs like the ones mentioned above, and probably more importantly, flexibility usually decreases the efficiency of systems.
Fixedness on the other hand, reduces variability, allows you to focus on the things that do vary and get really good at executing all aspects of a system, including the acquisition of the very best tools and technology to perform each particular function. But, as you can imagine, fixedness has its downside too. If a human resource goes down due to illness or a piece of production equipment breaks, potentially, the whole system grinds to a halt.
So, as you can imagine, increased organizational agility is achieved by establishing the right balance between flexibility and fixedness.
I have captured this principle below in the Organizational Agility Framework: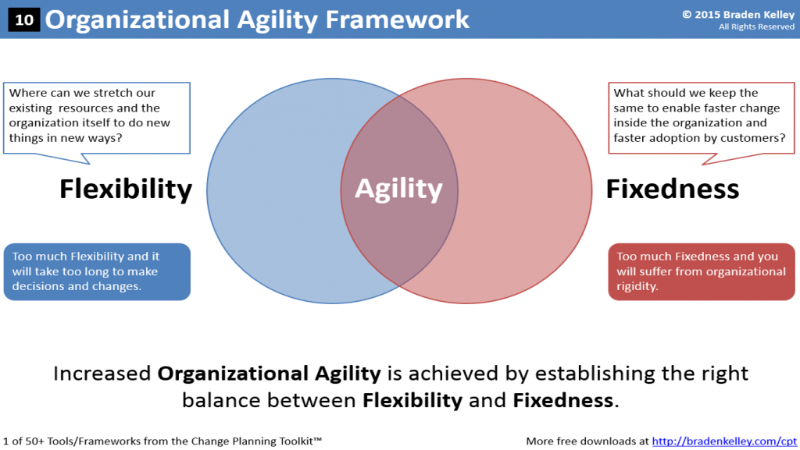 Click to access this framework as a scalable 11″x17″ PDF download
The Organizational Agility Framework helps organizations:
Adapt to changing environmental conditions
Stretch existing resources and the organization itself to do new things in new ways
Enable faster change inside the organization and faster adoption by customers
Evolve profitable customer relationships to keep the organization strong and vibrant
The Organizational Agility Framework (and corresponding worksheet in the Change Planning Toolkit™) also helps you ask two key questions:
Where can we stretch our existing resources and the organization itself to do new things in new ways?
What should we keep the same to enable faster change inside the organization and faster adoption by customers?
Too much Flexibility and it will take too long to make decisions and changes.
Too much Fixedness and you will suffer from organizational rigidity.
Companies seeking increased organizational agility and an improved ability to cope with the accelerating pace of change and ever-evolving customer expectations must seek to strike that optimal balance between fixedness (so you can go fast) and flexibility (so you can quickly adapt to changing customer needs).
Can your organization find the right balance?
More on digital transformation and organizational agility soon, so stay tuned!
In the meantime, please get yourself a copy of Charting Change as a hardcover (ebook coming soon) and get your free downloads from the Change Planning Toolkit™ (or go ahead and purchase a license now).
This article originally appeared on Organizational Agility for Innovation & Change
NOTE: To get more great posts like this, be sure and follow me and check out my archive of 250+ posts so far by clicking the FOLLOW link above or below.
Braden Kelley is the author of Stoking Your Innovation Bonfire from John Wiley & Sons and Charting Change (March 2016) from Palgrave Macmillan. Braden is also the creator of the Change Planning Toolkit™, a popular keynote speaker focusing on accelerating innovation and change, and an Innovation Excellence co-Founder. Follow him here on Linkedin or on Twitter.
Search
Everything you need to know about Digital Transformation
Subscribe
The best articles, news and events direct to your inbox