Last week, I attended the Paris 2019 AWS Summit, it was my third participation in four years; Paris already in 2015, London in 2017, and again Paris this year. AWS Summits are exciting moments, they bring technologists together to connect, collaborate, and learn about AWS.
Amazon, as usual, did things big; training sessions in a variety of technologies ranging from Cloud and DevOps to AI, IoT and Data Science, incredible innovative solution demos involving hundreds of start-ups, all members of Amazon's Partner Network, and testimonies of the top 20 fastest growing companies in Europe. It was breathtaking.
We're witnessing the maturation of a globalized Network Economy which is changing the way companies do business and pushing for a new IT services delivery paradigm. That's Digital Disruption!
However, contrary to most visitors and participants, my mind wasn't on these incredible technological breakthroughs; I was questioning something very few IT leaders pay attention to Amazon's Platform Business Model. It made the company, the largest marketplace on earth with impacts on how companies do business and on how IT services are delivered. Many in IT turn a deaf ear to these changes.
Dan Wakeman, Educational Testing Service (ETS) CIO, is one of the few IT leaders who put the issue on the table; citing authors Moazed & Johnson,
" The aggregator and creator of business value is no longer a company supply chain or value chain but rather a network's ecosystem. Value has moved from creating products and services to facilitating connections between external producers and consumers," he aptly questioned, " Is there an industry where this is not true?"
Dan is right, as this picture from my book Disrupting the Status Quo — From IT Modernization to Digital Competitiveness illustrates, we're all witnessing how a globalized network economy is structuring around Google, Apple, Facebook, and Amazon (GAFA) and other Asia's tech giants' platform business models.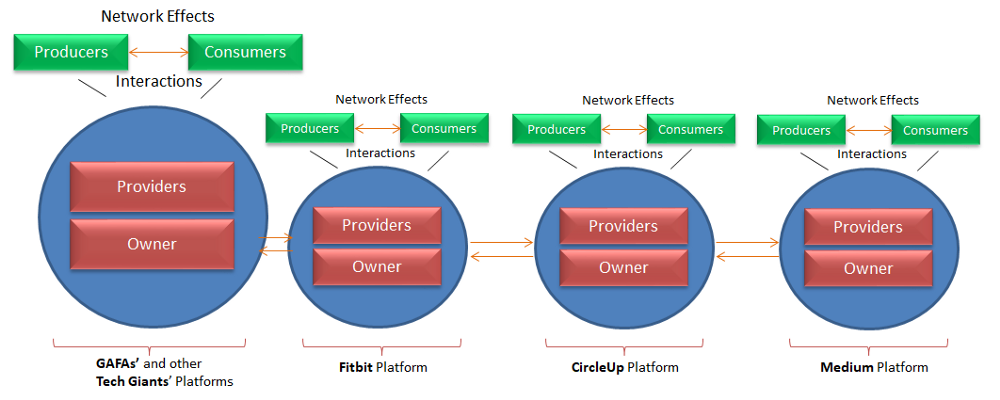 Network economy as engendered by the GAFA — Credit: Philippe Abdoulaye
At its simplest, a platform is a business model supported by an online marketplace that creates value involving three players: the Platform Owner which facilitates business transactions between Providers who deliver the services and Consumers who buy them. The notion of Community and its correlated Network Effect help to understand how Amazon has been disrupting industries. The network effect is the notion that the more a service is used, the more its value increases to its users.
What I observed is, Amazon takes advantage of the global value of its brand — Customer Obsession, Invent and Simplify, Insist on the Highest Standards, Think Big, Deliver Results — to attract providers and consumers from varied industries and group them into profitable communities.
The massive hiring of innovative providers through Amazon Partner Network (APN) creates a dynamic competition within communities which not only takes prices down but also results in diversified product and service catalogues that in turn, increase consumer subscriptions, make them loyal, and ensure continuous revenue. That's how Amazon's network effect works!
What's important to know is, the network economy is expanding as the foundation of digital business; it disrupts industries and imposes on businesses new challenges including upgrading products and services portfolio with digital products to be in positions to compete, cutting their costs — CAPEX and OPEX— to be competitive price-wise, increasing their operational velocity to be responsive to any market move, and implementing capabilities that keep customers loyal and ensure continuous revenue.
Whether you're in education or financial services, the vital issues to address are:
your digital strategy to compete with the leading platform businesses in your industry,
the optimization of your IT value stream, and
how you leverage cloud infrastructure to compete.
Are these concerns, priorities for CIOs right now? Are CIOs aware that to help the business compete they must improve their cloud migration vision and strategy? Honestly, I don't know, today's cloud practices are confusing!
Today's AWS practices aren't suited for the challenges of the rising digital competition; they're IT solutions thought by IT for IT. Only capabilities using the AWS Value Chain as the means to integrate the business and IT into a high ROI cloud operating model will help.
The raison d'être of IT is to help the business meet business objectives such as market share gains, revenue growth, brand value increase, alike.
Can we honestly say that today's cloud practices are likely to help businesses compete in the expanding network economy? The honest answer is, they're incomplete.
Today's AWS practices reflect IT organizations' unpreparedness for the rising digital competition; they're ad hoc approaches to cloud migration providing solutions on-the-fly to specific IT issues like storage capacity increase, application cost-cutting, or speeding up IT operations. They bring no tangible business value!
The fact of the matter is, the big picture using AWS cloud as a means to integrate the business and IT is lacking; as long as the situation lasts, today's AWS clouds will remain IT solutions thought by IT for IT, not for the business.
To help businesses succeed in the network economy, cloud practitioners, particularly AWS engineers must take their practices to the next level by addressing the three dimensions of successful Digital Organization: the IT value stream, the cloud services, and the cloud infrastructure: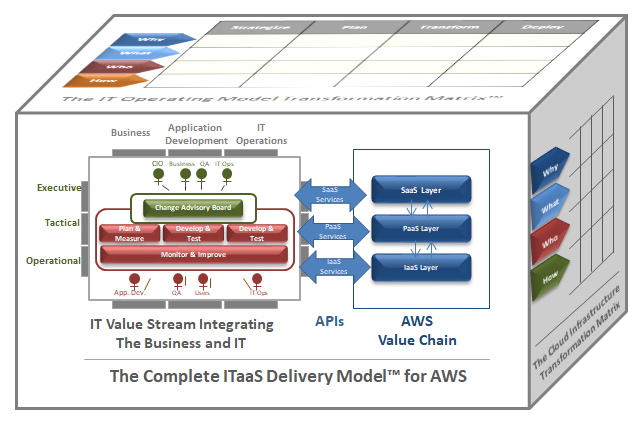 The Complete ITaaS Delivery Model™ for AWS — Credit: Philippe Abdoulaye
The Complete ITaaS Delivery Model™ for AWS I developed and recently presented at the BAIP Technology and Resilience conference is based on the belief that using the AWS Value Chain — the set of AWS SaaS, PaaS, and IaaS services — as an extension of their IT is likely to deliver concrete business value.
The IT value stream, ignored by today's cloud practitioners, combines organizational, operational, and IT operations optimization best practices — Agile, Lean, ITIL — to deliver actual business value.
The AWS value chain is the set of AWS services remodelled into a Cloud Operating Model specifically tailored to help businesses meet the requirements of the network economy. I'll discuss the Complete ITaaS Delivery Model™ for AWS in a next article.
The key takeaway is, the network economy, structured around the GAFA and Asia's tech giants isn't fiction but a cruel reality that's kicking out of business thousands of unprepared companies. Remember, despite massive investments in cloud and DevOps and the recommendations of those gurus, Toys R Us, Nine West Holdings, Bon-Ton Stores, Remington, Southeastern Grocers, and Top Markets filed for bankruptcy in 2018.
If you're a business and your AWS cloud doesn't deliver tangible business benefits, ask yourself this,
"Why not leverage the AWS value chain as an extension of my IT?"
If you're a consultant involved in a project, ask yourself this,
"Why not make an impact by implementing the AWS value chain as an extension of the client's IT?"