Artificial Intelligence is one of those buzzing technologies which are quickly spreading across the world. Starting from entering into the corporate space to transforming the unique spaces like agriculture, healthcare etc., AI is definitely prompting innovation in the world.
One of the other thing that is turning out to quite revolutionary is people's amplified interest in the field of mental wellbeing.
More and more people have started showing interest in mental wellbeing. In fact, various companies have even started exploring the mental health space now. And, they are trying to integrate newer technologies into the mental health space. This is done to make sure that newer mental health solutions are available for the public. Lately, even AI is being integrated into the mental wellbeing solutions.
How is AI impacting the healthcare space?
Artificial Intelligence is undoubtedly influencing the healthcare or wellbeing space in numerous ways than one. Firstly, because of AI, companies like software application outsourcing India are able to develop new tools and solutions which are just perfect for the present gen. The new technology in the healthcare space is aimed to enhance the quality of service which is offered.
One of the other major advantages of Artificial Intelligence in healthcare is the fact that it leads to better results. How? Simply, because with the help of AI, the healthcare experts are able to understand the care seekers better. AI helps them to get detailed information about a patient. This comprehensive information helps the care providers to offer better care. At the same time, due to both Big Data Analytics and Artificial Intelligence, it has also become a lot easier for the care providers to understand the patients better and to thoroughly explore their complete wellbeing history.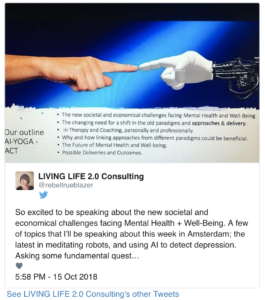 Is AI Literally revamping the Mental Wellbeing Space?
Artificial Intelligence is used in plenty of interesting ways to transform the mental healthcare space. You will surely find a whole lot of startups, university researchers, as well as many big sized firms, working in collaboration to assist those who are presently dealing with any mental health issue, starting from depression to something like bipolar disorder or anxiety.
Most of the companies who are stepping in the mental health space are trying their best to bring in such powerful technology which enables both the people and the mental health experts to take the level of mental healthcare to another level.
Artificial Intelligence is gradually praised as something similar to a silver bullet which is majorly applicable to each and every field starting from solving the most critical international issues to catering economic prosperity.
Therefore, the holistic influence of AI is seen, and the same is with the case for integrating Artificial Intelligence within the mental health space. There have been many programmes which are actively making use of AI and are spurring innovation in the space. Also, there are various institutes which are encouraging the knowledge and understanding of AI in mental health.
AI helps in the early detection of a mental health issue
As we all know, early detection of any health-related issue, be it physical or mental surely leads to better results. When it comes to mental health difficulties, here also early detection of the symptoms plays a major role. It is one of the vital especially when it comes to the quick and successful treatment of the condition.
Tech Experts of Software Application Development India firms are trying to build technology which is meant to flag up important warning signals centred on the mental health condition of an individual. And, these warning signs will be triggered by only listening to a person. Isn't that amazing?
Detecting the patterns of speech
Mental health organizations are planning to use transcripts as well as the audio's from different psychiatric interviews for understanding the mental health of an individual and to offer quality care. Along with the latest machine learning methodologies, various patterns in speech are also being used to help clinicians perfectly to predict and review the mental health conditions like depression, anxiety, psychosis, schizophrenia, etc. Technical geniuses are trying to come with mental health tools that will make sure that our words are a window to our mental health.
Conclusion
Though Artificial Intelligence is still at a developing stage, AI is regarded as one of the best technologies to improve the mental health space. It will pave a way for a better mental health environment, where personalized treatments will definitely be a reality.