Last week in Seattle, I spoke with three brilliant minds, probably my best technology conversation in the recent six months. I was actually interviewed for an executive DevOps Strategist job and what I heard was amazing, it confirms what I've been suspecting and saying: there's more to say about how we should help our clients with the recent IT innovations.
It's increasingly clear for the consulting firms elite, particularly Accenture, that a new IT consulting paradigm is urgently needed. The competitive constraints the ongoing industry disruptions put on businesses—market responsiveness, operational agility, continuous innovation, price competitiveness—are making obsolete the traditional IT tool recommendation approach and its broken promises. "Helping IT properly transform is what, we as consultants, will be challenged with," that's how I interpreted Michael's remarkable vision and approach.
He said four simple and practical things that may form the foundations of the Digital Transformation Advisory practice the IT consulting industry needs to make businesses happy with their Cloud and DevOps investments: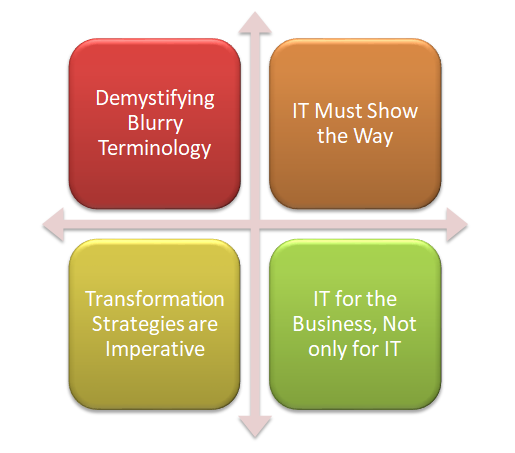 These four unexpected, yet powerful drivers of digital transformation successes include:
The need to demystify confusing terminology
Encourage CIOs to reinvent their role with co-leading business transformation effort
Remind IT organizations and their CIO that the bottom line is the business benefits and not only IT gains
And the importance to develop strategies that'll guide the IT organization and to some extent the business transformation effort
Let's discuss them!
Demystification of blurry terminology is imperative
"The word cloud for example doesn't reflect all the benefits IT organizations could derive from the principles, mechanisms, benefits behind it" he said and he was right. Cloud computing refers primarily to a system of principles—Virtualization, Resource Pooling, Elasticity, Automation, Metered Billing—which helps to build IT environments that not only accelerates but also simplifies the delivery of IT services. Adopting cloud is disruptive, "and sitting with CIOs and SVPs to spread the word and clarify the gains and how to unlock them is necessary" he said.
Telling IT its responsibility to lead the transformation effort is imperative
The rising digital business has brought in changes in how IT services are delivered, "Why IT doesn't embrace the changes and inform the business about the transformation actions to take?" he said. Once again he was right, our responsibility as consultants is to tell IT why it should lead the transformation effort and how to do it. Reinventing how the business designs, develops, and distributes products and services around a delivery pipeline that mobilizes the company's assets should be a co-responsibility involving the business and IT.
IT for the business not only for IT
"Reminding our clients that they're doing IT to support their business lines is their responsibility" he also suggested. Again he was right, transforming IT without making sure the deployed tools, infrastructure, processes, and methodologies will boost the expected business benefits doesn't make sense. Clarifying for example how Scrum Product Backlog planning is important to prioritize business requirements and therefore essential to generate the expected business benefits should be part of today's transformation practices.
The key takeaways
Finally, Michael's vision tells a common-sense story; let's not kid ourselves, today's Cloud and DevOps practices are at the very early stage of the technology adoption lifecycle. The winners will be those who will:
Help CIOs and their team get clearer and more objective views on how to take advantage of DevOps and Cloud to concretely help the business. Evangelization around Cloud and DevOps is still needed.
Help CIOs extend their IT organization's mission from IT tools provider to true business benefits catalyst.
See Enterprise Cloud as the extension of their IT infrastructure and IT operations management and not as a black box hosting their applications desperately hoping it cuts costs down and miraculously boost the business.