The future of retail includes digitally supported leadership branding coupled with hyper-personalized immersive consumer experiences. Of all the stores that I have visited to date around the world, the Nike House of Innovation in New York City, is the closest example that meets this critical futurist success formula.
Covering over 68,000 square feet (6,373 square meters), this new Nike flagship offers six floors of differentiated physical to digital experiences. Each floor could be a store of its own. Combined, this location is designed to meet the ever changing needs of a digitally empowered consumer.
Before taking a virtual tour of the store, let's remind ourselves of why shoppers buy in physical stores (IHL study):
The Smartphone as the Portal to the Physical Store
The Nike House of Innovation is designed around the Nike Plus App. The smartphone digital engagement with the store makes its presence on multiple levels.
You can scan a QR code on a mannequin, browse every single item displayed, check to see if your size is available in the store, send a request for selected products to be available in a fitting room of your choice, or you can meet a Nike athlete (associate) at a designated location to pick-up your goods.
Skip all the lines and just Scan & Go with your physical product, if that is your preference. Nike Plus members can check out and receive a receipt within the App. Checkout stations are also positioned throughout the store for shoppers to bag their products.
You can request to try-on clothes from anywhere in the store, collect items in a designated area, or automatically schedule a fitting room that will have your name on it.
Want to order online and pick-up in store? Lockers that will open with your smartphone are available in the store when you ready to pick-up the goods.
Curated Local Shopping Experiences
In a hurry, but still want to shop in-store? The lowest level which Nike called the Speed Shop offers NYC favourites curated by big-data analytics. Shop by the numbers, quickly pick-up the goods, and self-checkout if you do not want to speak to anyone.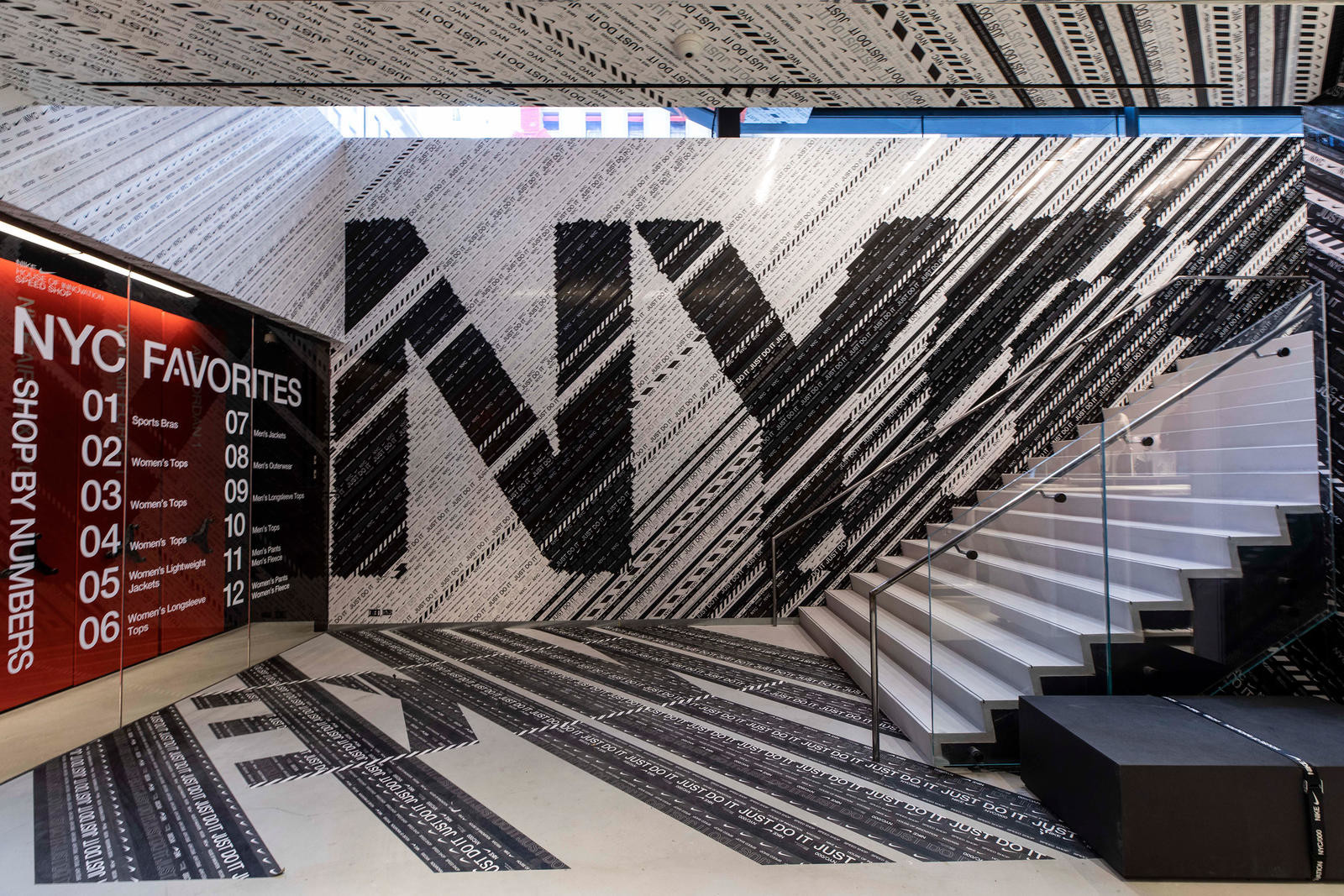 Make Your Unique Shoe Fashion Statement
Another favourite floor is the Nike Arena at the entrance of the store. Here consumers can take personalization of the monthly featured Nike shoe to the next level. Scheduled through the app or in the store, Nike athletes in white coats can help you design own world unique shoe. Change of the laces, add a special writing touch or design, your unique Swoosh or even fully dye the white shoe based on your singular colour.
A Personal Stylist Awaits
On the App or in the store you can also sign up to meet with a Nike Expert to customize an entire outfit to your requirements. Located on the 5th floor, it includes plush fitting rooms with various lighting moods — from yoga studio to in-door gym.
Digital to Physical Immersion Leadership
This store has other digital to physical immersion examples such as "Sneaker Bar" (sound familiar) and extensive usage of graphical representation of the Nike brand story.
As the IHL data points out, consumers still shop in stores because of immediacy and wanting to touch the product or speak to an expert. Critical to this formula are technologically empowered passionate associates which from my private tour are present in the House of Innovation.
From making the smartphone the retail engagement entry point, to curating to local shopping favorites, to allowing you do shop differently depending on your mood (today I want experiences by engaging with experts, tomorrow I want to just Scan & Go), the Nike House of Innovation is a great example on the potential and importance of physical stores to the future of retail.