This is the first of multiple articles covering the Retail Big Show NRF 2020. As others have summarized the insights of the sessions and speakers, my primary focus in this post will be the futurist innovation trends from the trade show floor.
40,000 Attendees / 800 Exhibitors / 99 Countries / 60,000 Personal Walking Steps
The next article will cover the key takeaways from RetailROI SuperSaturday, the place to be for inspiring and exclusive industry intelligence just prior to the start of NRF.
Thematically, artificial intelligence (AI) was the passport to innovation entry to NRF 2020. Winning demonstrations were focused on identifying and delivering competitive advantages in the deployment of differentiated immersive consumer experiences across channels.
Surprised this year in being able to identify 36 distinctive technology innovation trends on the trade show floor. After a very busy NRF 2020, here my three summarized most impactful perfect vision takeaways of NRF 2020.
Computer Vision Discerns the Center of the Retail Store
Having split my career between security and information technologies, for some time I have prognosticating the rise of the camera as a powerful sensor to redefine and enhance consumer experiences. At NRF 2020, computer vision was 'visible' everywhere.
Robots loaded with cameras to verify planogram compliance, floor spills, out-of-stocks, engagement with consumers, were prevalent both with large and emerging companies.
AI and machine learning were common integration themes in most of the computer vision demonstrations. At this NRF you also saw the technology combined with RFID and 5G.
In the Innovation Lab startups area, variations of drones –the flying kind and even the one below running in a shelf tunnel– made a computer vision appearance.
Facial recognition also increased its presence at NRF 2020 including face-pay, security applications including one for directly protecting high theft items, shopping cart push-out protection, sentiment detection, and FaceID solutions designed to improve consumer engagement.
Computer vision is critical to retail because:
It is increasingly being applied at the consumer decision-making center of the physical store which for too long has been highly under sensored. This is an important first step that will eventually lead to much improved differentiated digital consumer conversations.
Decreasing friction in the shopping experience directly increases opportunities for retail theft. Security risks are also increasing in areas where traditional technologies have struggled to respond. Computer vision combined with AI has capabilities to address these challenges.
Checking Out the Future of Point-of-Sale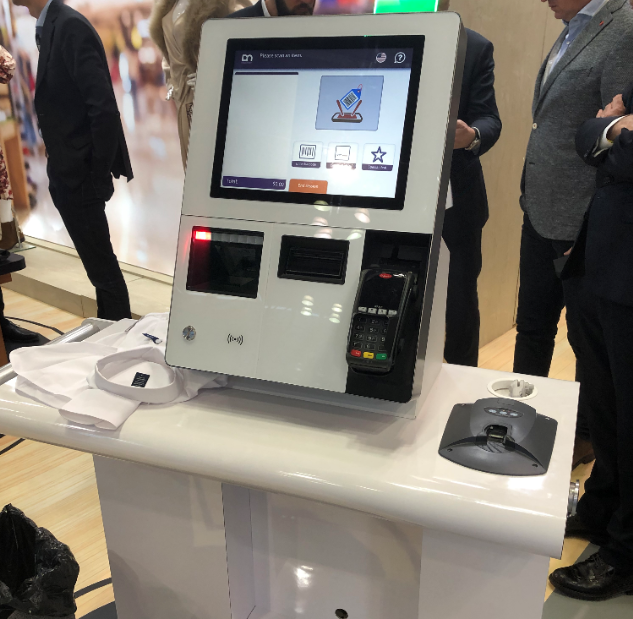 As my personal technology immersion started at the point-of-sale, it has been interesting to observe the transformation of this key retail function. The smartphone, the number one disruptive technology of the last decade, has intensified the aggregation and transition of disparate technologies into smaller aesthetic devices.
The arrival of these easier to use technologies is converging with a consumers' preferences for self-checkout. At NRF 2020, the integration of more functions into ever sleeker stationary self-checkout stations was widespread with 40+ companies showcasing solutions.
Mobile checkout and stationary self-checkout solutions combined with computer vision and AI are leading to more innovative POS solutions. An example of this continued evolution was on display in the Innovation lab where computer vision and AI delivered self-checkout inside a shopping cart.
The more intensive focus to include theft detection / deterrence applications into these more customer-friendly POS solutions was a welcome change. Will be interesting to follow and influence the future directions of point-of-sale innovations.
The Redefinition of a Startup
NRF 2020 reaffirmed that progressive brands are aggressively embracing technology as a differentiator to drive competitive advantage. To expedite digital transitions, retailers are now willing to take more risk with startups, especially with solutions targeting consumer experience and engagement.
Very interesting to hear at NRF 2020 the deep engagements / deployments by startups with multiple brands that are considered leaders of the industry. Retailers are adopting not just 'fast-fail' to find new ideas, but faster adoption if the technology delivers differentiated consumer experiences.
The focus on startups was reinforced by the crowd sizes in the Innovation Lab.
It's a Wrap for NRF 2020
In closing here are a few additional trends from NRF 2020:
Sensors continue to get smaller and more powerful. Interesting to see manufacturers implement these new sensors inside physical stores to directly measure consumer behavior.
Beyond computer vision, more robots invaded NRF including one that will make you that perfect cup of coffee.
Refreshing to see one of the exhibits turning their demonstration into a Broadway stage production with even Amazon Alexa making a guest appearance. Retail as theater is the future of shopping.
Omnichannel is still alive, but harmonized retail is the new buzzword.
AI-as-a-Service made its first appearance.
More exhibits had retailer integrated branding into their demonstrations which is a very positive sign for the future of the industry.
Amazon had a substantial presence focused on web services.
Mobile is a given and key going forward is how do you engage a highly distracted consumer.
Technology is increasingly moving to the edge which will speed up delivery of insights and faster consumer positive engagements.
The blending of consumer technologies into shopping experiences is making trade events such as the annual Consumers Electronics Show (CES) much more important.
Personally, I was very appreciative by the press engagements, the whirlwind of meetings, and spending time with industry friends. For more NRF 2020 content from interviews, podcasts, and articles, check out my PRESS PAGE.
The sentiment detection cameras confirm that I was HAPPY with the NRF 2020 edition of the Retail Big Show.
See you next year.