LinkedIn is, by far, the social platform most frequently incorporated into B2B marketers' digital strategies. According to Socialight research from the 2015 State of B2B Social Marketing, 94% of firms leverage the LinkedIn platform as part of their strategy, followed by YouTube, Facebook, and Twitter, with none of those platforms cracking 70%.
B2B marketers create communities of buyers and influencers on LinkedIn by way of Company Pages for individual brands, Showcase pages for product lines or industries-specific services, and Groups for discussion around topics of interest to their unique audiences.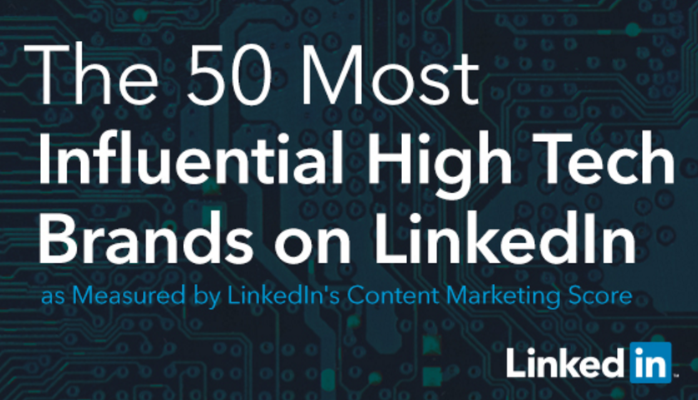 LinkedIn recently launched what they call the Content Marketing Score, which measures a brand's engagement with its audiences. Of all industries, the High Tech space has the highest average Content Marketing Score, according to LinkedIn. Here, you can see how the top 10 industries stack up:
LinkedIn also just released a robust infographic, The Content Marketing 50: High Tech Edition, which outlines several key data points, from frequency of content publishing, to activities common among leaders, to geographic density.
There were many obvious firms included, from Google, to Microsoft, to Salesforce, and some surprising (or not-so-surprising) omissions, like Facebook and Twitter, who both have similar numbers of followers, post frequency, and engagement rates to the firms in the top 50, but who also compete for the same ad dollars as LinkedIn Marketing Solutions.
There were also a few unexpected firms that made the cut, including MuleSoft, who helps global enterprises connects apps, data and devices; Domo, a leader in business intelligence, and the multifaceted, 110 year old Xerox.
In the graphic below, LinkedIn gives us a glimpse of what some of these top caliber tech marketers have in common – like the fact that the Top 10 post LinkedIn updates 46 times per week. That's double that of companies 11-25, and triple that of companies 26-50.
But what other data would we have liked to see from this infographic?
These metrics visualized would make for some amazing insights:
Engagement Rates across the Top 10, Top 25, and Top 50
Size of Network across the Top 10, Top 25, and Top 50
Demographic Breakdown across the Top 50
Thematic Breakdown of Content Published
Percentage of Employees Active on LinkedIn
Percentage of Sales/Business Development Team Active on LinkedIn
Percentage of Human Resources Team Active on LinkedIn
Percentage of Staffing/Recruiting Team Active on LinkedIn
Percentage of Executive Leadership Team Active on LinkedIn
While the infographic below is a beautiful visualization of the Top 50 High Tech Firms based on the proprietary LinkedIn Content Marketing Score, it would be nice to be able to pull out more insights based on the troves of data available to LinkedIn Marketing Solutions.
More actionable insights would answer questions like, "what makes content on LinkedIn engaging?" or "what themes of content perform best on LinkedIn? (e.g. Product Education, Success Stories, Community Engagement, etc.)" and "how are the most successful firms harnessing their internal thought leadership to be successful on LinkedIn?"
Aside from that, zero firms in the Top 50 from Europe, South America, and Australia? Where are you Soundcloud, Globant, Envato…anyone?
Are you creating communities of buyers and building trust on LinkedIn?
Reach out to us today to find out how the leaders in your industry are succeeding on LinkedIn.
Click to see the entire infographic from LinkedIn.
——–
As the President of Socialight Media, Jed Singer has been keeping his clients at the forefront of social marketing for over a decade. Over the years, he has been lucky enough to work with the world's largest and most social brands, including P&G, MasterCard, ESPN, HBO, and Facebook. He and his team help firms map their online Buyer Journey and design strategies for content marketing, community building, and lead generation.
Search
Everything you need to know about Digital Transformation
Subscribe
The best articles, news and events direct to your inbox