Roundup of the Latest Holiday Season Retail Forecasts. With COVID-19 severely impacting retail across the globe, of great interest has been the continuing research and predictions of the 2020 holiday shopping season.
For the world's two largest economies, China and the United States, the good news is that after very steep drops at the start of the pandemic, retail sales have already recovered to 2019 pre-pandemic levels.
In China, retail sales rose 3.3% in September, the strongest rise since December 2019. In USA, "total retail and food services sales amounted to $549.3 billion last month, up 1.9% from revised August sales and 5.4% from last year's September total."
Mid-October, Amazon kicked off an early holiday season with the successful Prime Day sale. Initial reports indicate that total sales during the two day shopping event hit $10.40 billion globally, up from $7.16 billion in 2019.
This article summarizes selected holiday predictions from my continuously updated "Disruptive Future of Retail" presentation. Variations of this content with greater focus on digital transformation were delivered on three continents this month.
How are retailers entering the holiday season? What is the latest consumer sentiment? Who will win the season based on the latest forecasts?
The Sectors Leading the Holiday Season
2020 data through August highlights the key sectors entering the holiday season from a position of strength. In that timeframe, non-store, grocery, and DIY are the only segments delivering solid results that are above the retail average of 5.3%.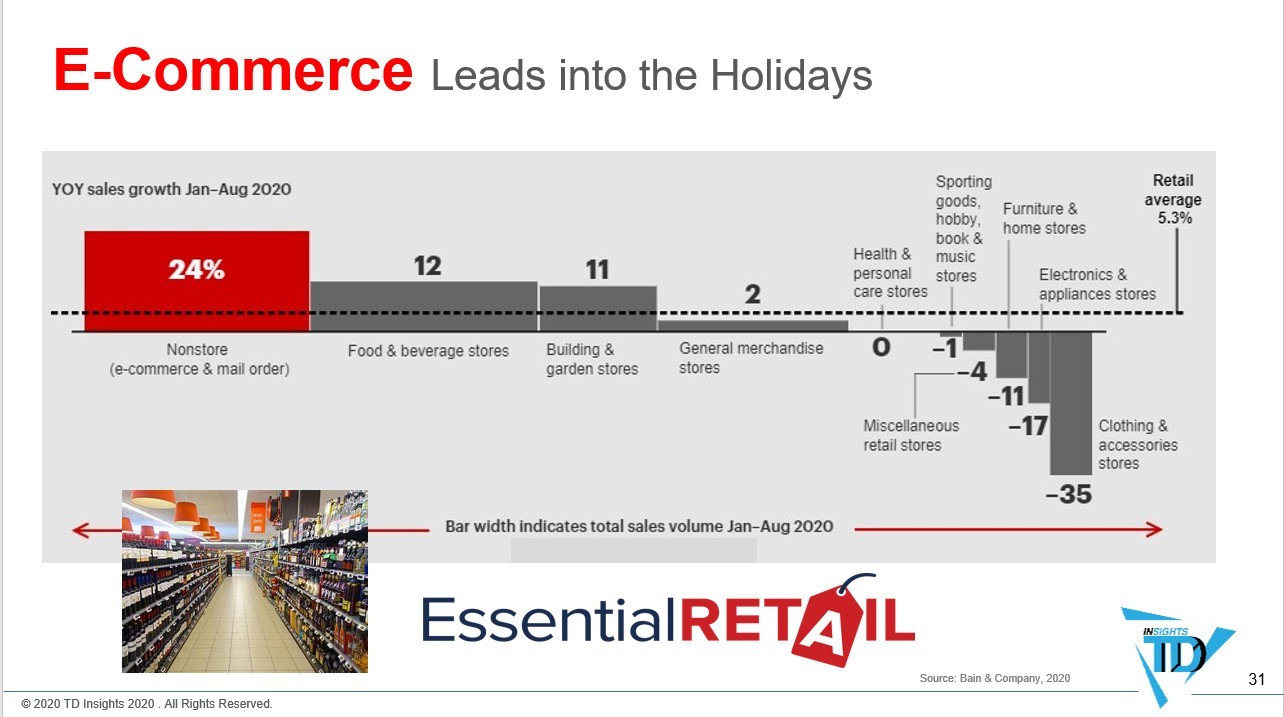 Highly challenged are clothing and accessories which enter the holiday season at negative 35%. Forty-seven percent of consumers state they will do all or most of their shopping online. 23% say they will shift more of their spending to curbside or pickup in-store versus last year. 52% have not been to a mall or department stores since the start of the pandemic.
700 Million Gifts May Not Arrive on Time this Year
Multiple surveys point to similar industry trends, a spike in online shopping with a much earlier season start. As with the pandemic, these retail megatrends are global. Worldwide digital commerce will increase 30% this year, up from 8% in 2019. USA digital retail growth will be 34%, up from 12% in 2019.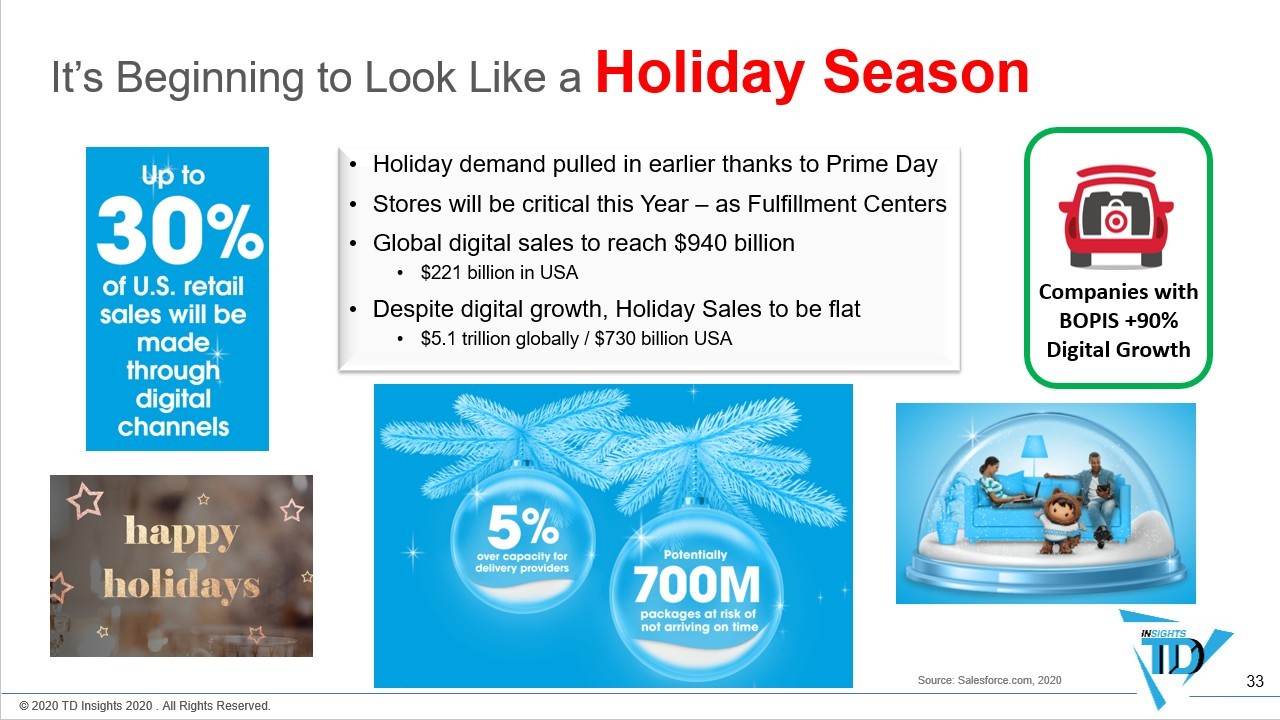 The volume of packages to be delivered to consumers will likely exceed capacity by 5% globally this holiday season, potentially delaying 700 million presents from arriving on time. Just as painful for retailers are the $40 billion of COVID-19 delivery surcharges expected between November 15 and January 15.
Will it be a Happy Growth Retail Holiday Season?
While the above summary data indicates flat global holiday sales, for the USA, other forecasts project a 2% increase versus a 10 year average growth rate of 3.5%. If an additional government stimulus is delivered prior to the holiday season, the increase could reach the 10-year average of 3.5%.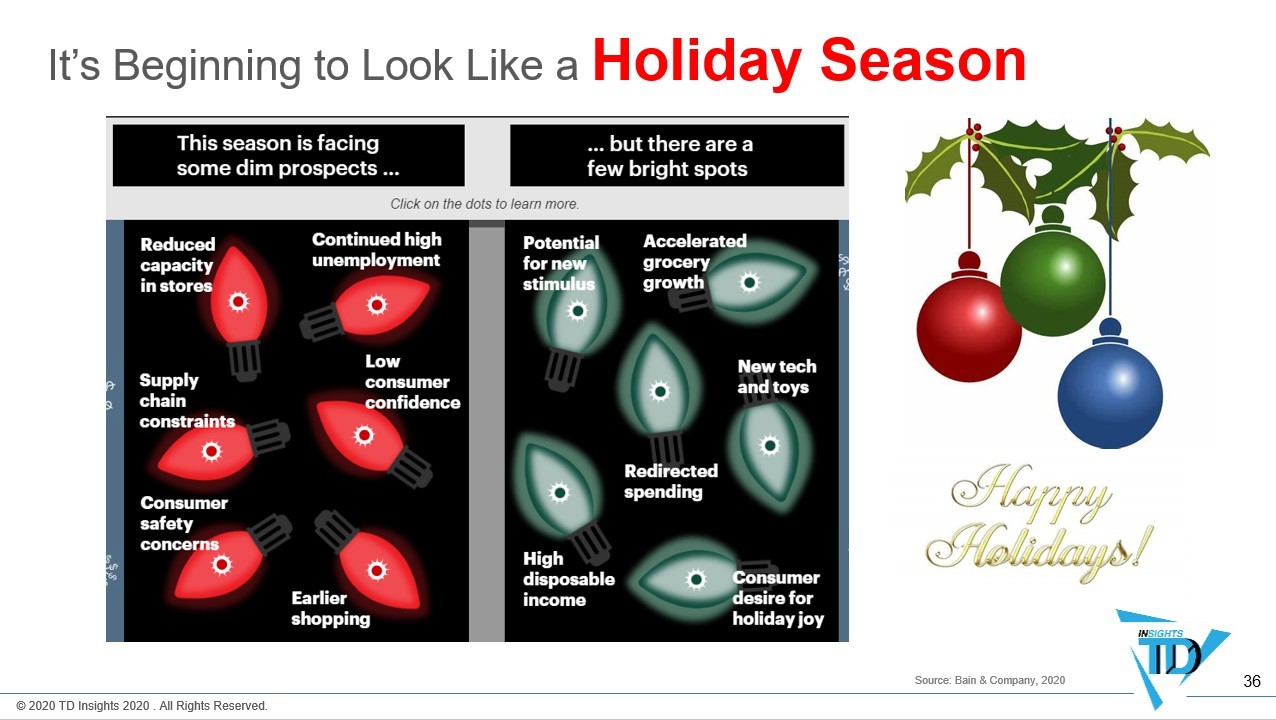 As noted above there are challenges for consumers entering this holiday season, but they are offset by multiple factors that will increase holiday shopping this year.
And they are Off to that Holiday Shopping Spree
If you are thinking you have plenty of time before the end of the year to find that perfect gift, you will among those 700 million disappointed individuals that will not receive their present on time. Out of the gate first and early in the season was the successful Amazon Prime Day.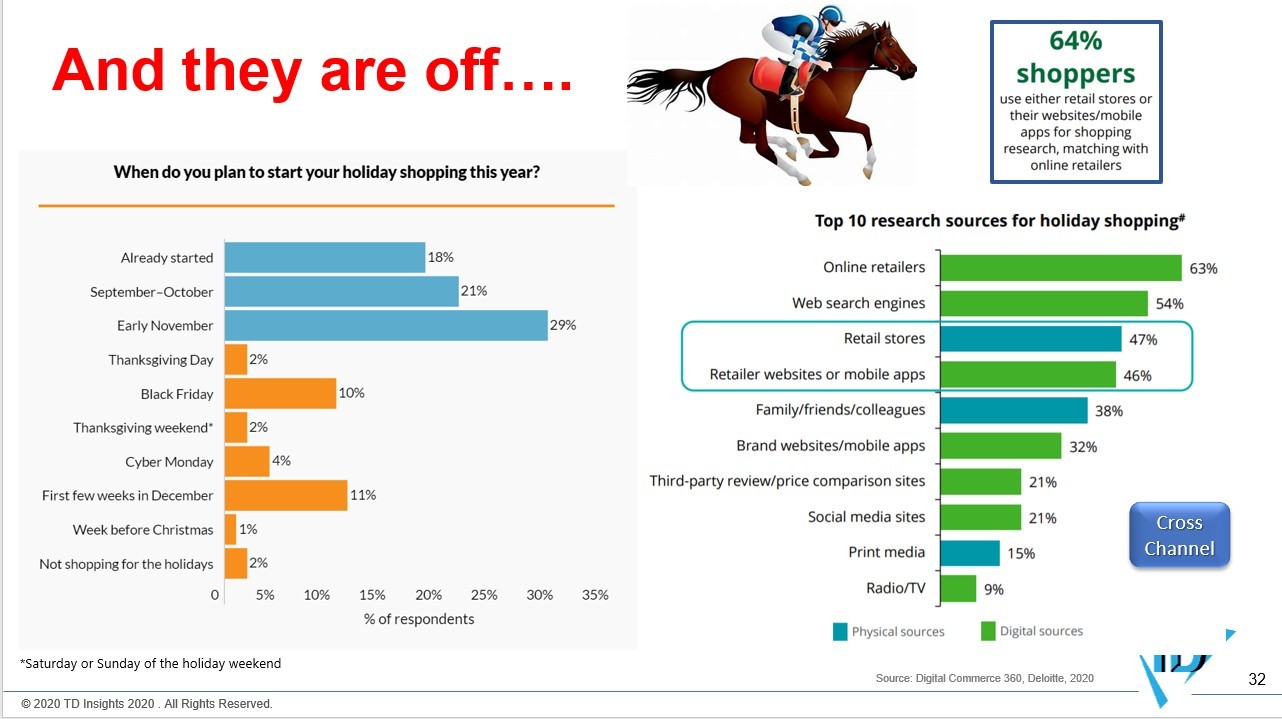 If you need other reminders, note above that 18% of consumers have already started their holiday shopping and another 50% will have it underway by early November. While online will lead the charge, physical stores will remain an important component in the holiday shopping mix. Sixty-four percent of shoppers plan to use either retail stores or their websites/mobile apps for shopping research, matching with online retailers.
The winners this holiday season will be those retailers with robust cross channel harmonious shopping channels. Physical stores will be critical as both fulfillment centers for online orders and as an inspiration centers to find that perfect gift.
My appreciation to Bain, Salesforce.com, Digital 360 Commerce, and Deloitte for their 2020 holiday trends summary insights. Future posts will delve deeper into how the trends of this holiday season are setting up an accelerated digitally influenced "Disruptive Future of Retail". Happy Early Holiday Shopping Everyone.