This is an excerpt from the latest Socialight Insights Report: 2016 B2B Social Marketing Budget Trends. Download the report today to access the Top 6 Insights and Top 6 Takeaways for 2016.
Surprisingly, out of the seven key social marketing initiatives included in this study, Content Marketing is projected to capture the biggest share of spend in 2016, at 9.3% of firms' total digital budget.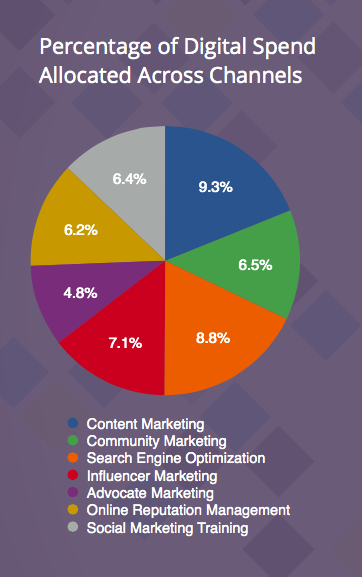 Among B2B firms who sell products, this number was slightly higher, at 10.5% of digital spend, while service-based firms project around 8.3% of their digital spend being allocated to 2016 Content Marketing initiatives.
The initiative with the next highest spend projection is Search Engine Optimization (SEO). As Google and other major search engines continue to place a high value on fresh content and expansive linking architecture, B2B marketers know that when they apply an SEO lens to their content, they maximize its search value.
Given its high correlation with branded content creation, Search Engine Optimization is a natural complementary initiative to Content Marketing for firms across industries.
INFLUENCER MARKETING
Coming in at 7.1% and rounding out the top three digital initiatives, Influencer Marketing has the next highest spend projection.
B2B marketers understand that it's not just about creating amazing content, but it's also about getting that content into the hands of those who have the biggest, most relevant audiences.
B2B buyers go through distinct stages of research along their digital Buyer Journey, and each stage has its own set of unique influencers to their decision-making process.
By connecting with influencers, such as industry news sites, experts in the media, marketing teams at related products and services firms, or industry thought leaders, a B2B marketer can use the influencer's large subscriber base as a spark to get their brand message to new audiences of potential buyers.
Influencer Marketing, for this reason, tends to be more effective than amplifying the brand message through other more traditional means, such display advertising, where engagement rates continue to fall.
EMAIL AND MARKETING AUTOMATION
The digital initiative not included in our initial survey but which was mentioned most frequently by B2B marketers during follow up interviews was marketing automation.
Firms were candid about their desire to mature their email marketing efforts by adding time- based and trigger-based email sequences to their newsletter emails and account-related notifications. According to the marketing leaders we spoke with, the goal for a marketing automation initiative would be to educate potential customers over time, score leads in a CRM system, and accelerate the Buyer Journey.
Like other marketing channels, email marketing and marketing automation rely heavily on the quality and quantity of educational branded content.
This is likely another factor that led to Content Marketing topping the priority list of projected marketing spend items for 2016. In addition o its organic search and Community Marketing benefits, having more high-quality marketing content available enables B2B firms to fuel new and innovative marketing tactics and channels.
Download the full report for the Top 6 Insights and Top 6 Takeaways for 2016:

This post originally appears on the Socialight Insights Blog.
Search
Everything you need to know about Digital Transformation
Subscribe
The best articles, news and events direct to your inbox