I recently attended The MarketingProfs conference in Boston. It was an incredible event with some of the brightest minds in B2B marketing and sales. The lineup ofspeakers and sessions was just awesome. My favorite presentation hands down was from Avinash Kaushik.
He's a Google Evangelist, best-selling author, blogger, and an all-around inspiring guy. He totally rocked his keynote speech. I've been to tons of conferences over the years, and this was definitely one of the best keynote speeches I've ever seen. Ever!
Avinash very eloquently discussed the idea of how B2B marketers want to go to bed with prospects on the very first date. These are the prospects who find a business online, and then the business immediately tries to get them to fill out a form.
He showed a series of B2B companies that took people directly to their demo page or download page. These B2B companies tried to get these prospects to the next stage of the buyer's journey without taking a second to engage them. Sadly there isn't a recording available of Avinash's presentation, but here's a great picture of him presenting at MarketingProfs.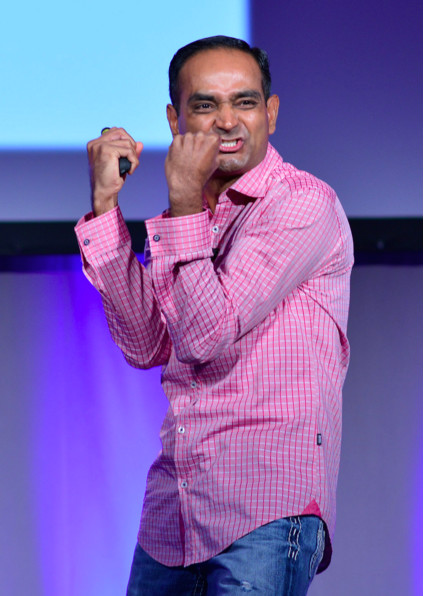 (credit Steve Hall/MarketingProfs)
Here's another presentation from Avinash that I found with a similar talk track. It's worth your time to check it out.
Ultimately, I think it sounds like a bad date. These companies are not greeting the prospect at the door, but honking in the car for their prospects to come out. There's no flowers, candy, conversation, or anything that would entice the prospect to buy what this company was selling. The company is just trying to get some. The prospect isn't going to fall for it.
There's no deeper engagement that might potentially build a relationship. Imagine if the prospect was a girl at a bar, and the company was a guy who asked her to come home with him without even buying her a drink! Obviously that dude isn't going to get lucky. And if that girl did say yes, then she's probably desperate. This isn't going to end well for either party. It's like a terrible one night stand.
Why should the circumstances be any different in the world of B2B marketing? As a marketer, you need to "woo" your prospects. And by woo, I mean the acronym used in StrengthsFinder 2.0. "Woo" stands for "Winning Others Over". Afterall, B2B purchase decisions start off a lot like dating; then you have to "woo" your opportunity into buying from your company. It's 2015, and we as marketers are smart enough to know the best practices. It takes an investment in time and resources to find and close the ideal customer for your company.
With this in mind, I'd like to share my five signs that you might be a "one night stand" marketer:
1. You focus on leads, not engagements.
People who still think leads are the be-all-end-all KPI for marketing are starting to drive me nuts. Kind of like that obnoxious guy at the bar. Why in our modern, tech-savvy world would you continue to count new leads as a success metric? It's like if you were dating and you counted getting tons of phone numbers as a successful night. If you followed up on all of those phone numbers, how many great dates would you get? It sounds like a waste of time and a potential heartbreak. You have the capabilities to find that right person for you, and then try to have a conversation. Just take a look at all the hype around account-based marketing and #FlipMyFunnel revolution. Both marketing and sales share the common goal of trying to engage prospects instead of generate leads. The world is a much better place when sales and marketing are aligned on goals.
2. You like conversion rates, not conversations.
Let's say you're tracking conversion rates as a success metric. Most B2B marketing professionals still are. You love driving people to your website so you can cheer when a form is completed. Yeah! Score! A conversion! Then what happens? You try to engage this person with a follow-up phone call, drop them into a drip campaign or add them to a nurturing email. Do you ever hear from them again? If not, that sounds a lot like a one-night stand.
3. You keep asking for registrations instead of paying attention to your pipeline.
Like flowers and candy, webinars are a great way to start off a date. Your prospect gets to hear from thought leaders about the problems in your industry and how your business is a solution. Your marketing team plans regular webinars and invites any-and-everybody to register and attend. Big registration numbers are exciting, but what does this actually do for revenue?
That's what sales and your executive team care about. Sure, you got the prospect's attention with your webinar, but what happens next to turn that prospect into an opportunity is what truly matters. When I was Head of Marketing at Pardot (now Salesforce), I recall how we saw 33% higher win-rate when someone attended a product/value prop webinar after the opportunity was created. Now that's the kind information that would shape your marketing programs.
4. You love customers but hate prospects who don't download your ebook. 
When was the last time a CEO or executive of a large enterprise, or even fast-growing company, downloaded an ebook from your website? The chances are never. Well, then why should we continue to focus and promote the ebook as if it was a sacred text? This makes no sense. The content should align not only to the buyer's stage but also to the persona and channel. A great piece of content can be an ebook (for practitioners), a webinar (for learners), an infographic (for
influencers), a blog post (for decision-makers), a Slideshare (for thought leaders), and  the list goes on and on.
5. You send emails to everyone…all the time!
I got most of you on this one, right?! Email blasts are a true asset of a marketing automation platform. Having the ability to email thousands of people at once is pretty cool. But you can't personalize content for each individual person. Yes, you can code in the person's name, title, and the company they work for, but so can everyone else. Your email has to be a love letter to the prospect so they want to see where this relationship might go with your company.
As the B2B marketing industry continues to evolve, I believe we must get hyper-focused on finding the best-fit prospects who will make a great fit for your business. To continue with our relationship analogy, you shouldn't bring thousands of frogs to your door, "kissing" each one with a form completion. Focus on defining what your perfect partner's qualities would be. That's the beauty of account-based marketing. Because you're starting your marketing efforts by creating an ideal customer profile (ICP) and identifying your best-fit customers and prospects. Clearly, I am a big fan of Avinash's now, especially his analogies. So here are my parting words of wisdom…
Love and engage your prospects on their terms and don't shove the same sh*t on every channel to everyone. That's not marketing. It's called blasting!
What kind of marketer are you? What kind of marketer do you want to be? Let's grow our relationship together.
Search
Everything you need to know about Digital Transformation
Subscribe
The best articles, news and events direct to your inbox