Push Interactions
Supplier Directory
Push Interactions
324 Packham Avenue, Saskatoon, Saskatchewan, S7N 2T1, Canada
+1 800 298 7081
Size: Boutique
Year founded: 2009
About Push Interactions
Push Interactions, formerly CollegeMobile, is an award-winning developer of customized smartphone and tablet apps for businesses and organizations, specializing in Apple iOS, Android™, BlackBerry®, and Windows® Phone.
Push's vision is to improve quality of life through quality technology. This is accomplished through the development of transaction-intensive and feature-filled mobile apps that enhance both customer retention and workplace productivity.
Push developers are among the top mobile app developers in Canada and have been sought after by global organizations such as Apple, Google, and Pixar. Our developers work hard to produce apps that offer functional, feature-rich solutions and far surpass industry standards.
We pride ourselves on our collaborative team approach to business. Push engineers work in concert with one another to produce consistently high quality across all platforms. As a result, Push apps are reliably powerful, functional and low-maintenance.
Push has worked with clients in industries spanning financial, retail, and healthcare to develop over 70 apps to date. Clients include: Federated Co-operatives Limited; Affinity Credit Union; LearnZillion (funded by the Bill and Melinda Gates Foundation); Prepared 4 Life's Lemonade Day (funded by Google for Entrepreneurs); Credit Union Central of Canada; iTracks; Axon Development; and the Saskatoon Regional Health Authority.  Push values the community it serves and strives to assist organizations from a variety of backgrounds develop apps that effectively address their unique needs.
At Push Interactions we are passionate about building feature-rich mobile apps that are intuitive, reliable and empower people to do more with technology.
Our company has fine-tuned an agile development method that makes us unique. We have been in business for over 10 years and recognized as a top development team with a passion for ultimately producing quality apps.
Our experience and technical expertise means industry best practices, reliability, and premium user-experience. We are developers and technology professionals using our talents to make the world a little better.
Our proven and specialized approach to building iOS, Android, and web applications is an investment in the technology and tools of your business, organization, or event. Our awarded development team and business innovators work together with clients to achieve the best results.
Trust is a cornerstone of our company, and we deliver quality mobile products and services with the highest degree of honesty and professional standards. Your app matters to us and our purpose is to provide innovative and intuitive solutions to our clients.
Getting Started
We are passionate about developing feature-rich, reliable, and secure mobile apps that represent an investment in the technology and tools of your business. As one of North America's top development teams, we use industry best practices, and provide a full suite of business advisory services.
Trust is a cornerstone of our company, and we work with the highest degree of honesty, transparency, and professional standards. Your business matters to us and our purpose is to provide innovative and intuitive mission critical digital solutions to our clients.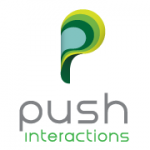 Specialisms
Specialized development teams, innovative recommendations, top-rated apps, efficient development processes, high quality standards, methodical testing, ongoing support, Android development, Apple iOS development, BlackBerry development, Windows Phone development.
Recent articles by authors from Push Interactions
We don't have any articles for authors from Push Interactions
Service Areas

Enabling technology