PHEMI Systems
Supplier Directory
PHEMI Systems
#300 – 157 Alexander Street, Vancouver, BC, V6A 1B8, Canada
1-800-841-1609
Employees: 30
Size: Boutique
Year founded: 2013
About PHEMI Systems
PHEMI provides NSA-grade data privacy software.
Healthcare organizations use PHEMI Data Privacy Manager to address their urgent need to secure, govern, curate, and control access to personally identifiable information.
Optimized for Microsoft Azure, PHEMI Data Privacy Manager is easy to deploy and manage, connects to hundreds of data sources, and integrates with all popular business analysis and data science tools.
PHEMI Data Privacy Manager can scale to any size of enterprise, with a flexible usage-based pricing model.
PHEMI is a Big Data warehouse company that lets organizations easily access and mine their volumes and varieties of stranded data for insights to lower costs, improve outcomes and make better decisions faster.
With an industry-pioneering approach to privacy, security and governance, PHEMI protects privacy rights while also ensuring legitimate usage of data to drive continuous improvement. As an organizational ambassador for Privacy by Design, PHEMI brings both privacy and performance to Big Data.
Got large volumes of stored data? Then you've got big opportunities. Got Personally Identifiable Information (PII)? Then you've got big challenges.
Your stored data has a wealth of information, a vast, largely untapped resource. It should be shared, analyzed and used to improve the way you do business.
But to do that you need a system that protects the privacy against security breaches, while still making it easy to use. You've got to ensure that the right people see the right data at the right time. And the wrong ones don't.
With PHEMI's sophisticated Data Privacy Manager, privacy concerns are alleviated and you can concentrate on the breakthrough insights, innovative processes, and genuine AHA! moments that arise from sharing all that deep, rich information.
BENEFITS
Protect and leverage sensitive data
Personally Identifiable Information (PII) is a minefield for data. Whether it's HIPAA, GDPR, or CCPA, the presence of PII in a data set can render it virtually unusable.
PHEMI lets you protect data with a granularity down to a single cell in a grid, all without impacting performance. Make your business realize the value of its data, regardless of sensitivity.
Simplify and get to insights faster
Is your business integrating tools, or delivering outcomes? Most data management systems are a Rube Goldberg assembly of tools that only work well for a handful of insiders. PHEMI's mission is to make data management simple.
It's a turnkey system, managing the full data lifecycle from acquisition and cataloguing, through to transformation into analytics-ready data sets. PHEMI's high-performance data pipelines and automatic data governance capabilities mean that analysts spend their time on discovery, not data preparation.
Lower the cost of data
Too many licenses and maintenance contracts? Tired of spending money on outside consultants? Not sure how to leverage the cloud? PHEMI can help. One vendor can deliver it all, giving you white-glove service and accountability. Our Azure cloud architecture lets you find your optimum balance of resources.
Manage and empower users
Is working with your data an exercise in bureaucracy? Empower your data scientists and data engineers to build their own pipelines, but with guardrails, so they can't access data they shouldn't see, or run jobs that adversely affect everyone.
Our single pane of glass console and graphical programming paradigm makes building data pipelines easy. The system handles all of the bookkeeping for them, auditing every operation and providing full provenance for every data set. It even handles file versioning–the holy grail of data management!
FEATURES
Privacy designed down to the data cell level
PHEMI incorporates privacy by design, an approach that makes privacy a first-class consideration, not an afterthought. PHEMI labels every element of data with metadata, which can be used for access control.
Queries are governed by built-in Attribute-Based Access Control (ABAC), the same approach used by the military. ABAC combines attributes of a subject (such as a user), and the metadata bound to the data element, evaluating this against a policy rule set.
ABAC is the only way to scale the access needs of a diverse community across vast data sets. Finally, strong encryption of all data ensures that nobody can end-run the system and gain access to sensitive data sets.
Advanced de-identification of PII
Extract value from sensitive data sets by de-identifying Personally Identifiable Information (PII). PHEMI ships with a rich set of de-identification functions, allowing you to mask, round, tokenize, or encrypt potentially sensitive fields.
We also include evaluation functions, such as k-anonymity, that can evaluate a data set and return a score describing the risk of re-identification. And if you have a custom algorithm you want to use, it's simple to integrate it into a data pipeline.
The richest set of prebuilt connectors
PHEMI comes with over 200 pre-built connectors to data sources. Use them to ingest data into the PHEMI system, or export transformed data sets out into destinations.
Got an unusual application? Use our graphical framework to rapidly build a custom connector to integrate data from all the participants in your network.
All data, structured and unstructured
PHEMI is a privacy-preserving manager for all of your sensitive data. Our schema-on-read model lets you approach your data without bias. Structured data? Check the box. Unstructured? Sure thing. Specialized data sets like genomic data? You bet—it's in our DNA.
Automated versioning and governance
The DevOps movement taught the world the value of automating toolchains. If you take out the redundant tasks, developers can focus on delivering value, hundreds of times per day. Think of PHEMI as DevOps for sensitive data.
Acquisition, cataloging, transformation, and analysis—each step is incorporated into an automated, high-performance pipeline that lets your analysts focus on delivering insights.
Every step is governed and audited automatically so that only the right people see the right data at the right time, no matter how complex the transform chain.
Data science and analytics tool integration
PHEMI is a privacy-first system that integrates with your favourite tools. Love Apache Spark? So do we: PHEMI shows up as a Spark data source you can integrate directly into your Spark jobs.
Are you a notebook whiz? PHEMI is with you, page by page. Is your business built on traditional BI tools like Tableau?
We have an ODBC connector to support your every query. But rest assured, every attempt to access data is logged and protected under our privacy-preserving analytics model. Stop worrying about data falling into the wrong hands, and get analyzing.
YouTube: https://www.youtube.com/user/PHEMIsystems/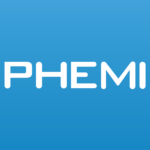 Specialisms
Healthcare, Public Sector, Big Data, Privacy, Governance, Data sharing, Hadoop, Data Protection, GDPR, HIPAA, Financial Services, Insurance.
Recent articles by authors from PHEMI Systems
We don't have any articles for authors from PHEMI Systems
Service Areas

Analytics
Cloud
Cyber Security
Data Science
Transformation Management