Metis Strategy
Supplier Directory
Metis Strategy
6900 Wisconsin Avenue, Suite 300, Bethesda, Maryland, 20815, USA
+1-301-893-4610
Size: Boutique
Year founded: 2001
About Metis Strategy
Metis Strategy is a band of perpetually curious tech-savvy business strategists.
As a boutique strategy and management consulting firm serving mainly Fortune 500 companies, we help our clients solve their toughest problems from strategic planning through execution.
We work across industries as our clients'​ trusted strategic advisors in the areas of business strategy, digital transformation, information technology strategy and operations, international growth strategy, and how to navigate organizational changes.
At Metis Strategy, we help determine new products or services that our clients should develop, design how to improve the customer experience through digital technology, and advise on how technology organizations can run more efficiently and effectively.
Our capabilities
We are constantly building upon our broad range of disciplines and capabilities in service of answering our clients' ever-evolving challenges
Strategy Development
This practice area centers around developing, advancing, or refining a cascading corporate, divisional, and IT strategic framework.
Strategy Operationalization
The Operationalization of the strategy describes the interface between the formulation of the strategy and its implementation.
Operating Model Agility
Agility is the ability of an organization to renew itself, adapt, change quickly, and succeed in a rapidly changing, ambiguous, turbulent environment.
Digital & Technology Transformation
Our team helps establish the systems and processes that enable companies to become more agile and leverage real-time data analytics.
Leadership Advisory
We provide the ability to connect to other executives within our vast network and help build your career to achieve the next milestone.
With headquarters in the Washington, DC area and an office in the San Francisco Bay Area, the firm's presence from coast to coast allows us to serve clients throughout the United States and abroad.
With technology at the forefront of innovation, there is no better time to join our firm.
Interested in working with us? Check out the topics we discuss with tech and business thought leaders:
* Forbes Column: http://www.forbes.com/sites/peterhigh
* Podcast Series: www.ForumOnWorldClassIT.com
Email: information@metisstrategy.com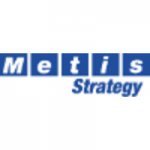 Specialisms
Corporate & Business Unit Strategy Development, Information Technology Strategy Development and Alignment, IT Organizational & Performance Improvement, International Growth Strategy, Mergers & Acquisitions Advisory.
Recent articles by authors from Metis Strategy
We don't have any articles for authors from Metis Strategy
Service Areas

Strategy & Innovation