JMC Group
Supplier Directory
JMC Group
Via L. da Vinci, 155 , Cassano d'Adda (MI) , 20062, Italy
+39 02 83591103
Size: Boutique
Year founded: 2005
About JMC Group
JMC Group is specialized in designing highly flexible and reliable integrated hardware solutions, customized to meet your specific business needs. JMC Group has implemented many innovative and complex projects at national and international level, contributing effectively to the digital and IT Transformation of medium and big companies' leader in their industry.
JMC Group was founded as JM Computers, a company with a strong technology focus on SMB and Public Administration. Then, after enlarging the knowledge and the technical skills embraced a wide range of use-case solutions to develop and solve complex and important projects.
JMC was transformed in a Group including at first Enhance Technology, a company focused on the storage segment, and subsequently constituted Xinntex, the start-up dedicated to the world of broadcasting and video-production.
Enhance Technology is focused on the STORAGE segment with its own product line conceived in the Design Center of Milan.
Xinntex, innovative start-up dedicated to BROADCASTING, VIDEO-PRODUCTION and CONTENT DELIVERY world.
VISION
IT Transformation & Digital Transformation are mandatory step for every business, but how has not a common answer. Being part of this important transformation, supporting the industrial market evolving their business through innovative and performing solutions is our main goal.
Passion, experience and a renewed business model guide the Group every day to offer concrete and high-quality solutions.
Passion and competence.
We stand by customer with mothod and hearing.
Only understanding your really needs and workflow is possible to build up the most efficient and performant technology architecture, able to enhance workload, reduce costs and optimize resources. That's why out team is composed by technology experts with a strong customer orientation, so they can hear, think, process, transform it in solution, quality solution.
ASSESSMENT
We ASSESS existing systems and LISTEN the needs of the client
DESIGNING
We IDENTIFY the situation as it is
and we DESIGN the necessary solution
CONCEPT DESIGN
We CONCRETIZE the concept in a physical solution
to be tested in the environment for the real use
SAMPLING AND VALIDATION
We OPTIMIZE considering the valideted results
and we DEVELOP the pilot project for testing in the field
IMPLEMENTATION
We FINALIZE the solution if it passes the tests and we proceed
with the installation and configuration of the systems
MAINTENANCE
MONITORING, timely updates, assistance aftersales and IT support
Email – info@jmcgroup.it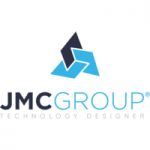 Specialisms
IoT, Client Solution, Relocation & Refurbishing, High performance computer, IT Transformation, Digital transformation, End-to-end solutions, Technology Solutions, Technology Designer, Hardware, System Integrator, Connectivity, Storage, Broadcasting, Video Production, Data Center, Data Recovery & Security, Virtual Reality, Interactive Digital Signage, Converged Infrastructure.
Recent articles by authors from JMC Group
We don't have any articles for authors from JMC Group
Service Areas

Enabling technology