ImpactQA
Supplier Directory
ImpactQA
FL 12, 597 5th Ave, New York, 10017, USA
+1 (646) 452 8739
Size: Medium
Year founded: 2011
About ImpactQA
ImpactQA is the leading independent Software Testing and QA Consulting company. They help SMEs & Fortune 500 companies to deliver quality engineering, AI based test automation, performance engineering and full suite of continuous and automated testing services performed throughout the Software Development Life Cycle.
Headquartered in New York, ImpactQA has delivery centers in the US, UK, India and Germany. The in-house testing team at ImpactQA has an international reputation for delivering cost-effective, insightful and customer-centric approach to a vast array of global clients.
Empowered by 10 years of excellence, the company has been delivering unmatched testing solutions across multiple business domains, such as Healthcare, E-learning, BFSI, Ecommerce, Media, Logistics, Real Estate, Medical Device Testing and more. Core Services: Full Cycle Software Testing, QA Consultation, Test Automation, Mobile Application Testing, Security and Penetration Testing, Functional Testing, Performance Testing, Web Application Testing, DevOps Testing, Cloud Testing, AI Testing, Blockchain Testing, Medical Device Testing and more.
Clients: Schneider Electric, Panasonic, Deloitte, Rocket Internet, Yum Brand, Terex
Features: 800+ Clients Served Globally Including SMEs & Fortune 500 Companies Complete focus on business and technology-based testing Offer combinations of onshore, off-shore and crowd testing at a reduced cost Tailored approach to support agile and continuous testing environment
To know how our game-changing innovation redefine the power of your digital experience, contact us at solutions@impactqa.com.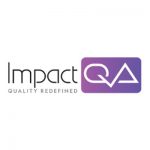 Specialisms
Software Testing, Quality Assurance, Security Testing, Performance Testing, Accessibility Testing, Automation Testing, Load Testing, Performance Monitoring, ERP Testing, UI/UX Testing, AI Testing, Application Testing, Software testing company, mobile testing, QA consultant, manual testing, Cloud Testing, IoT Testing, and DevOps.
Recent articles by authors from ImpactQA
We don't have any articles for authors from ImpactQA
Service Areas

Cloud
Delivery
Enabling technology