HeroX
Supplier Directory
HeroX
Los Angeles, USA
Size: Boutique
Year founded: 2013
About HeroX
HeroX enables any organization to solve any challenge in any field, using the power of the crowd. On our Challenge Platform, sponsoring organizations or individuals post the work or solutions they seek as an open call, adding guidelines and a prize.
Solvers from the crowd then self-select their participation and submit their work. The sponsoring organization selects the top entries and awards the prize. We have proven our challenge model on a wide scale – from small to large dollar value, and across a wide range of industries and topics.
We act as the "everything" crowdsourcing marketplace, just like Amazon is the "everything" store. We excel in the intersection of crowdfunding, competitions and collaboration to drive open innovation in any organization.
Drawing upon 17 years of the XPRIZE Foundation experience and best practices, HeroX is the platform for funded prizes for groundbreaking challenges. We specialize in helping companies and organizations to innovate on their biggest problems and challenges by connecting them with specialized crowds that wouldn't be available for them otherwise.
Innovate the easy way.
Find innovative solutions on HeroX through the power of crowdsourcing. We provide a two-sided platform where our clients design challenges around problems they need solved, and our solvers work to come up with a solution and win the prize.
How Much Time Will it Take to Get a Solution?
On average, challenges run between 2 to 4 months. Some of the more technical challenges can run for much longer. With so much flexibility on our platform, you can customize how long you'll give the crowd to present your solution.
Can I Get Help Setting Up My Challenge?
Yes. HeroX has plenty of experts who are willing to help. Use their expertise in every aspect of your challenge with the Custom Challenge Package. Contact now to get your challenge started today!
What Should I Expect?
* A ready to use platform, which gives you everything you need to run a challenge.
* Incredible solutions from minds all over the world.
* Guidance and support from a challenge expert at HeroX.
* Access to a full knowledge base with best practices, templates, and tools.
* Building your own crowd and using their expertise for the future.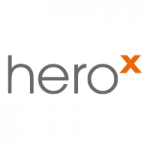 Specialisms
Crowdsourcing, competition, innovation, prizes, problem solving, open innovation, and network effects
Recent articles by authors from HeroX
We don't have any articles for authors from HeroX
Service Areas

Customer Engagement
Strategy & Innovation