EZlytix
Supplier Directory
EZlytix
Plano, Texas, USA
Size: Boutique
Year founded: 2015
About EZlytix
EZlytix is a Managed Analytics as a Service (MAaaS) company whose mission is to help users make better decisions by leveraging the power of data and automation. Organizations constantly struggle to leverage their data to get key actionable insights in every aspect of the business. EZlytix helps users identify outliers using Cloud-based Self-Service Business Analytics solution.
Our ability to have multi-sourced data uploaded into a secure cloud database and then mapped to produce timely management analyses to highlight problem areas and opportunities.
In a span of two weeks, customers will have access to meaningful reports, trends, dashboards, and key performance indicators (KPIs) – all from one single, consistent and clean data source. Customers will have the ability to analyze sales and margin performance at any level provided in the data​: by market, the product line, product, salesperson, geography, etc.
EZlytix offers an analytics solution that enables users to maintain and enhance data without depending on IT.
We understand that every company has unique reporting needs, so we offer custom reports development at no extra cost. Customer benefits: no capital or people investment, fixed cost, short turn around, no system to manage, custom development.
Enterprise Ready – Ability to create self-service reports and dashboards
In The Cloud – Access dashboards and metrics to improve performance immediately
Data Security – SSL Data security based on a 2048-bit RSA key using 256-bit AES Encryption
150+ Customized Reports – Analyze your sales and margin KPIs easily
Welcome to EZlytix
Business Intelligence & Analytics – "It shouldn't be this hard"
Our goal was to re-write the traditional analytics playbook. EZlytix is a turnkey solution built for SMBs who cannot afford to follow the traditional playbook, but still want powerful, actionable insights into their business. EZlytix is a cloud-based solution that delivers the vibrant visualization that you expect. More importantly, we have integrated powerful data management and data cleansing capabilities that deliver a "single version of the truth" data store in about a week.
With EZlytix, You Can…
Drive Business Benefits
Companies can use insights to understand customers, increase revenue, improve margins and gain efficiencies. Our battle-tested insight panels spring to life with information about your business.
Eliminate Risks of Implementation
Implementing analytics involved upfront capital and a complex IT project. EZlytix offers Analytics as a Service that can be deployed rapidly to grow and compete.
Enable Data Privacy and Security
Customer trust is our top priority. With Amazon AWS platform, we use secure encryption tunnel for your content in transit or at rest and prevent unauthorized access.
Deliver Data Automation and Self-Service
Simplified process for real time data transformation between various source(s), EZlytix allows you to spend more time analyzing and less time consolidating and preparing data. Now, maintain and enhance data without depending on IT.
Lower Total Cost of Analytics Ownership
Our cloud-based solution is built for the mid-market. There's no complex or expensive system implementation with EZlytix. No hardware or software to purchase. No long, drawn-out implementation project with the inevitable cost overruns
Get a Proven ROI of Over 1200%
We help you to achieve faster time-to-market and reduce costs related to maintenance, support, and infrastructure. Thus, you are assured a higher ROI as compared to traditional analytics solutions.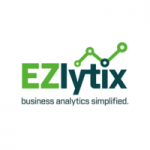 Specialisms
Managed Analytics Service, Mid-market Manufacturing, Mid-market Distribution, Mid-market Retailers, Mid-size Organizations, Profitable Growth, Data Automation, Data Integration, KPIS and Dashboards, Analytics Reports, Subscription Model, Cloud Based Analytics, Higher ROI, Business Intelligence, Data Visualization, MAaaS, ERP and CRM Data, Sales and Margin Analysis, Improve Margins, and CFO Dashboard
Recent articles by authors from EZlytix
We don't have any articles for authors from EZlytix