Equinix
Supplier Directory
Equinix
Redwood City, California, USA
+1 888 342 8890
Size: Large
Year founded: 1998
About Equinix
Equinix, Inc. (Nasdaq: EQIX) connects the world's leading businesses to their customers, employees and partners inside the most interconnected data centers.
In 50+ markets across five continents, Equinix is where companies come together to realize new opportunities and accelerate their business, IT and cloud strategies. In a digital economy where enterprise business models are increasingly interdependent, interconnection is essential to success.
Equinix operates the only global interconnection platform, sparking new opportunities that are only possible when companies come together.
The Global Platform for Your Digital Business
At Equinix, we believe in the power of interconnection. The rise of digital business is inspiring innovative commerce and collaboration models and whole new ways of competing. Interconnection makes it all happen. Get digital ready with Equinix and place everything within reach.
Reach Everywhere, Interconnect Everyone, Integrate Everything
To thrive in a digital world, you need to break through old IT constraints and find, share and deliver value in new ways. Platform Equinix® is where you can come together with the world's largest ecosystems of interconnected partners and providers to accelerate your transformation.
Globally deploy your infrastructure and services wherever opportunity leads. Directly and privately interconnect to your most important clouds, services and networks. Activate edge services on-demand to scale for success. On Platform Equinix, you'll reach everywhere, interconnect everyone and integrate everything you need to create your best future.
Where Opportunity Connects
Choose Equinix with confidence, knowing you are choosing the global interconnection leader. We are strategically positioned with industry-leading data centers, bringing together market leaders and innovators on a single, global interconnection platform to help you create your digital future. With Equinix, your opportunities are endless.
Ready to Connect?
Develop robust data center solutions coupled with our world-class interconnection services that adapt to the ever-growing, ever-changing requirements of your business.
Alert: Fraudulent Employment Offers: Equinix is aware of scams involving false job postings and offers of employment with our company. The scam involves posting fake Equinix jobs on third-party, job searching websites.
Responding applicants are corresponded with over email and/or chat applications by people impersonating Equinix employees. Eventually a fake offer letter is sent in exchange for personal identification information as part of a fake new-hire screening process.
Please be advised that these offers, communications and impersonations are illegitimate and fraudulent. All communication with Equinix employees comes from an "@equinix.com" email address. Job applicants follow a thorough interview process including in-person meetings and various telephone discussion.
The application process requires you to create an account on the Equinix careers web page that you can manage to review completed applications. We would also suggest you notify your local police department and monitor your credit if you provided any personal information as part of this scam.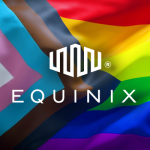 Specialisms
Business Ecosystems, Cloud Services, Colocation, Data Exchange, Data Security, Enterprise, Financial Services, Interconnection, International Business Exchange (IBX®) Data Centers, Internet Content and Infrastructure, Interconnection Oriented Architecutre, hybrid cloud, and multicloud
Recent articles by authors from Equinix
We don't have any articles for authors from Equinix