Elinsys
Supplier Directory
Elinsys
204, ABC II, Second Floor, Near St. Xavier's College Corner, Off C.G Road, Navrangpura, Gulbai Tekra, Ahmedabad, Gujarat, 380009, India
+91-79-4005 0401
Size: Boutique
Year founded: 2009
About Elinsys
Elinsys is a leading website and mobile application development company in Ahmedabad, India. We provide professional and dedicated services in website design, web development, graphic designing and Mobile Application such as iPhone Application Development, Android Application Development.
With a unique combination of deep understanding of internet marketing, the company has established an outstanding reputation in excellent website designing and development.
We have a team of professionals to work with you and analyse your business needs, give you realistic advice and guidance, and develop the best solutions for your site. For more information, feel free to visit our portfolio.
Our web application development services we include cutting-edge technologies such as Angular JS, Node.JS web development, Express JS and MongoDB Development Services.
Web and Mobile Design Agency
Elinsys prime focus is to provide businesses with best in class web solutions and futuristic mobile applications that can help you align your business for success. We deliver customized solutions that attract traffic and generate conversions.
Infrastructure and work environment
We understand that the infrastructure and amenities that are provided to employees foster research and innovation.
Elinsys has seen rapid growth over the past decade and has slowly, yet steadily added new talent in various areas of work such as web design, web development, open source development, mobile application development etc. Creativity and technology requires an environment that inspires innovation and this is exactly why we have recently shifted to new, bigger and better premises with state of the art infrastructure.
This premises supports all the requirements of a modern business and ensures that employees are equipped with the highest quality tools and software to deliver projects at the best of their abilities.
Security
Realizing the importance of a secure working environment, we have ensured that security is the highest priority and hence have included the following:
* Biometric Punch-in System
* CCTV camera
* Isolated server room with access only with Biometric Punch-in System
Amenities that foster a great work environment
We believe that a great work environment adds to the overall output of the organization. We have included the following amenities that ensure that our team works with peace, harmony and the right work ethics.
* A code of conduct is implemented and every employee complies with the code of ethics
* High-end development environment (All projects on SVN)
* Large conference rooms
* Elegant cabins for managers
* Refreshment facility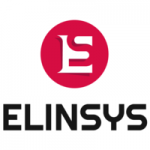 Specialisms
Website design, web development, graphic designing, mobile application.
Recent articles by authors from Elinsys
We don't have any articles for authors from Elinsys
Service Areas

Enabling technology