Detecon International
Supplier Directory
Detecon International
Sternengasse 14-16, Köln, 50676, Germany
+49 221 9161-0
Size: Large
Year founded: 1977
About Detecon International
Detecon International is a leading corporate consulting company operating worldwide; in our fifth decade, we keep combining  classic management consulting with outstanding technological competence. The focus of our activities is on the field of digital transformation.
We support companies from all areas of business to adapt their business models and operational processes to the competitive conditions and customer requirements of a digitalized, globalized economy.
Our expertise bundles the knowledge from a successful conclusion of management and ICT consulting projects in more than 160 countries. With more than 1,000 employees and 19 offices worldwide, Detecon is part of Deutsche Telekom Group.
From concept to implementation
Detecon is a subsidiary of T-Systems International, one of the world's leading vendor independent providers of digital services and subsidiary of Deutsche Telekom.
Detecon is driving forward its consulting approach Beyond Consulting, a significant evolutionary step forward in traditional consulting methods adapted to meet the demands of digitalization today and in the future. The concept features top consulting that covers the entire spectrum from innovation to implementation.
Groundbreaking digital consulting demands ever greater technology expertise and a high degree of agility that incorporates flexible, but precisely fitting networking of experts for complex, digital ecosystems in particular. At the same time, it is more and more important in digital consulting to accompany clients from innovation to prototyping to implementation.
This factor prompted Detecon to found the Digital Engineering Centers for Cyber Security, Analytical Intelligence, Co-Innovation, and Industrial IoT in Berlin in 2017 as facilities that extend the added-value chain of consulting and accelerate the realization of digital strategies and solutions by means of prototypes and proofs of concept.
Email – info@detecon.com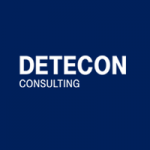 Specialisms
Consulting, ICT, Strategy & Marketing, Operations, Technology, Digital Transformation, Networks, New Work, Cyber Security, IT Infrastructure.
Recent articles by authors from Detecon International
We don't have any articles for authors from Detecon International
Service Areas

Cyber Security
Enabling technology
Strategy & Innovation