Aston
Supplier Directory
Aston
Moscow, Russia
+7 966 172 10 30
Size: Large
Year founded: 2012
About Aston
Aston delivers high-tech solutions to big Fortune, 1000 companies, and SME boosting the value they create for the modern world through expanding their offline business by online means.
Who we are
Driven with passion, our team of domain experts, software engineers, and designers produce top-notch personalized IT products to meet your business needs.
About us
The expert staff of Aston sees their mission in helping enterprises and start-ups reach the most ambitious goals by building cutting-edge and profitable software solutions.
* Established: 2012
* Full-time engineers: 300+
* Finished projects: 94
Our сlients
We went far beyond the local software market: today, our services are used by 7 European countries, and since 2015, Aston has been operating in the US market.
Andersen Group of Companies
Since amalgamation with the intention of adding value in 2016, Aston has been a part of Andersen Group. Andersen Group currently is one of the largest software development companies headquartered in Europe.
Our offices
Headquartered in Moscow, we also have large development centres in Odesa and Minsk.
Testimonials
We appreciate all experiences from start-ups to Fortune 1,000 companies we had a pleasure to work with
Over 300 experienced and qualified IT professionals are ready to start within 10 business days. You control the hiring process, reviewing CVs and trialling professionals, and there's a 6-month warranty on all our code.
Aston developers, QA engineers, business analysts, project managers and other development professionals will deliver your project end-to-end, on time and in budget, or step into key roles to augment your existing team. Since 2012, Aston staff have delivered over 100 successful projects.
Aston has delivered projects in:
* Finance
* Healthcare
* eCommerce
* IoT
* Media and entertainment
* Big data
* Machine learning
* Deep learning
Professionals available:
* Mobile developers
* Web developers — front and back end
* QA engineers — manual and automated testing
* Project managers
* UI/UX designers
* Business analysts
We utilise a variety of popular and reliable technologies:
* Frontend (JavaScript, ReactJs, Angular, Vue.js)
* Backend (Java, C , .Net, PHP,Ruby, Node JS, Python)
* Frameworks (Zend, Symfony, Yll, Ruby on Rails, Django, ASP .NET MVC)
* Mobile (Swift, React Native, Ionic, Xamarin)
Email: contact@astondevs.com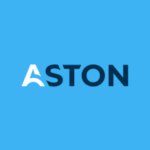 Specialisms
Software development, start ups.
Recent articles by authors from Aston
We don't have any articles for authors from Aston
Service Areas

Enabling technology