AppClues Infotech
Supplier Directory
AppClues Infotech
3 Erie Street, Selden, New York, 11784, USA
++1-978-309-9910
Size: Boutique
Year founded: 2016
About AppClues Infotech
AppClues Infotech is a mobile application development company. It design & develops user-friendly as well as user-centric apps. It can help clients increasing customized mobile friendly apps which are not only responsive in nature, but also search engine friendly. AppClues Infotech try to deliver apps that offers a great user experience along with a clean and neat UI.
Mobile App Development Company in New York
Innovation is our uniqueness and client's satisfaction is our priority. With the employment of current market trends and technologies, AppClues Infotech is all set to change the face of mobile app development. In this era of fierce competition, all you need is a customer-oriented app to accelerate the pace of your business. With years of experience and the zeal to render you with the best, AppClues Infotech opens the door for building everlasting state-of-the-art mobile applications.
Our Mobile App Development Services New York
The team of AppClues has the right set of skills and experience to shape your ideas and transform your imagination into reality. We have the right team which can render top technical solutions to live up to your expectations.
Android
Android mobile apps cover approximately 88% of the market share and having one will ensure a wider range of audience for your business. At AppClues we create top android applications following the standard guidelines and practices so that the end results enthralls your users.
iOS
We are aware of the fact that getting your iOS app into the Apple store is not easy. Therefore, we have a talented team of designers, developers, and testers to assure that the final quality of the app live up to the Apple standards and help you to multiply your revenue 10 times.
Ionic
Ionic is a globally popular hybrid framework for building excellent mobile applications. With its elegant user interface and fast development, you can attract potential customers to your business. We have the right team which is capable enough to leverage its benefits for the best outcomes.
React Native
Focused on extremely responsive UI, React Native ranks as one of the top cross-platform frameworks at present. With elegant features, third-party plugins and extensions, number of companies and users are adopting this framework. Team of AppClues is not only aware of its potential but also the way to use it in the best manner to fulfill your requirements.
Flutter
The fresh and energetic player in Mobile app development looks all ready to provide a more comfortable and better app performance. From faster development time to impressive UI/UX, you can ensure everything from this latest powerful framework.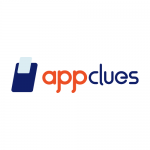 Specialisms
Mobile Apps Development, iOS Apps, iBeacon Apps, M-Commerce & E-Commerce Apps, Hybrid Mobile Apps, UI/UX Development, and App Marketing
Recent articles by authors from AppClues Infotech
We don't have any articles for authors from AppClues Infotech
Service Areas

Enabling technology