Albany Beck
Supplier Directory
Albany Beck
London, United Kingdom
Contributor
Size: Boutique
Year founded: 2005
About Albany Beck
Albany Beck helps clients overcome challenges, explore opportunities and improve services through our Advisory, Consulting and Technology enablement services.
They specialise in providing a broad range of services covering strategy, consulting, digital, technology and finance across all industries.
Underpinned by a robust change management and governance process with appropriate commercial and economic models, Albany Beck ensures their clients gain the maximum value through their service delivery.
Their flexible, scalable and cost efficient business model genuinely meets their clients' needs whilst creating a lasting and positive impact.
Inclusion, Diversity and Values
At Albany Beck, we believe in a future of true parity, where everyone feels they are respected, included and belong. It is our commitment to uphold these beliefs; in every action we take, in the embedded behaviours of our people and by championing diversity and inclusion at every opportunity.
This lies in the foundations of our values and we take pride in our role to develop the workforces of the future.
It is our privilege to ensure practical steps are put in place to ensure we work towards this future by striving to develop a strong and resilient future for our people and the people we serve.
The foundations of our strength will be built upon the values we believe in, delivering a robust, diversified business that realises the ambitions of the clients we serve.
Inclusion, Diversity and Values
Corporate Social Responsibility
We focus our people and our CSR energy on four key areas; Corporate, Environment, People and Social.
We support our people with matched funding for sponsored events and with paid leave for volunteering work, all of which is channelled to our 'charity of the year', Macmillan Cancer Support.
Each and everyone one of us is affected by Cancer, and Macmillan Cancer Support does incredible work to help those suffering with cancer and their families to take back some control by giving advice, financial support, or just for someone to listen.
Macmillan Cancer Support runs a calendar of fundraising events for everyone to get involved in, from the World's Biggest Coffee morning, through to the London Marathon.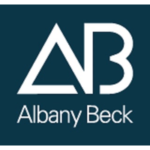 Specialisms
Management Consulting, Advisory Services, Systems Implementation & Integration, Digital Transformation, Audit, Compliance, Regulatory, Risk, Treasury, Financial Crime.
Recent articles by authors from Albany Beck
We don't have any articles for authors from Albany Beck
Service Areas

Cyber Security
Strategy & Innovation