11 FS
Supplier Directory
11 FS
2nd Floor, 1 Finsbury Avenue, London, EC2M 2PF, United Kingdom
Size: Medium
Year founded: 2016
About 11 FS
11 FS builds next-generation propositions for challengers in the financial services industry: existing firms looking to innovate, start-ups looking to scale, and everyone in between.
We do this through:
* Transformation and advisory services (11:FS Consulting)
* Consumer and Market Research (11:FS Research)
* Industry benchmarking (11:FS Pulse)
* Core banking capabilities (11:FS Foundry)
* Industry-leading content and events (11:FS Media)
Our story
We'll keep saying it for as long as it's true: Despite billions spent and every large company on the planet having a transformation project, we've got a long way to go before banking is truly digital. The industry continues to repeat the mistake of digitising analogue products, creating experiences that aren't fit for the digital age, shying away from building digitally native propositions.
In a little under four years, we've gone from a founding team meeting at a Starbucks in the City of London, to a firm of more than 150 people based in London and New York, delivering work all over the globe.
We're engineers, designers and transformation experts, working alongside world class researchers, technologists and product managers, driven by a passion and a determination to deliver truly digital financial services.
We believe in working with and for our clients with full alignment but a totally different way of engaging and delivering. We're uniquely placed to help you escape the trappings of your legacy systems, create new business models, and develop the best next-generation financial services.
Our purpose
We unleash talent with small specialised teams creating truly digital ventures that customers love. We combine corporate expertise with startup agility in the way we work, the way we think and the way we build propositions.
Our business and teams are inter-disciplinary and outcome driven. We deliver meaningful results, not a Powerpoint of suggested actions.
Clients transform their businesses with new ways of working, challenging established thinking while building sustainable new ventures with speed and conviction. The combination of delivery and culture transformation creates lasting benefits and supercharges our clients' business.
Our people
We believe our talent sets us apart.
We've assembled renowned banking, fintech and financial services leaders, alongside engineering, design, research and delivery expertise from start-ups, consultancies and agencies. Together, we're transforming traditional banks from within and building truly digital financial services from scratch.
11 FS in numbers
*3000 in-depth user journeys analysed on our 11 FS Pulse research platform.
*182 countries listening to our chart-topping podcast
*32 countries where we have clients.
*9 months to define, build and launch a new banking service to market.
*11 whatever we're doing, we go to eleven. 🎸
Work with us
Ready to do the best work of your career? We'd love to talk.
Life at 11 FS
See what it's like to be part of the 11:FS team. Read more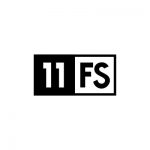 Specialisms
Banking, FinTech, Strategy, Insurance, Research, Benchmarking, Startups, Blockchain, Core Banking, Service Design, and Podcast
Recent articles by authors from 11 FS
We don't have any articles for authors from 11 FS
Service Areas

Enabling technology
Strategy & Innovation