Strata3
Supplier Directory
Strata3
10 Westland Square, Pearse St, Dublin, D02 CX36, Ireland
+353 1 671 8806
Size: Boutique
Year founded: 1999
About Strata3
As Ireland's leading independent digital agency, Strata3 provides clients with tailored solutions ranging from digital consultancy & product innovation to digital performance.
Strategic Digital Partners
Headquartered in Dublin, we are strategic partners for Tier-1 brands in telecommunications, banking, finance, transport and utility.  As a full-service agency with over 50 staff & a deep network of digital associates our model is to create practical digital strategies for the long-term with a focus on early and measurable 'proof-points' based on three pillars of digital consulting, innovation and performance.
Digital Transformation
Our digital consulting practice understand that many organisations are looking to transform towards a digital future at varying speeds and to different extents. Often, there is a need for a 2-speed approach to allow the tactical day-to-day business needs coexist with a longer-term strategic focus which is enshrined in our philosophy of 'smart thinking & quick building'.
Digital Innovation
Our digital innovation & product teams recognise that brands and their customers expect differentiation in market for their digital assets and our desire to 'innovate everywhere & become exemplars' ensures that everything we create is best-in-class, always.
Digital Performance
Our digital performance team comprising web & data analysts, designers and developers create logical insights to help refine and optimise our client's digital products in the live environment. We understand the need for measurable and progressive digital success, whether it be increased online sales, more qualified leads, conversions or reduced call-centre metrics requires a structured approach to ensure that post-launch ongoing refinement is conducted to ensure both commercial and experiential success for end-users.
We use research, design, development and data-led methodologies to devise technology strategies, product ideation, visualise customer experience maps, service design blueprints & user journeys, which are always focused on delivering business & user goals. As a committed and trusted partner to many Tier 1 organisations, Strata3 provides a full-service solution based on digital thinking, innovation and performance as constituent parts of a fully integrated service model.
Our digital solutions have delivered tangible results for clients & have won several leading digital awards.
Email: sales@strata3.com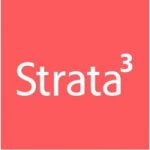 Specialisms
Digital consultancy, user experience design, business analysis, conversion rate optimisation, web development, content management systems, eCommerce, cloud hosting, digital innovation, digital strategy, digital performance, Google Analytics partner, customer experience, innovation agency, digital ideation, digital research, digital proposition, digital transformation, digital talent, user interface design.
Recent articles by authors from Strata3
We don't have any articles for authors from Strata3
Service Areas

Cloud
Strategy & Innovation